Giving hope to victims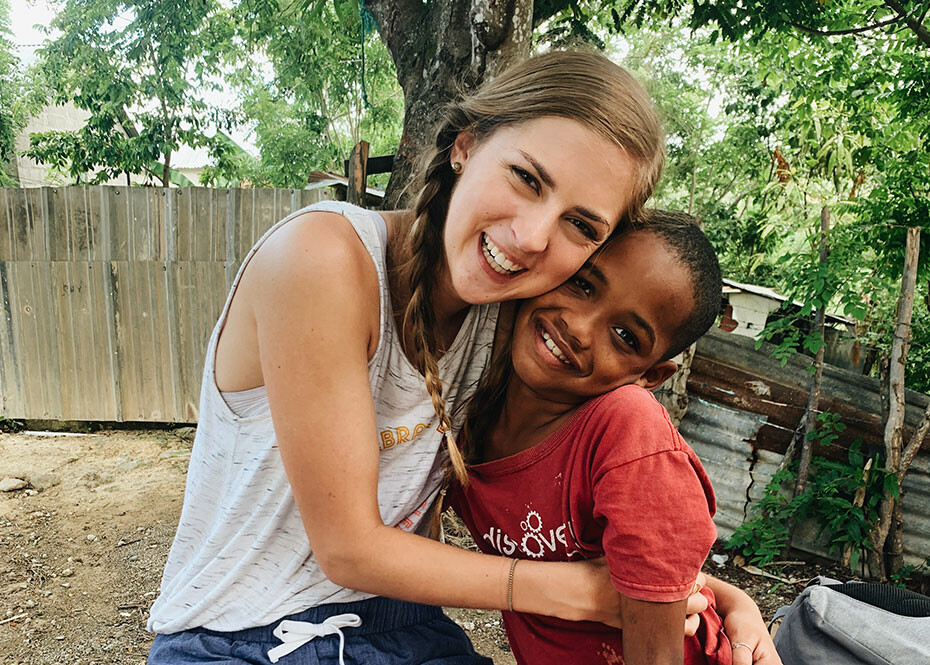 Madeline Johnson, a Human Services major at Southern Wesleyan University, says that a few years ago the Lord laid on her heart a burden for women and children who are caught up in human trafficking in the Dominican Republic.
Johnson serves as a member of the summer staff at The Crossover Cups Mission (www.crossoverministriesinternational.com), a ministry she became familiar with during a week-long trip in 2016. She's been living in a small concrete house where electricity and running water are intermittent, but God's grace motivates her to do what she does.
Through Crossover Cups, Johnson is involved in discipleship programs for kids in more than four villages, Bible camps and prayer ministry in homes. They also take food and clean water to people living at a garbage dump – people who subsist on whatever they can find to eat, wear or sell.
"There is always a fire burning underneath the trash (because that's just how trash is) but sometimes the wind picks up and turns it all to ashes. It cleans the dump but it gives them nothing to search through," Johnson said.
Giving hope to the vulnerable and exploited
With Crossover Cups, Johnson goes to a red-light district, where they offer girls there the hope of Jesus and pray for them. While doing street ministry in a red-light district, Johnson met a girl who said she left the church just two months ago. Trying to find work to provide for her family as a prostitute is the kind of reality so many women and children are living, especially in the Dominican Republic.
Johnson and others are seeking to shine Jesus' light in the darkness of streets infested with pimps seeking to line their pockets in a pervasive, illicit trade that preys on women and children, robbing them of their human dignity.
Sickened by what she sees, Johnson urges the church to take a stand against human trafficking and to pray that pimps and those who seek prostitutes' "services" are brought to justice. She believes nobody should be forced to settle for a life enslaved as a prostitute, declaring "It's not supposed to be this way!"
Coming to SWU
Johnson, who is a Human Services major at Southern Wesleyan, wanted to attend a small Christian college in her home state of South Carolina. She is also minoring in Criminal Justice and Business Administration. At Southern Wesleyan, Johnson leads the university's International Justice Mission (IJM) chapter, where she and other students pursue the passion God gave them for vulnerable and exploited people around the world.
She also works with TRiO, a federally-funded student support program at Southern Wesleyan, where she promotes, tutors and represents the program.
Cindy Trimmier-Lee, director of TRiO Student Support Services at Southern Wesleyan, says of Johnson, "She found out about exploited people and took action – that's what she did for TRiO; This is what Jesus did. He took action and she is following His footsteps. She has embraced the love for others so much, so she is there now doing and showing Christ's love."
"With a degree in Human Services, I am learning counseling skills, case management and how to practice social work. We also do lots of case studies that help me to think critically about how to effectively serve people," Johnson said. "With my minors, I am learning the basics of how to build an organization and manage it well, as well as how to hold people accountable in the justice system and the process of prosecution. All of these things will help me in the process of rescue and restoration, from street outreach and investigating brothels, to managing cases and walking alongside women in their years-long process of restoration to help them rebuild their lives."
Southern Wesleyan University is a Christ-centered, student-focused learning community devoted to transforming lives by challenging students to be dedicated scholars and servant-leaders who impact the world for Christ. For details about degree programs, go online to swu.edu.
Follow SWU:
https://www.facebook.com/southernwesleyan/
http://www.twitter.com/SWU_edu
http://pinterest.com/swuedu/
http://instagram.com/swu_edu