Government and Legislative Appreciation Luncheon at SWU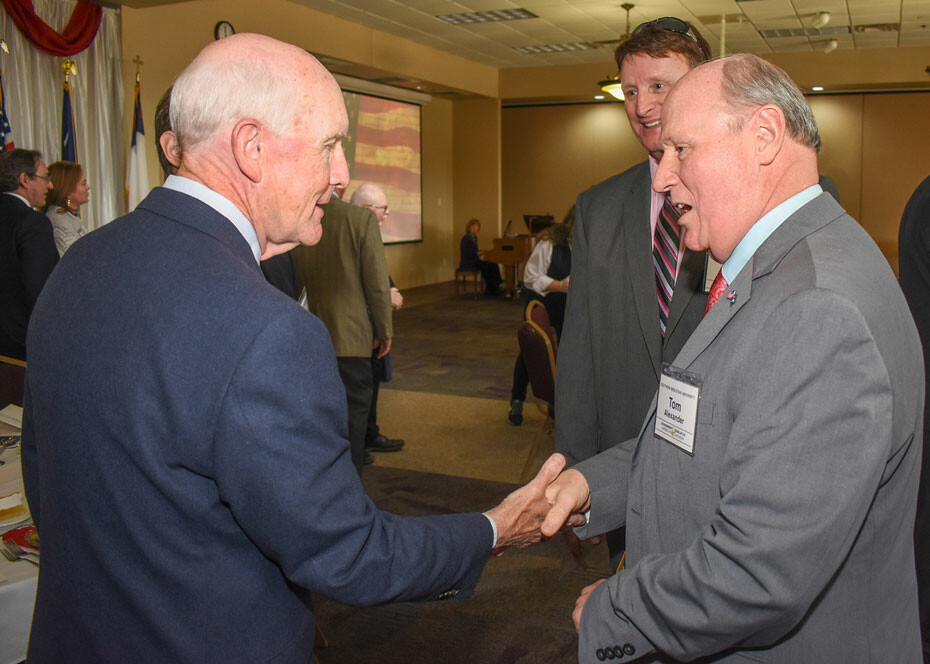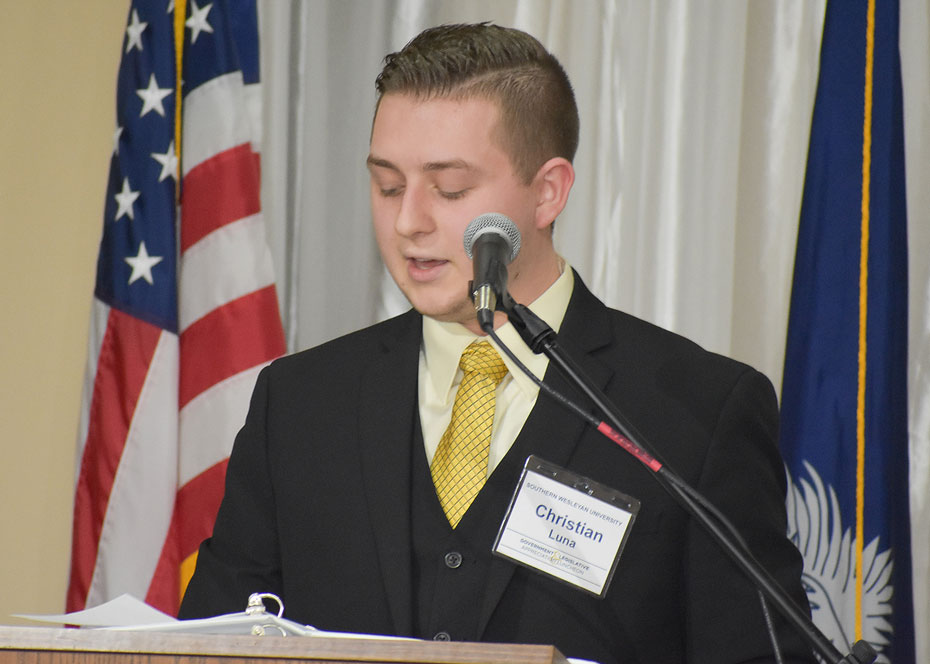 Southern Wesleyan University honored those in public service at local, state and national levels Feb. 25 with its Government and Legislative Appreciation luncheon.
During the annual luncheon, elected and appointed officials received updates about Southern Wesleyan and its academic programs, and heard about how their support of state tuition grants helps the dream of a college education become a reality for in-state students who choose to study at a private institution.
Dr. Todd Voss, Southern Wesleyan University president, thanked those in public service for making a positive impact in the lives of students. He presented updates on inventive learning opportunities and improvements being made to the Central campus. He also spoke about the university's commitment to holding its tuition at the same level for the coming academic year.
Ted Gentry of Wyche Law Firm shared noted Christian author C.S. Lewis' thoughts on democracy and praised Southern Wesleyan for being an institution that "seeks to inculcate Christian values in students before sending them out into the world."
Christian Luna, a senior majoring in media communications and minoring in youth ministry, spoke about the challenges of being from a single-income family and shared how state tuition grants are helping him realize his educational goals.
"Through the help of the Palmetto Fellows Scholarship and the South Carolina Tuition grants, I've had the incredible blessing of graduating absolutely debt-free. While here, I've learned so much about myself and God's plan for my life," Luna said.
"Students like Christian are what motivated me to come to Southern Wesleyan University," said Scott Drury, vice president for advancement and a SWU graduate, adding that many students have written their legislators to thank them for their support of South Carolina tuition grants.
Dr. Jeff Perez, president and CEO of South Carolina Independent Colleges and Universities (SCICU), praised Pickens District 3 Rep. Gary Clary for his support of a $1.6 million increase in the South Carolina Tuition Grants program, which boils down to a $150 increase for each eligible student.
"That program is so important to 13,600 students in South Carolina," Perez said. "These are challenging times for higher education. That's why Todd is leading an organization that is utterly student-based; but to maintain that student focus, you can't stand still. You have to be innovative. You have to be thinking outside the box. You can remain an asset to the community and you can continue to have the chance to serve the students who are relying on SWU and its faith-based programs to succeed."
Pickens District 3 representative Gary Clary read a few "thank you" letters he received from students.
"This state grant has helped me save a lot of money during my time at Southern Wesleyan. I will now be able to use the money that I save for pharmacy school," said one of the letters.
State Sen. Rex Rice of Pickens District 2 spoke about family members who received a SWU education; his wife, who graduated from the LEAP (Now SWU Online) program and their daughters, who were able to graduate from college with no debt, thanks in large part to scholarships.
"Thank you for what you do for the community; you bring a lot to the table on a day in-day out basis. That is important to us and we need to do what we can as legislators to help your students and help you here at the university," Rice said.
State Sen. Thomas Alexander of District 1, covering Oconee and Pickens counties, said he's been a long-time supporter of state tuition grants, extending throughout his 30 years of public service.
Seneca Mayor Dan Alexander praised SWU for its impact on the life of his daughter who received a master's degree in education. He also praised the university's role in developing The Jericho Project, a collaboration with the disabilities and special needs boards of Pickens and Anderson Counties.
Also among those attending the luncheon were Mayor J.C. Cook of Clemson, Central Town Administrator Phillip Mishoe, Clemson City Administrator Rick Cotton, Pickens County Council Chair Roy Costner and county council members from Pickens and Oconee counties. Additionally, representatives of Sen. Lindsey Graham's office, Congressman Jeff Duncan's office, the town of Six Mile, Wyche Law Firm, and S.C. Vocational Rehabilitation - Oconee-Pickens Area.
Music was provided by the University Singers and Southern Wesleyan University Fine Arts Division Chair Jane Dill. Rev. Ken Dill, university chaplain and Central town council member, opened the luncheon by sharing a prayer that George Washington wrote for the nation.
Another luncheon is scheduled for Feb. 24, 2020. For details, contact the Southern Wesleyan University Office of Advancement at (864) 644-5006.
Southern Wesleyan University is a Christ-centered, student-focused, faith-filled community that offers inventive learning experiences. The university endeavors to prepare its students to be dedicated scholars and servant-leaders who impact the world for Christ. At the same time, it's Southern Wesleyan's desire to practice contagious generosity within the surrounding community. For details about degree programs, go online to swu.edu.
Follow SWU:
https://www.facebook.com/southernwesleyan/
http://www.twitter.com/SWU_edu