Government and Legislative Appreciation Luncheon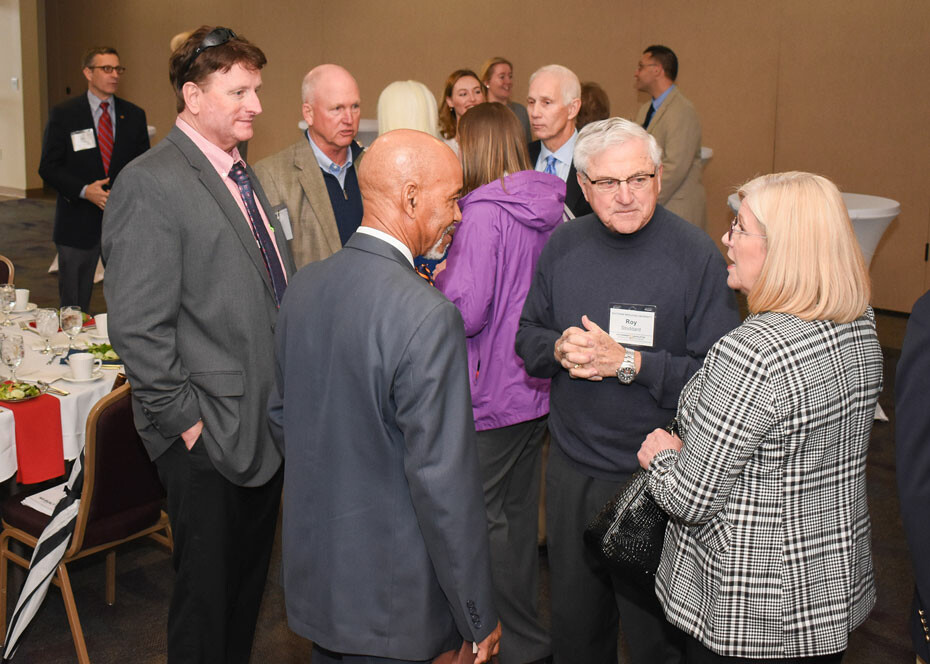 Southern Wesleyan University invited elected and appointed officials Feb. 24 to a luncheon where they were thanked for their contributions to the quality of life in the surrounding communities and given updates on university-community partnerships and other initiatives.
During the annual Government and Legislative Appreciation luncheon, Dr. Todd Voss, University President, thanked those in public service for making a positive impact in the lives of students and talked of university collaborations with community agencies and organizations. He also announced the reauthorization of accreditation from Southern Association of Colleges and Schools Commission on Colleges (SACSCOC) and presented updates on inventive learning opportunities and improvements being made to the Central campus.
"To all the administrators and teachers at SWU who are raising up a new generation of servant leaders, we're here to extend our profound thanks," said Wade Kolb, an attorney with Wyche Law firm, the event's sponsor.
Peggy Bodie, Project Read Coordinator, praised the efforts of former House District 3 Representative Bud Webb in 2003 that resulted in a grant, funded annually by the South Carolina State Legislature to offer the innovative program as professional development for public school elementary teachers or special services teachers throughout the state.
Dr. Jeff Perez, President and CEO of South Carolina Independent Colleges and Universities (SCICU), gave an update on public-private partnerships in areas including workforce development and highlighted the impact that graduates of independent colleges and universities are having in South Carolina and SCICU's advocacy for these institutions during challenging times for higher education.
"Annually these institutions provide $300 million in aid to their students; that's 41 percent of their aid. Student loans are about 35 percent," said Perez, noting also an array of choices afforded to students choosing to enroll in independent colleges or universities, which include faith-based curriculum and smaller campuses offering personalized attention.
Of SCICU, Scott Drury, Vice President for Advancement, said "Southern Wesleyan University is a proud member of that group of sister schools. We share a common interest and Dr. Perez represents us well."
Dr. Ben Davis, SCDOT Commissioner for the Third Congressional District, shared with the audience wisdom he gained over his years of public service, including learning from mistakes, communicating honestly and transparently to constituents, and also having an anchor, referring to his Christian faith that has helped him weather a lot of storms.
"There are people here representing all kinds of government agencies, all kinds of offices. Let's work together," said Davis. "Unfortunately in our country today, we're about as divided as I've ever seen us. If we could join together and work together, we could see things accomplished."
Voss praised Davis as a "true friend of Southern Wesleyan University" for his efforts to enhance safety and build a new campus entrance at Clayton Street and S.C. Highway 93.
Among those attending the luncheon were Rex Rice, S.C. District 2 Representative; Roy Costner, Pickens County Council Chairman; Phillip Mishoe, Central Town Administrator; Fletcher Perry, Mayor of Pickens; Dan Alexander, Mayor of Seneca, Danny Edwards, Mayor of Walhalla; Roy Stoddard, Mayor of Six Mile; Rev. Ken Dill, Central Town Council Member and SWU Associate Vice President for Spiritual Life; members of U.S. Congressman Jeff Duncan's Office – Rick Adkins, Deputy Chief of Staff and Jordan Christian, Regional Director; members of U.S. Senator Lindsey Graham's Office – Drew Broome, Outreach Representative, and Logan Kipling, Constituent Services; Emily DeRoberts, South Carolina government and Community Relations Manager for Duke Energy; Sheila Ford, Area Supervisor for the South Carolina Vocational Rehabilitation Department; and Denise Rozman, Seneca City Council.
Music was provided by the University Singers and Jackie Bryant of the Southern Wesleyan University Fine Arts Division. Rev. Ken Dill, opened the luncheon in prayer.
Another luncheon is scheduled for Feb. 22, 2021. For details, contact the Southern Wesleyan University Office of Advancement at (864) 644-5006.
Southern Wesleyan University is a Christ-centered, student-focused learning community devoted to transforming lives by challenging students to be dedicated scholars and servant-leaders who impact the world for Christ. For details about degree programs, go online to swu.edu.
https://www.facebook.com/southernwesleyan/
http://www.twitter.com/SWU_edu
http://pinterest.com/swuedu/
http://instagram.com/swu_edu