Helping a neighbor in need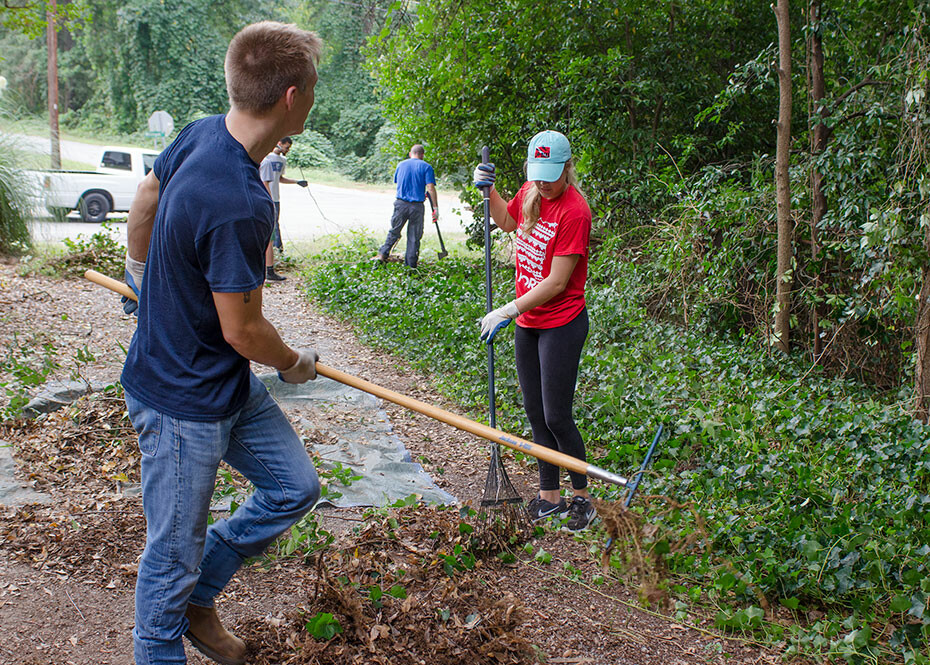 Southern Wesleyan University students quickly learn the importance of putting Christian love into action through the many opportunities to serve in the surrounding community each year.
James McDonald, a Southern Wesleyan criminal justice professor, has modeled to his students the principle of "contagious generosity" by always being there whenever there's a service project.
McDonald would daily pass a house on the edge of the Central campus and sensed that whomever lived there had a need. One day he stopped at the home. Living there was an elderly lady who recently had open heart surgery and was unable to work in her yard, which was in need of some TLC. She also told McDonald that she couldn't afford to hire somebody to clean up her yard.
"God put her on my heart – that's the bottom line," said McDonald. "We are a service minded school, yet we drive past her house to serve in other places."
Citing the often-used law enforcement motto "To Protect and Serve," McDonald asserted that he and his students should be serving their neighbors in this way.
McDonald mobilized a group of 18 students who went to the residence, cleared brush, trimmed tree branches, raked the yard and hauled off eight trailer loads of limbs and debris.
"To watch these young people work so hard to help someone they did not know was both humbling and encouraging," said Mark Reeves, Southern Wesleyan's vice president for finance and auxiliary services. "As I drove away, I felt like I had just been to church. What an encouragement to see practical Christianity in action. Our future is bright."
"She was definitely overwhelmed by the fact that someone cared enough about her to do this," McDonald said. "She stated to me several times, 'I just don't know why you want to do this for me.'"
McDonald's response, "Just because we care, that's why."
Southern Wesleyan University is a Christ-centered, student-focused learning community devoted to transforming lives by challenging students to be dedicated scholars and servant-leaders who impact the world for Christ. For details about degree programs, go online to swu.edu.
Follow SWU:
http://www.facebook.com/southernwesleyanuniversity.central
http://www.twitter.com/SWU_edu