Historic cemetery now in the care of SWU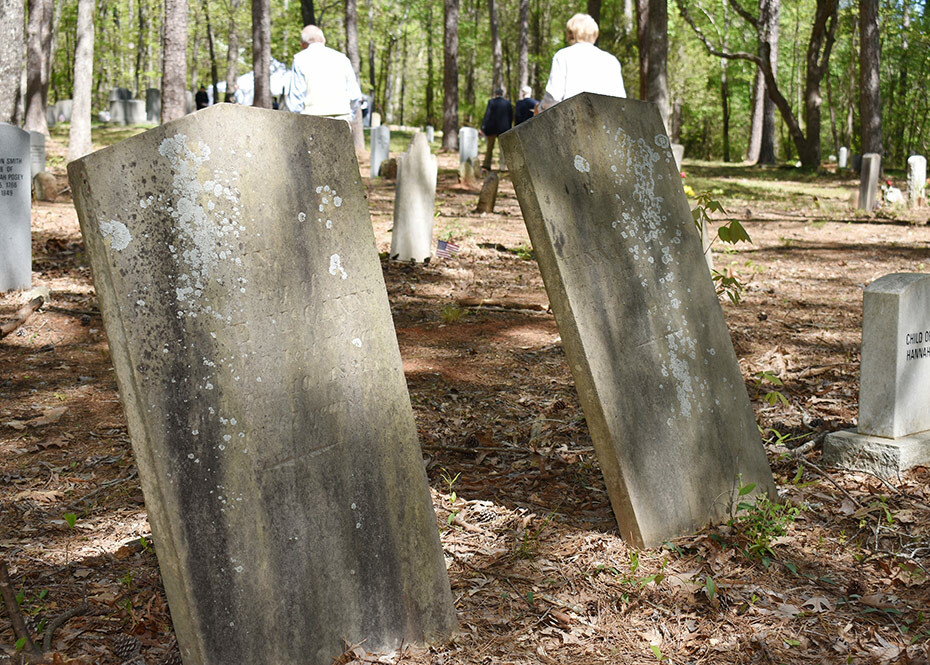 Southern Wesleyan University is now the owner of a place that many would associate with the past – but it's a place with promise to countless future students who will engage in historical research as never before.
In a receiving and dedication ceremony that took place April 20, the university received Pickens Cemetery, located in rural Anderson County along Three and Twenty Road, a gift of Carl Garrison, former cemetery trustee and owner of the property. This wooded landmark located along a grown-over roadbed is the resting place for veterans of historic conflicts that include the American Revolution and the Civil War.
Since 1960, Garrison, who now lives in Wyoming, has cared for the many gravesites, along with the help of his father and others, clearing the cemetery of kudzu and honeysuckle vines, as well as brambles that obscured the graves.
Garrison and local historian Anne Sheriff discussed how the cemetery could be cared for in the long-term. He then approached Dr. Todd Voss, Southern Wesleyan University president, with a proposal to give it to them.
"Everybody else balked at that, but Southern Wesleyan didn't balk at it. I'm looking forward to this partnership," Garrison said at the ceremony. "It's a partnership not just for me but with all of you. Most of you are kin to people in here. So it's all of our responsibility to take care of this, and the way that you take care of it now is going to be financial help that will live on."
Voss, along with Dr. Ken Myers of Southern Wesleyan's Humanities Division, see inventive learning opportunities that include a rich, barely-tapped source for primary research and the potential for countless future theses and research projects. Voss envisions the cemetery as a place where learning history will be exciting and different. He noted that they know of 272 graves currently, but he feels that more graves might be discovered as research moves forward.
"It's called getting our hands dirty and allowing our students to learn things in a whole new way – not just to read, regurgitate and get a degree and say what am I going to do with my life, but to say 'I really understand that because I did that.' I touched that. I impacted that," Voss said.
"Pickens Cemetery is unique. It has people buried here who go back to colonial times. Some were born in England and Ireland," Myers said. "There are a number of Revolutionary War veterans buried here, one of which is Capt. Robert Pickens, first cousin to Gen. Andrew Pickens, one of the leading generals in the southern part of the Revolutionary War," Myers said, adding that both slaves and slave owners are buried there. He praised Garrison for painstakingly surveying the cemetery, providing considerable details about who is buried there. He adds that cemeteries house a physical record of the people who lived in the community, offering opportunities for students to recreate the community's story.
"Often students assume that people in the past were different somehow, but they were human – same likes, dislikes, they loved, they hated, they were afraid – this can make that real for them," said Michael Keaton, associate professor of history at Southern Wesleyan.
Susannah Dillon, whose ancestors Martha Pickens and John Smith are buried at the cemetery, traveled all the way from Indiana to attend the ceremony. She is excited about the possibilities.
"It means there will be a future for it," said Dillon. "This is a pioneer cemetery in the area. I'm a genealogist, I lecture and research – so it means a lot to me."
Charles B. Smith, one of the founders of Southern Wesleyan University, descended from families buried at the cemetery.
Jantae Taylor of Baltimore, Md., a descendant of Jemima Pickens, one of the slaves buried in the cemetery, came along with several family members to attend the ceremony.
"I did family tree research and I didn't know anything about my grandmother's side of the family. I contacted Barbara Pickens, my cousin, through Facebook and she filled in some of the information that I didn't know," Taylor said.
"Cemeteries are sacred ground. They are bridges of names, dates and memories that connect those who are living with the past," said Rev. Ken Dill, university chaplain, noting that from the beginning of the Bible, the book of Genesis gives reminders of the importance of taking care of those who have passed on. At the receiving ceremony Dill said, "Today, we respectfully receive Pickens Cemetery in the spirit of contagious generosity and inventive learning, we join our faith-filled community with yours, and we dedicate again this cemetery to the preservation of these sacred stories, to the educational enrichment of our students, and to the glory of God the Father, God the Son and God the Holy Spirit."
"You can just feel how special this is. You can see the old roadbed and know where the history is here," said Rusty Burns, Anderson County administrator. "This is to be celebrated. For a university to have the vision to do this and to have applied history where you can touch it and you can feel it, you can research those people back – it's just an absolute true gift."
"History books cover a lot of stuff, but there's so much more that's here. I can't tell you how important this is to pass this along to people like me," said Ken Waters of Anderson County Council.
"It was a beautiful day to welcome guests from our local area and those that came from long distances like New York, Pennsylvania, Maryland, Indiana, Texas and Wyoming," said Dr. Lisa McWherter, Southern Wesleyan's vice president for advancement. "In many ways, the event felt like a warm family reunion."
Following the ceremony, Larry A. Pitts of Roswell, Ga., along with his cousins, Louis P. Smith and Charles P. Smith – all great-grandsons of Charles B. Smith – donated to Southern Wesleyan a well-preserved gourd that Martha Pickens grew on her family farm in 1810 and used to store coffee. It was handed down over the years by family members and traveled as far away as Texas. The university plans to protect the gourd and display it in the future.
For details about The Pickens Cemetery Endowment or obtaining a video of the ceremony, contact the Office of Advancement toll-free 855-644-5008 or (864) 644-5008, or email . Gifts should be made out to Southern Wesleyan University and designated to the Pickens Cemetery Endowment.
Southern Wesleyan University is a Christ-centered, student-focused, faith-filled community that offers inventive learning experiences. The university endeavors to prepare its students to be dedicated scholars and servant-leaders who impact the world for Christ. At the same time, it's Southern Wesleyan's desire to practice contagious generosity within the surrounding community. For details about degree programs, go online to swu.edu.
Follow SWU:
https://www.facebook.com/southernwesleyan/
http://www.twitter.com/SWU_edu