Inspired by his professor, SWU student sets half marathon goal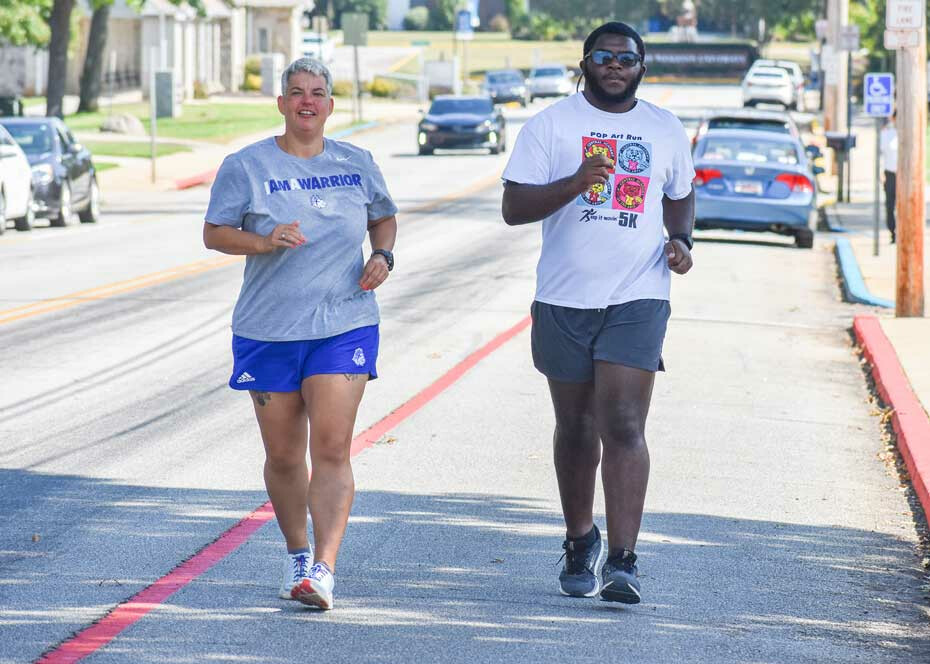 "I just felt like I was getting heavy and too unhealthy," said Justin Hart, an education major at Southern Wesleyan University.
Losing his mother in 2018, Hart turned to food as a way to handle the grief over his loss. He gained 40 pounds, then earlier this year began having difficulty breathing.
"I went to the doctor, who gave me some scary news about my health," Hart recalled, adding that he began the Whole30 diet. He then turned to an education professor he had during his freshman year, Dr. Patrice Shearin, seeking her help.
"I knew Patrice had lost a lot of weight and told her I need to do a lot of life changes," Hart said.
Following back surgery a few years ago, Shearin admits she "let herself go." Determined to get back into shape, she joined Weight Watchers and hired a trainer. As she lost weight, she also turned to competing in triathlons – a rigorous combination of swimming, bicycling and running.
Shearin agreed to help Hart, and invited him for a run on the track at Southern Wesleyan. Hart started running and walking more, making it a part of his daily routine.
"We both lost our moms within about six months of each other, so I think, at least for me, it was a common bond," Shearin said. "He knew I had lost 120 pounds, and one day said he wanted to start running. Because of the craziness of the semester it took us a while to get started, but we did."
Hart entered a local 5k run in Central and loved it, but afterward his feet hurt. Hearing this, Shearin started a fundraiser on Facebook, hoping to get donations so Hart could get a new pair of running shoes. If she could raise just $75, Shearin figured she could get him fitted for new shoes at a local running store. Then the donations grew – $150 in three hours and $400 by the end of the week.
"I was literally turning folks away," Shearin recalled. "In the end he got fitted for a new pair of running shoes, got a pair of compression socks, a shirt, two pairs of running shorts, a Garmin watch to measure his distance and heart rate, and a Visa card to pay his entry fee to the half marathon we will run in October."
For Shearin, it was amazing to see friends come together for a student that they didn't know but were inspired by his drive to run and get healthy.
"We have trained some together, but because I am about to run my third Half Ironman in three weeks my training schedule is a bit different from Justin's, but we run together when we can around campus," Shearin said.
In addition to running consistently, Hart has adjusted his diet by cutting down on sugar and bread, turning instead to healthier foods that include sweet potatoes, quinoa, avocados and grains.
"I've lost 50 pounds and I feel lighter on my feet," said Hart. "When I started, I couldn't go that long without feeling that I can't go any farther, but now I can push myself more. The huge takeaway for me is, allow God to interrupt you in your unhealthiness, go and seek help from those who care, and be bold enough to accept and challenge. It's all about faithfulness, not perfection. Every time I felt like I messed up I would say 'I'm sorry. That was stupid.' Dr. Shearin would respond, 'you're doing great.' You are not giving up."
Hart and Shearin plan to run the Spinx Run Fest's half marathon Oct. 26.
"To be able to cross that line with Justin is going to be amazing," Shearin said.
Southern Wesleyan University is a Christ-centered, student-focused learning community devoted to transforming lives by challenging students to be dedicated scholars and servant-leaders who impact the world for Christ. For details about degree programs, go online to swu.edu.
Follow SWU:
https://www.facebook.com/southernwesleyan/
http://www.twitter.com/SWU_edu
http://pinterest.com/swuedu/
http://instagram.com/swu_edu