Jericho Project breaks ground on first phase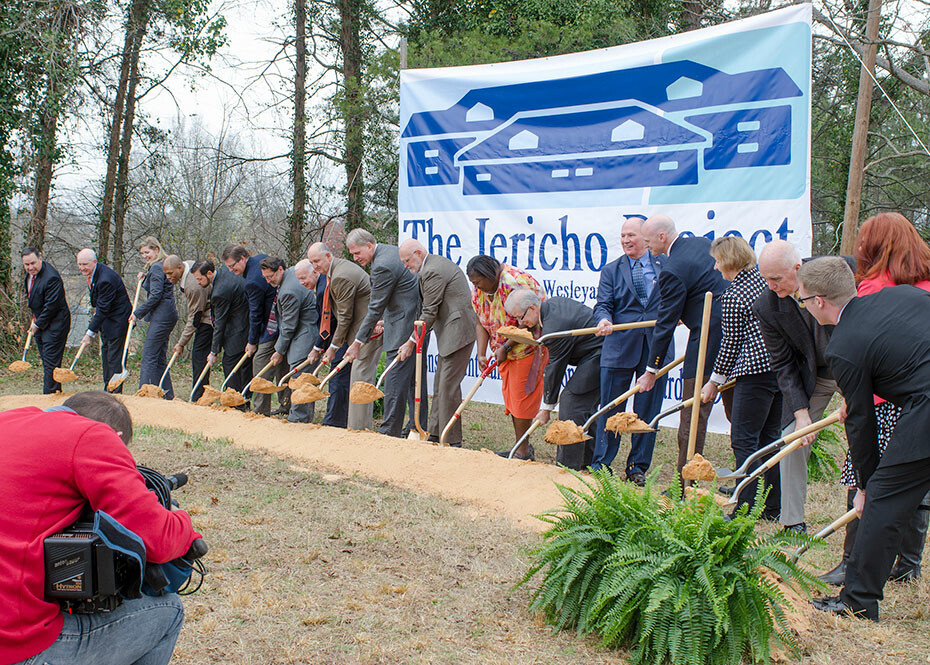 Officials from Pickens County Board of Disabilities and Special Needs and Anderson County Disabilities and Special Needs Board, Southern Wesleyan University and the South Carolina Department of Disabilities and Special Needs joined together with elected and appointed officials Feb. 27 to break ground on the first phase of a housing community that will serve individuals with special needs and disabilities.The Jericho Project represents a new type of collaboration which will yield a living/learning environment that will prepare its special needs and disabilities residents to live more independent lives, while at the same time, provide a select group of Southern Wesleyan University students an immersive experiential learning opportunity to guide them in important ways in their chosen profession.
Just as the walls came down around the biblical city of Jericho, The Jericho Project represents figurative walls coming down – the barriers that hinder individuals with special needs and disabilities from experiencing life-enriching opportunities.
"Today we turn dirt to proclaim that public-private partnerships can and do work to serve the needs of our community," said Dr. Lisa McWherter, Southern Wesleyan's vice president for advancement. "Southern Wesleyan University seeks to provide an inventive learning environment, to be a faith-filled community and to exude contagious generosity. There is not a 'smidgen' of this tremendous partnership that does not perfectly align with our institutional DNA."
McWherter added that the housing will be "a structure that represents to all that God is good, and He breaks down walls and helps us realize that we're all more alike than we are different."
"We're the demolition crew who are knocking down the walls and barriers before this program gets built," said Tyler Rex, executive director of Anderson County Disabilities and Special Needs Board. "I want to thank you for being part of our 'demolition crew' for The Jericho Project. Simply your presence here today is meaningful and has impact.
The $2 million initial phase involves building one four-bedroom unit, seven two-bedroom units and two one-bedroom units, which will house a total of 11 residents with disabilities and/or special needs and nine students. All units will have fully ADA compliant restrooms, fully ADA-equipped kitchens and laundry areas and common space. Included will be an elevator, administrative office, training/meeting room, covered van drop-off portico, outdoor pavilion and a quarter-mile walking trail.
Elaine Thena, executive director of Pickens County Board of Disabilities and Special Needs, the agency that will manage the facility, said that The Jericho Project will offer opportunities that their residents could experience nowhere else.
"They are going to come and be part of this university campus. They are going to develop friendships that are going to be lifelong friendships. They are going to participate in sports, chapel, music, classes and anything that's available. If they want to further their education, that's part of what they can do too. Hopefully some of them will find employment here," Thena said.
Dr. Todd Voss, Southern Wesleyan University President praised The Jericho Project for the opportunities that will open for its residents.
"It's about our friends and finding themselves in a loving community where they are known and where they are loved and appreciated and – maybe for the first time in many of their lives – where they feel like they are a part of an expanded community where their name is known and wherever they go they're greeted," Voss said. "I think that identity process is so important to healing and to growth and development."
"For most of our students interested in this project, it's about the opportunity to get their hands dirty and to really understand the issues involved," Voss added. "It is such a win-win."
Housing will be constructed on a 3.4 acre tract between Wesleyan Drive and College Street owned by the university, made available through a long-term lease.
The groundbreaking ceremony was preceded by a chapel service where students joined in the celebration of The Jericho Project and heard from individuals with disabilities and special needs and representatives from the special needs boards.
Details about The Jericho Project can be found by contacting the Southern Wesleyan University Office of Advancement at (864) 644-5006 or by visiting jerichoatswu.org.
Southern Wesleyan University is a Christ-centered, student-focused learning community devoted to transforming lives by challenging students to be dedicated scholars and servant-leaders who impact the world for Christ. For details about degree programs, go online to swu.edu.

Follow SWU:
https://www.facebook.com/southernwesleyan/
http://www.twitter.com/SWU_edu
http://pinterest.com/swuedu/
http://instagram.com/swu_edu