MBA vs. MSML: Which is Right for Me?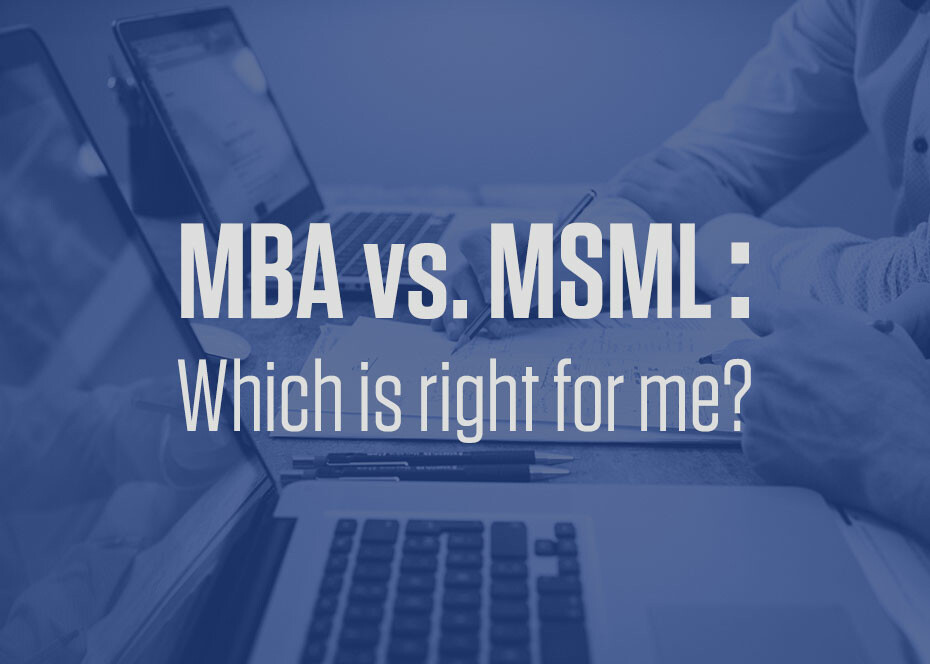 If you're interested in moving up to a job with greater management responsibilities and a higher salary, a master's degree can give you a boost. When it comes to business, the MBA (Master of Business Administration) and MSML (Master of Science in Management and Leadership) are two popular degree programs, but which one is right for you?
What's the Difference?
Both the MBA and MSML are advanced business degrees, and there is some curriculum overlap between the two. The primary difference is that the MBA builds on general business management skills, while the MSML is more focused on theoretical and strategic thinking.
The MBA has long been a go-to credential for those seeking to advance their corporate careers or bolster their entrepreneurial bona fides. The MBA covers business from end-to-end with a practical focus on problem solving. You'll study accounting, administration, communication, economics, finance, marketing, operations, production, statistics, and strategy.
In recent years, however, advanced management degrees have become an increasingly popular alternative to the MBA. As the name indicates, the MSML drills deeper into the science of management, helping you to develop strong leadership strategies. It's more focused on areas such as decision-making, information management, organizational development, planning, and psychology.
Some universities offer the ability to customize your business degree to suit a specific occupation or industry. For example, Southern Wesleyan University offers online MBA and online MSML concentrations in areas such as human resources and health care. This can be ideal if you need advanced credentials in a specific area to move up the ladder at your current workplace.
What are the requirements?
Since both the MBA and MSML are advanced degrees, you need to already have a bachelor's degree. If your degree is in something other than business, you'll likely need to take a series of academic leveling courses. It is best to do this just prior to starting the program, because there are several courses common to both degrees which will require some quantitative skills. This will help ensure you have the foundational knowledge necessary to successfully earn a master's degree in business.
Some colleges may also require you to take a Graduate Record Examination (GRE) or Graduate Management Admission Test (GMAT) – they're like an SAT test, but for graduate school. Southern Wesleyan University does not require students to take a GRE or GMAT as part of the enrollment process. These tests simply identify strengths and weaknesses. The academic leveling courses have proven to be the better alternative because they help identify and remediate deficiencies and help students succeed.
Which is right for me?
The right degree for you depends largely on your career goals.
An MBA is one of the most popular graduate business degrees in the world, and some organizations may require it to move up to certain positions. Because the MBA has such a strong focus on economics, accounting, and finance, it can be beneficial in preparing you to sit for the CPA exam.
An MSML is more people-focused in that the skills learned can be directly applied to jobs that require you to manage teams of workers. For example, someone in a technical position who wants to assume greater responsibility within his or her organization but who needs additional training in management and leadership should consider an MSML.
Click below to learn more about SWU's online MBA and MSML programs: