Mishoe receives 2018 Spittal Community Award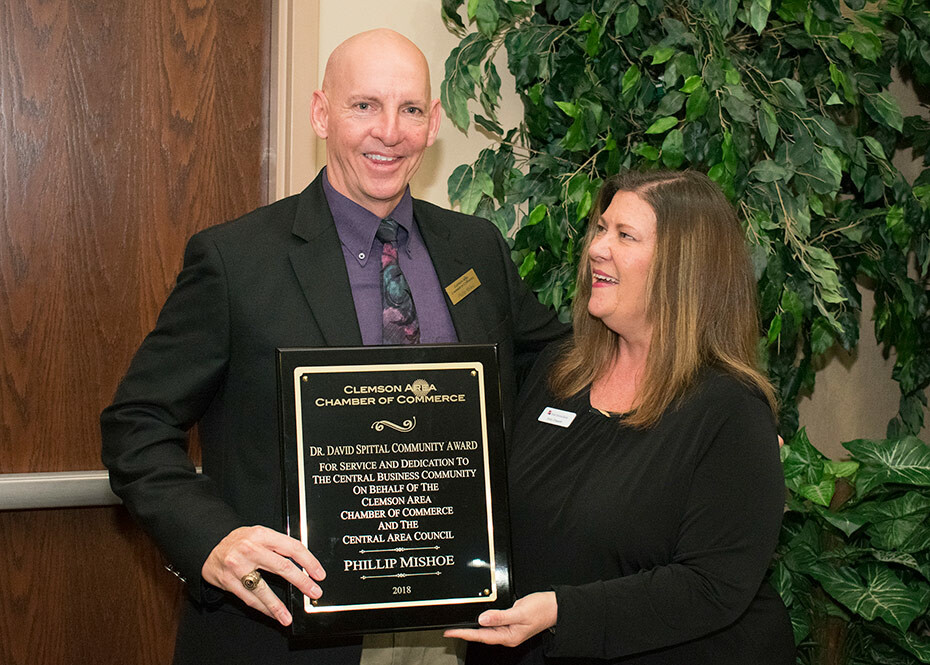 The 2018 Dr. David Spittal Community Award was presented to Central Town Administrator Phillip Mishoe for his contributions toward improving the quality of life for Central citizens, his work with the Central Railroad Festival, Taste of Central and the Human Checkers Match, and his active involvement with the Clemson Area Chamber of Commerce.
The award is named for former Southern Wesleyan University president Dr. David Spittal and is presented to an individual or group who makes significant contributions to the greater good of the Central community and the Clemson Area Chamber of Commerce, with an emphasis on citizenship and service; demonstrates enthusiasm, leadership, initiative, idealism, commitment, innovation and vision; consistently illustrates the ability to develop positive relationships and the skill to build consensus among community leaders; and effectively utilizes resources outside the scope of employment and responsibility. Recipients or their employers must be a member in good standing of the Clemson Area Chamber of Commerce.
The award was presented March 22 during the State of Central Address, hosted annually at Southern Wesleyan University and organized by Clemson Area Chamber of Commerce and the Central Area Business Council.
Additional awards included the 2018 Central Business of the Year Award, presented to Brandon Thomas, owner of Xpress Lube of Central; the 2018 Central Area Business Council's Lifetime Achievement Award was presented to Beverly Cureton of the Central Heritage Association; and three volunteer firefighters with the Central Fire Department received 2018 Central Volunteer of the Year awards, Andrew Wilson, Ashley Reynolds and Isaiah Reynolds.
Central Mayor Mac Martin gave an update on the state of Central and Dr. Todd Voss, president of Southern Wesleyan University, outlining numerous examples of the university's "inventive learning" and highlighting the importance of its partnership with the town of Central as growth takes place.
Event sponsors were: Title Sponsor, Southern Wesleyan University; Award Sponsor, First Citizens of Central; and corporate sponsors – Central Heritage Society, Clemson Area Transit, Duckett-Robinson Funeral Home, Founders Federal Credit Union, J.W. Martin Real Estate, Lindley, Pettigrew and Company CPA's LLC, Monaghan Real Estate, Newton Law Firm of Clemson LLC, the town of Central and Trehel Corp.
Southern Wesleyan University is a Christ-centered, student-focused, faith-filled community that offers inventive learning experiences. The university endeavors to prepare its students to be dedicated scholars and servant-leaders who impact the world for Christ. At the same time, it's Southern Wesleyan's desire to practice contagious generosity within the surrounding community. For details about degree programs, go online to swu.edu.
Follow SWU:
https://www.facebook.com/southernwesleyan/
http://www.twitter.com/SWU_edu