Mohr Receives 2022 SCICU Excellence In Teaching Award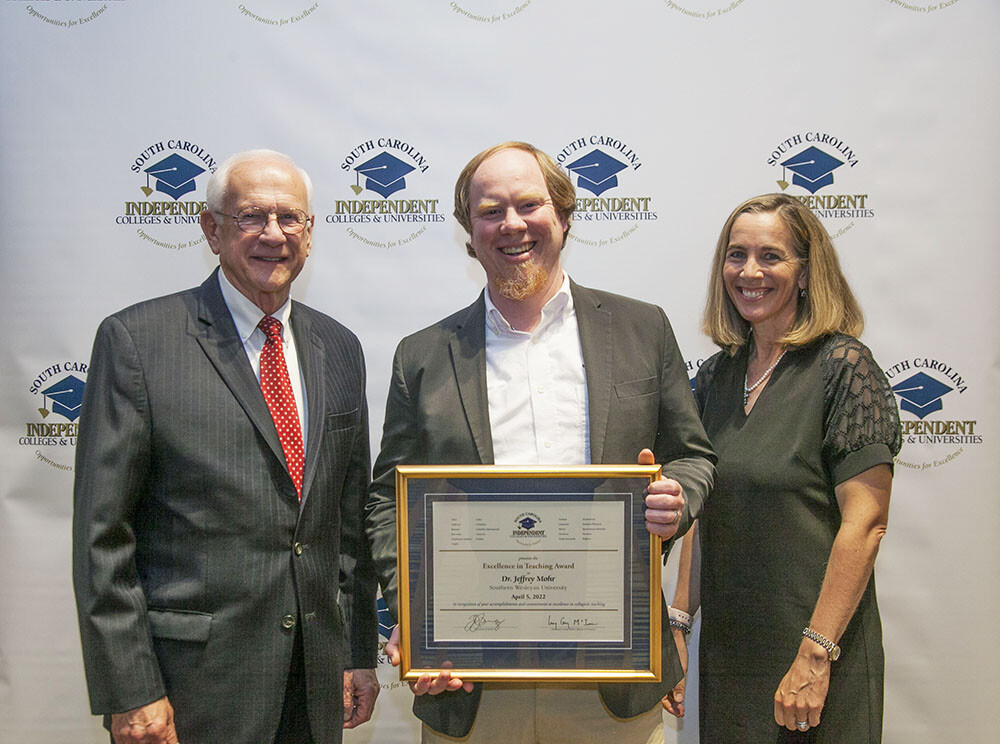 (L-R) Southern Wesleyan University Interim President William Crothers, Dr. Jeffrey Mohr, Southern Wesleyan University 2022 SCICU Excellence In Teaching Award Winner; Lucy Grey McIver, Chair, SCICU Board of Trustees
CENTRAL, S.C. – South Carolina Independent Colleges and Universities (SCICU) recently honored faculty achievement at the 2022 Excellence In Teaching Awards dinner in Columbia, SC. Dr. Jeffrey Mohr, SWU Associate Professor of Biology, was honored at the event.
SWU Interim President, Dr. William Crothers and Dr. Jeffrey Mohr attended the awards dinner. Mohr received the 2022 SCICU Excellence In Teaching Award presented by Lucy Grey McIver, Chair of the SCICU Board of Trustees.
Dr. April White Pugh, Provost and Vice President for Academic Affairs at SWU, says, "It is so exciting to honor and recognize the faculty member of the year each year. Annually, students, faculty, and staff nominate faculty members they feel have shown an interest in, love of, and positive attitude towards students and a commitment to teaching. This year, the faculty member best exemplifying these qualities is Dr. Jeff Mohr, Associate Professor of Biology, Division of Science, and we are very proud of him."
Southern Wesleyan University is a Christ-centered, student-focused, faith-filled community that offers inventive learning experiences. The university endeavors to prepare its students to be dedicated scholars and servant-leaders who impact the world for Christ. For details about degree programs, go online to swu.edu.