Morton is Named Alumnus of the Year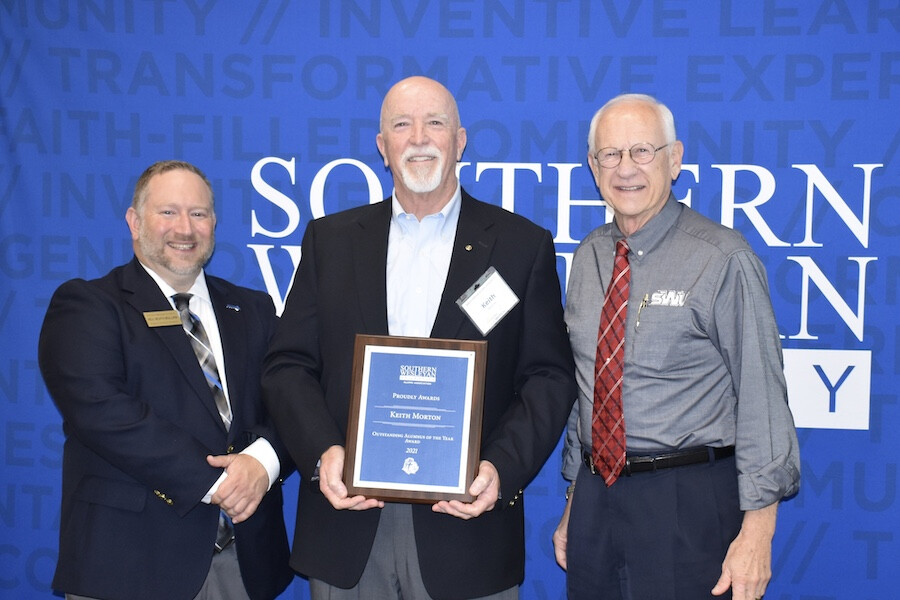 CENTRAL, S.C. – At this year's Warrior Homecoming, Saturday October 9, 2021, the Southern Wesleyan University Alumni Association presented their annual awards during a special brunch that started a day full of activities. Keith Morton was honored at the brunch and named Alumnus of the Year.
Morton is a retired Police Chief from Fountain Inn, SC. He began his career in law enforcement, which spanned more than 44 years, at the age of 20 as an intern with the Greenville Police Department. Through the years he has worked in many different areas of law enforcement.
In 1988, Morton graduated SWU with a Bachelor of Science in Business Administration from the Benson School of Business through the LEAP program (present day, SWU Online). At the time that he was hired as the Police Chief in Fountain Inn he was the only college graduate that had ever been hired by the department. He strongly encouraged higher education for his employees and by the time he retired approximately 70% of employees had college degrees.
As Chief of Police, Morton introduced many innovative programs to improve police – community relations. These programs include Citizen's Review Committee, Summer Camp for At-Risk Kids, and Senior Watch. Morton's programs have served as models for agencies in South Carolina, other states, and as far as England.
While an adult student at SWU, he conducted a research project dealing with stress in police work. Dr. Walt Sinnamon, his professor at the time, states that his project was "probably ahead of its time," and, "it was a well done project."
Morton has collaborated on classes with SWU Criminal Justice Professor James McDonald, and now serves as an adjunct professor for Anderson University and Greenville Technical College.
In August of 2020, Morton was presented with the Order of the Silver Crescent, South Carolina's highest civilian award, given in recognition of his significant contributions to the life and well-being of South Carolina by a representative of Governor Henry McMaster. Morton credits his education from SWU as instrumental in achieving this honor.
The awardees were introduced by Alumni Board president, Janene Bryson, and greeted by Alumni Director Heath Mullikin and Interim President Dr. Bill Crothers. Following the brunch, the award winners served as the grand marshals for the annual Homecoming Parade.
Southern Wesleyan University is a Christ-centered, student-focused, faith-filled community that offers inventive learning experiences. The university endeavors to prepare its students to be dedicated scholars and servant-leaders who impact the world for Christ. For details about degree programs, go online to swu.edu.
Follow SWU:
https://www.facebook.com/southernwesleyan/
https://www.twitter.com/SWU_edu
https://www.linkedin.com/school/southern-wesleyan-university/
https://instagram.com/swu_edu