Online student experiences SWU community to the fullest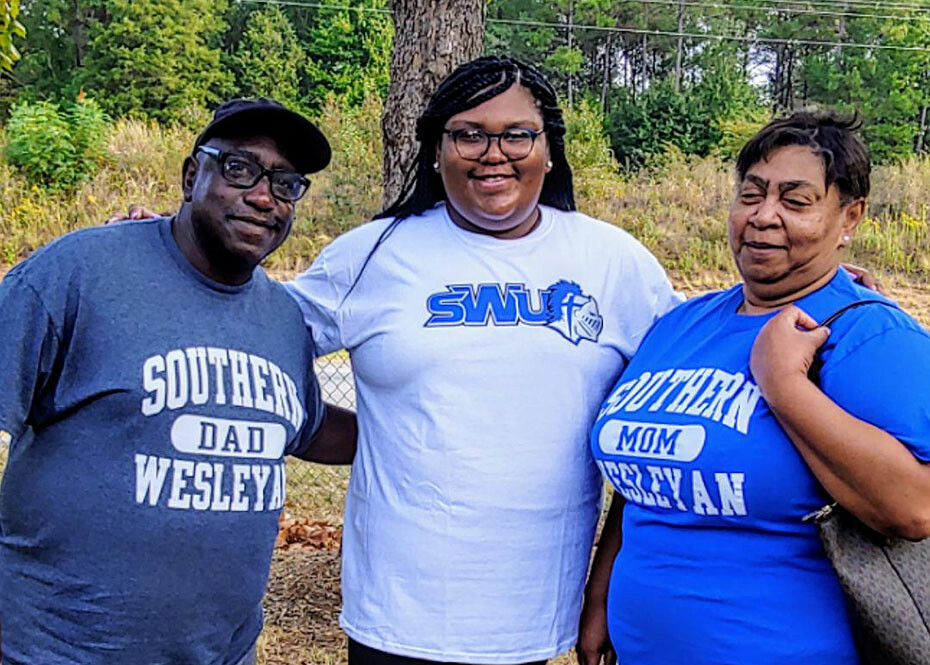 Tamera Ervin had her hopes set on attending Southern Wesleyan University and living on the Central campus, but struggles with a painful condition hindered her from doing so.
Ervin was born with her left tibia and fibula leaning inward. Doctors thought she would grow out of it, but when she was in fourth and fifth grade, her leg only got worse and her pain grew.
"I would be in extreme pain after walking or standing, so I had to have my leg casted for about three years weekly. I would go to physical therapy twice a week and have my leg casted every Friday," Ervin said.
Ervin then had surgery to install plates, screws and titanium rods in her leg, which lessened her pain for a few years, but her leg was still leaning inward. By her sophomore year of high school, Ervin's pain worsened, requiring her to take breaks when walking or dancing.
"My leg started just giving out. The orthopedist told my parents that the only other thing to do was to break my leg and foot and try and correct the problem that way, but I would be wheelchair bound for at least 18 months. However, there was no guarantee that the surgery would work. The doctor decided that it wasn't worth the risk," Ervin said.
When Ervin was looking into colleges, she visited Southern Wesleyan and knew right away she wanted to enroll there. But in 2018, during her senior year of high school, her leg was giving her more problems and she had to take more frequent breaks as she walked. Her doctors recommended she stay at home for her safety.
Fortunately, SWU Online offered Ervin an opportunity to begin working on her Human Services degree, and Ervin is grateful for staff and faculty members who have been helping her succeed as a student.
From her home in Columbia, Ervin connects online for her classes and periodically visits the Central campus. Having attended virtual middle and high school, Ervin says that attending classes online comes naturally and there are still opportunities to interact one-on-one with professors and staff when she visits Central.
She also appreciates Southern Wesleyan's TRiO Student Support Services staff, who help her not just on the academic level but also the social level.
"With her being an online student, TRiO has been able to offer her more of a college experience," said Elyse Pippin, one of her advisors in TRiO. "She almost always participates in our events and workshops, which gives her a sense of community and allows her to interact with her peers face to face. When she comes to campus she knows that the TRiO lab is a home away from home."
Ervin still has to see her doctor every couple of months and requires medication to control her pain and inflammation, but her faith and "can do" attitude keeps her upbeat. She's an active volunteer with SC GEEKS, helping homeschool and virtual school students. She's also working on a t-shirt and bow brand based on Matthew 5:16, a Bible verse that encourages individuals to let their light shine.
"I am a firm believer that God has a plan for us and that sometimes His plan does not align with ours. I am so glad that His plan was for me to become a SWU Warrior and I am grateful for the people that he handpicked to become my SWU family," Ervin said.
For details about SWU Online, contact Southern Wesleyan University at 877-644-5556 or visit www.swu.edu.
Southern Wesleyan University is a Christ-centered, student-focused learning community devoted to transforming lives by challenging students to be dedicated scholars and servant-leaders who impact the world for Christ. For details about degree programs, go online to swu.edu.
Follow SWU:
https://www.facebook.com/southernwesleyan/
http://www.twitter.com/SWU_edu
http://pinterest.com/swuedu/
http://instagram.com/swu_edu