Otto receives Mitchell Award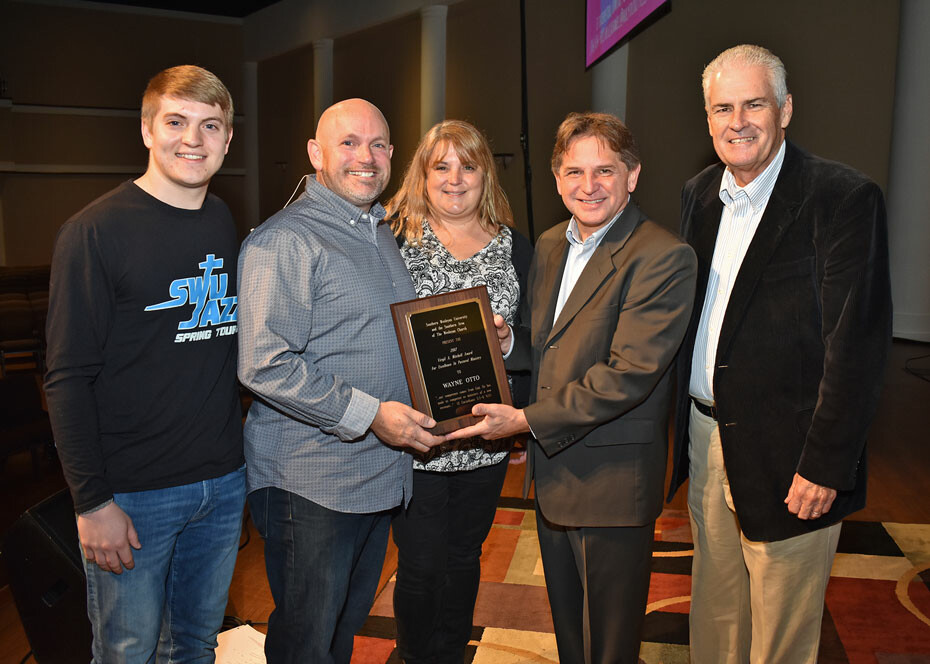 Early in life, Rev. Wayne Otto had no idea he would someday become a pastor.
He grew up in an unchurched family and as a teenager was headed away from God until a local church congregation reached out to him; there he became a Christian, and his life was transformed.
Southern Wesleyan University presented Otto with the Virgil A. Mitchell Award for Excellence in Pastoral Ministry during a chapel service Nov. 10 at the Central campus.
Otto, who currently is lead pastor of Providence Wesleyan Church in Summerville, has been involved in church planting since he graduated from Indiana Wesleyan University. Under his ministry, Greenville Community Church in Greenville, Mich., was established, and it grew to 1,000 in attendance by the time he left in 2001. Otto also served as assistant superintendent for the North Michigan District. Through Otto's church planting efforts, six new churches were established in Michigan and two in South Carolina.
He also pursued and finished his master's degree at Indiana Wesleyan. He is currently completing work on a doctorate in preaching from Anderson University.
In November of 2011, the Otto family moved to Summerville to plan a new church sponsored by the South Carolina District of The Wesleyan Church. It was what is called a "parachute drop" because there were no prior Wesleyan connections to the area. They held their first service Easter Sunday 2013. Over the last six years of ministry, the church has grown to an average of more than 225 persons in weekly attendance. And now the church is "mothering" new church plants, including Residuum Church in Ladson and The Corner Wesleyan Church, soon to begin in Moncks Corner.
Otto holds an undergraduate and a master's degree from Indiana Wesleyan University.
He and his wife Amy have three children. Their eldest, daughter Erin, is a SWU alumna and is married to Andre Winters, a SWU religion graduate who will lead efforts to establish The Corner Wesleyan Church. Otto's son Micah is a student majoring in Music Education at Southern Wesleyan.
Dr. Virgil Mitchell and his wife Mary established the Virgil A. Mitchell Award for Excellence in Pastoral Ministry. It was established to encourage excellence in ministry, to enhance the importance of pastoral ministry, to express gratitude for Mitchell's own ministerial education received at SWU, and to exalt Jesus Christ. The award is presented annually by the Division of Religion and the Southern Area of The Wesleyan Church.
Southern Wesleyan University is a Christ-centered, student-focused, faith-filled community that offers inventive learning experiences. The university endeavors to prepare its students to be dedicated scholars and servant-leaders who impact the world for Christ. At the same time, it's Southern Wesleyan's desire to practice contagious generosity within the surrounding community. For details about degree programs, go online to swu.edu.
Follow SWU:
https://www.facebook.com/southernwesleyan/
http://www.twitter.com/SWU_edu
http://pinterest.com/swuedu/
http://instagram.com/swu_edu