Paxton wants students to realize potential through music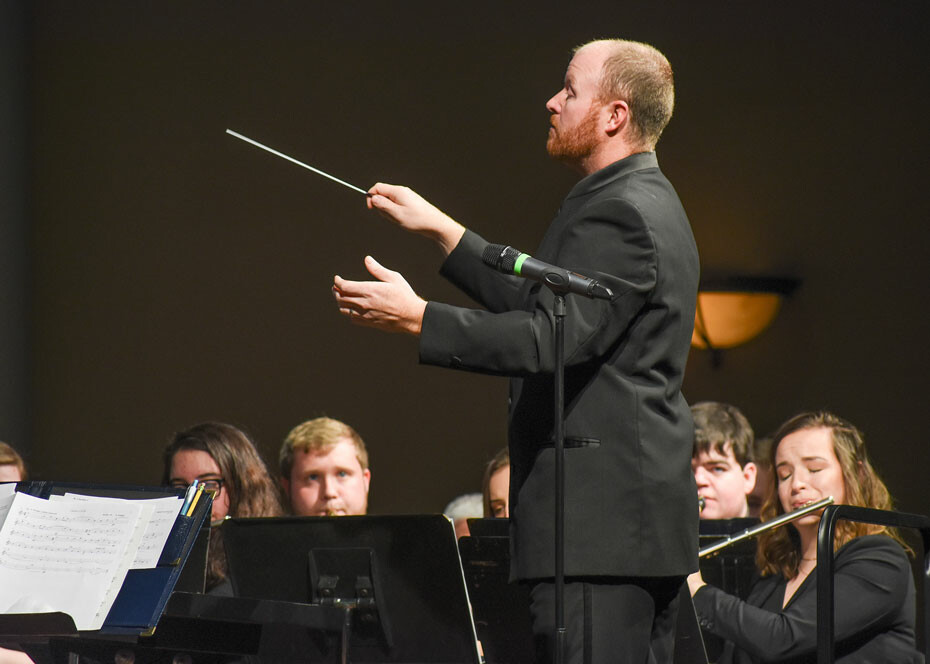 Being a high school band director can be demanding, but also rewarding.
Southern Wesleyan University graduate Chaz Paxton's passion as a music educator has earned him broad recognition, which includes recently being named president-elect of the South Carolina Band Directors Association (SCBDA) and Pickens High School Teacher of the Year for 2017-'18. Over the years Paxton's bands have won championships in statewide competition, including AAA State Championships in 2016 and 2018.
Rewards and challenges
Paxton teaches students in grades 9-12 and also team teaches a middle school class. He feels blessed that – unlike many teachers who have a student for one year – he gets to work with many of his students all the way from their middle school years to their senior year in high school.
"It's always a neat experience to get to see where they start as eighth-graders in the marching band or as a new freshman at the high school and then see where they end up as they graduate," Paxton said.
Teaching band has its challenges, not the least of which is the time Paxton must devote to teaching his students and directing them when they perform at games and concerts. Another challenge is to keep students interested and engaged amidst unprecedented distractions.
"They have the latest technology and information at their fingertips in a world that has never been so fast paced," Paxton said. "We talk a lot about the process of music. The analogy that I use is that music performance is a crock-pot activity while we live in a microwave world. You will get what is in the microwave much quicker, but what is in the crock-pot will be so much more rewarding."
Coming to SWU
Being from the Central area, Paxton grew up playing recreational baseball games on the campus. While playing in the Daniel High School Band, he caught a glimpse of his future.
"Much of my influence to teach band stemmed from my high school band experience under Greg Day, who is now the director of bands at SWU," Paxton said.
After graduating from high school, Paxton enrolled at another college, but after three semesters decided he wanted to enroll at Southern Wesleyan. Paxton earned his music degree from Southern Wesleyan in 2003, then returned to earn his master of education in administration and supervision (MEDAS) in 2016.
Looking back, Paxton values the guidance of his professors in the Fine Arts Division, School of Education and other academic areas. They impacted his life and showed that they cared and exemplified the kind of teacher he wanted to become.
"I always tell my students that as much as I want them to become great musicians, it is much more important that they become great people," Paxton said.
For details about the university's Division of Fine Arts, visit www.swu.edu/finearts.
Southern Wesleyan University is a Christ-centered, student-focused learning community devoted to transforming lives by challenging students to be dedicated scholars and servant-leaders who impact the world for Christ. For details about degree programs, go online to swu.edu.
Follow SWU:
https://www.facebook.com/southernwesleyan/
http://www.twitter.com/SWU_edu
http://pinterest.com/swuedu/
http://instagram.com/swu_edu