Replenish – an event focusing on emotionally-healthy ministry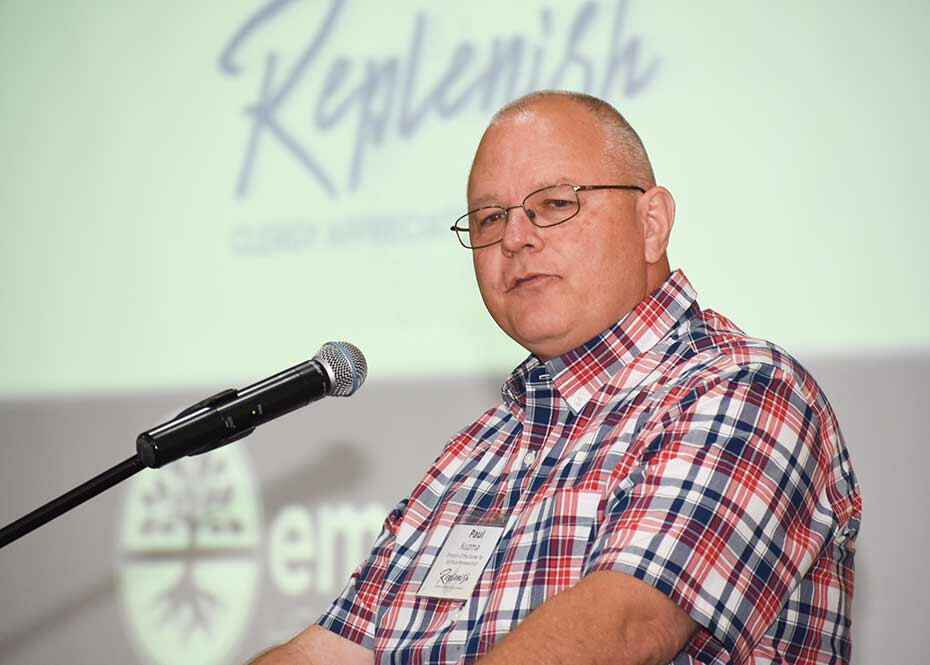 Southern Wesleyan University hosted Replenish – an event Oct. 1 to show appreciation to those who are engaged in ministry and to offer them a setting in which issues leading to burnout could be openly discussed.
Nearly 100 pastors and other ministry team members from area churches came to this event that was planned especially for them.
Addressing Replenish was Dr. Paul Kuzma, director of the Center for Spiritual Renewal East in Christiansburg, Va., and a board certified pastoral counselor. Kuzma spoke about his early years in fulltime ministry and experiences at a Foursquare church that underwent three painful pastoral transitions, leading to his filling the pulpit on an interim basis, and ultimately becoming lead pastor, only to experience a season of burnout.
In his address Kuzma said, "While the church has done a great job over the centuries of discipling people in many different areas, there's a missing piece of the pie – we haven't discipled people well in their emotional life."
Citing examples of pastoral burnout, including the recent suicide of a ministry leader at a major west coast church, Kuzma asserted, "The struggle is very real. It's an important one for us to raise awareness about and to get out in the open and to talk about it. If you're walking through a struggle in your emotional life, please do not stay silent. Reach out and tell somebody what's going on in your life."
Kuzma earned his master's degree in counseling from Liberty University and brings more than 30 years of Foursquare pastoral ministry experience as a youth pastor, associate pastor and senior pastor at the same church, as well as having served more than 15 years as a police chaplain for the Simi Valley, Calif., Police Dept.
In addition to directing the Center for Spiritual Renewal (CSR) East, Kuzma serves as an Emotionally Healthy Discipleship (EHD) course coach and director of EHD course coaches with Pete and Geri Scazzero. He also serves his community as a chaplain with the Montgomery County (Va.) Sheriff's Office.
The roundtable discussions about emotionally healthy discipleship were facilitated by Kuzma, along with Rev. Mark O. Wilson, SWU assistant professor for discipleship multiplication and renewal; and Kim Gladden, director of discipleship for CMAD (Church Multiplication and Discipleship) for The Wesleyan Church.
Dr. Mike Tapper, chair of Southern Wesleyan's Division of Religion, gave a welcome and Dr. Todd Voss, Southern Wesleyan University president, expressed appreciation to Replenish participants. Also, Prof. Jane Dill, chair of Southern Wesleyan's Division of Fine Arts, provided music. Rev. Ken Dill, associate vice president for spiritual life and university chaplain, gave the invocation and Rev. Tom Harding, superintendent of the South Carolina District of The Wesleyan Church (Presenting Sponsor) and senior pastor of Alive Wesleyan Church, gave the benediction. Rev. Joy Bryant addressed participants on behalf of Duckett-Robinson Funeral Home (Supporting Sponsor).
Replenish was a collaboration of the university's Division of Religion with Southern Wesleyan's Advancement Office.
Southern Wesleyan University is a Christ-centered, student-focused learning community devoted to transforming lives by challenging students to be dedicated scholars and servant-leaders who impact the world for Christ. For details about degree programs, go online to swu.edu.
Follow SWU:
https://www.facebook.com/southernwesleyan/
http://www.twitter.com/SWU_edu
http://pinterest.com/swuedu/
http://instagram.com/swu_edu