Replenish – Clergy appreciation at Southern Wesleyan University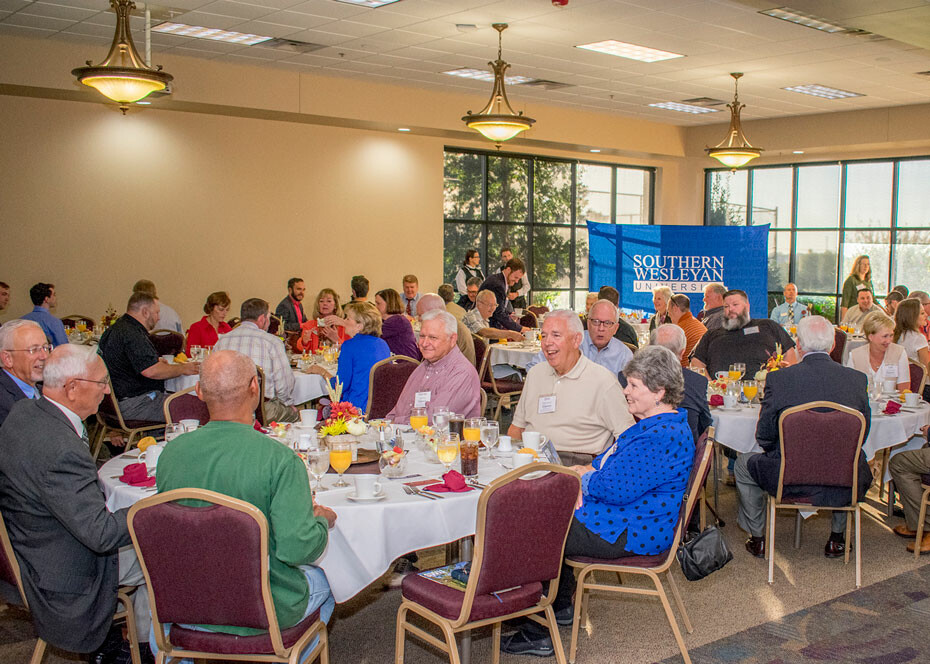 Southern Wesleyan University hosted area ministers Oct. 4 for Replenish, a clergy appreciation event, organized to show appreciation to area church leaders for their continuous service to spiritual needs in the area.
With Southern Wesleyan's spirit of contagious generosity, Dr. Lisa McWherter, vice president for advancement, welcomed pastors from across the Upstate to Replenish.
Replenish participants enjoyed a delicious breakfast, along with "spiritual nourishment" in the form of an encouraging presentation by Rev. Mark Wilson, assistant professor for discipleship, multiplication and renewal. Wilson encouraged pastors to get "free refills" and allow God to energize them and carry them through the difficulties encountered in day-to-day ministry.
University President Todd Voss expressed his support of pastors and the important work of their churches. Dr. Mike Tapper, chair of the university's Division of Religion, encouraged pastors and their churches to partner with SWU in new and creative ways. Also part of Replenish were performances by several Southern Wesleyan Fine Arts students.
"Replenish" was organized by Southern Wesleyan's Division of Religion, in partnership with the university's Advancement Office, Conference Services, Fine Arts Division, Spiritual Life Office and Pioneer College Caterers.
Southern Wesleyan University is a Christ-centered, student-focused community based upon the principles of inventive learning in a faith-filled community. The university endeavors to prepare its students to be dedicated scholars and servant-leaders who impact the world for Christ. At the same time, it's Southern Wesleyan's desire to practice contagious generosity within the surrounding community. For details about degree programs, go online to swu.edu.