Research into health disorders makes for a great 'fish story'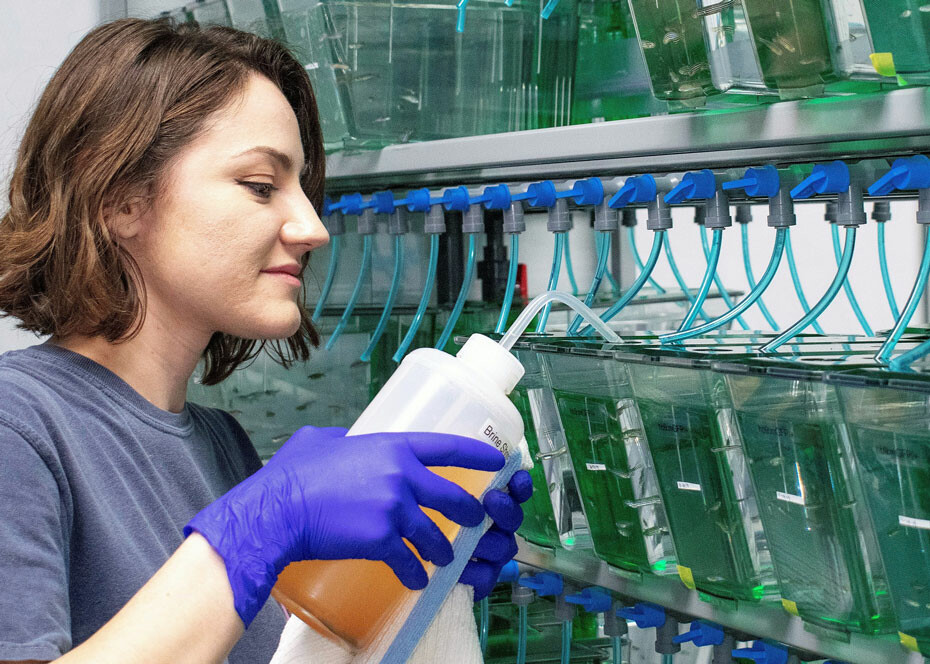 Photo by Lori Bassett, Greenwood Genetic Center
By all appearances, it would seem that fish have little in common with people, but when it comes to genetic research, there can be striking similarities.
"Eighty-four percent of genes associated with human disease has a zebrafish counterpart. They develop outside the body and are completely transparent when they are embryos," says Southern Wesleyan University Pre Med graduate Chelsi Stevenson Jeter. As a research technologist at Greenwood Genetic Center, Jeter cares for and researches 8,000 zebrafish in the center's Allin Aquaculture Facility.
Jeter originally intended to enter medical school, then realized it wasn't for her. She had been a lab assistant as a student and, for her honors project, she studied rats for a project devoted to treating drug addiction. Recalling these experiences, she felt led to pursue research work in a laboratory. Jeter remembered a presentation on genetic counseling during one of her classes at Southern Wesleyan and proceeded to apply for a biochemistry job at Greenwood Genetic Center. She wasn't hired for the position, but was offered a research position instead.
"I had some experience working in the microbiology lab at Southern Wesleyan, so I thought that maybe growing human cells on plates wouldn't be that far from growing bacteria. I was hired to work in tissue culture, then about a year after that, they built the aquaculture facility and needed somebody to run it," Jeter said. "When they were bringing thousands of fish from Georgia here, the facility wasn't 100 percent completed yet. I spent a lot of time by myself downstairs trying to set up things making sure the fish were okay."
Jeter's colleagues nicknamed her "The Fish Whisperer" since her work revolves around maintaining a system of hundreds of tanks containing thousands of zebrafish, ensuring their environment is carefully controlled and that the right number of fish occupy each tank. Zebrafish, tiny fish that are similar to minnows and native to the Himalayas, are useful in medical research for many reasons.
"A single fish can lay hundreds of eggs every week. That's been useful for testing drugs that have the potential for treating diseases. Since we can watch them from the very beginning – as soon as that egg is fertilized - we can study pediatric disorders. If a mouse has babies, they develop partially inside bodies, so you can't watch the earliest stages of life, but with zebrafish you can," Jeter said. "We study very rare disorders. We use something called TALENs (Transcription Activator Like Effector Nuclease), which is basically gene editing technology."
Jeter feels privileged to be part of an exciting field and a facility that treats patients from around the world. Dr. Walt Sinnamon, biology professor and retired Dean of the College of Arts and Science, considers Jeter one of his top students ever.
"I am in my 33rd year at Southern Wesleyan University and Chelsi is certainly within the top five to ten percent of students in terms of motivation and doing well academically," Sinnamon said. "Chelsi is usually looking for ways to do things better and improve. She has a solid work ethic, and service is important to her."
Recalling her days as a student, Jeter said, "Every professor that I had at Southern Wesleyan was so patient taking time with students to make sure they understand the material and we knew that they actually cared about us and our future. That's really important in molding a future scientist."
"I feel it's a very fulfilling job to make these discoveries that nobody has ever made before and to work on these rare genetic disorders," Jeter said. Working in the lab, she describes moments that are as rewarding as they are breathtaking.
"There are certain fish lines that have florescent molecules attached to particular proteins that will glow under fluorescent light. Not all zebrafish have this, this has been introduced in the lab. Looking at it under the microscope I almost started crying, just thinking about how wonderful God's creation is and how He has allowed us to study human disease and animals that are similar enough to us that we can look for treatments – how amazing that it all fits together," Jeter said.
For details about degrees offered through the Division of Science, contact Southern Wesleyan University at 877-644-5556 or visit www.swu.edu.
Southern Wesleyan University is a Christ-centered, student-focused learning community devoted to transforming lives by challenging students to be dedicated scholars and servant-leaders who impact the world for Christ. For details about degree programs, go online to swu.edu.
Follow SWU:
https://www.facebook.com/southernwesleyan/
http://www.twitter.com/SWU_edu
http://pinterest.com/swuedu/
http://instagram.com/swu_edu