Saying 'thanks' to nurses for all they do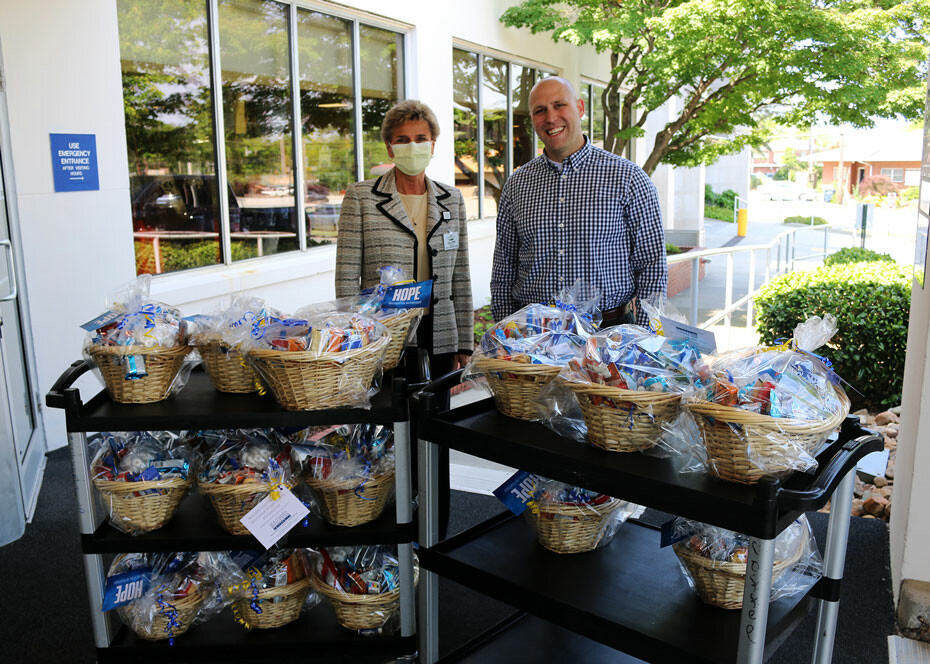 On May 13, Brice Bickel, Southern Wesleyan University director of online admissions, delivered baskets filled with healthy snacks and other items for nurses to Tammy Gillespie, training and organizational development director at AnMed Health in Anderson.
The baskets, presented at AnMed's main campus, were given out as Southern Wesleyan's way of saying "thank you" to the nursing staff for their hard work. Also donating items for the baskets were Food Lion, Sam's Club and Michael's of Anderson, and Founder's Federal Credit Union of Clemson.
"The baskets were absolutely beautiful! Thank you again for these amazing gifts for our nurses. They so appreciate all of these goodies," Gillespie said.
"AnMed Health is grateful and so appreciative of the beautiful gift baskets from Southern Wesleyan University for our nurses. I am proud of all of the AnMed Health nurses including those who have been on the front line during the COVID-19 pandemic. They continue to go above and beyond to provide patients with high quality, safe, and compassionate care. The kindness and care shown to our staff is truly a blessing and reminder that we are in this together," said Shaunda Trotter, AnMed Health chief nursing officer.
"We are proud of what the staff at Anmed has done to lead the way for our tri-county region during this pandemic. We hope these baskets serve as a reminder to all the nurses at Anmed that Southern Wesleyan loves them," said Scott Drury, Southern Wesleyan's vice president for advancement.
"Growing up in a medical family where my mother was a nurse and my father was a physician, I have a deep understating of the sacrificial work nurses do each and every day. Add to that the stress and added hours of patient care in the middle of a pandemic and it is truly heroic ministry. SWU just wanted to say 'we get it.' We are so thankful and we are better as a nation because of you," said Dr. Todd Voss, Southern Wesleyan University president.
Southern Wesleyan University is a Christ-centered, student-focused learning community devoted to transforming lives by challenging students to be dedicated scholars and servant-leaders who impact the world for Christ. For details about degree programs, go online to swu.edu.
Follow SWU:
https://www.facebook.com/southernwesleyan/
http://www.twitter.com/SWU_edu
http://pinterest.com/swuedu/
http://instagram.com/swu_edu