Southern Wesleyan University and the School District of Pickens County Team up for New Early College Program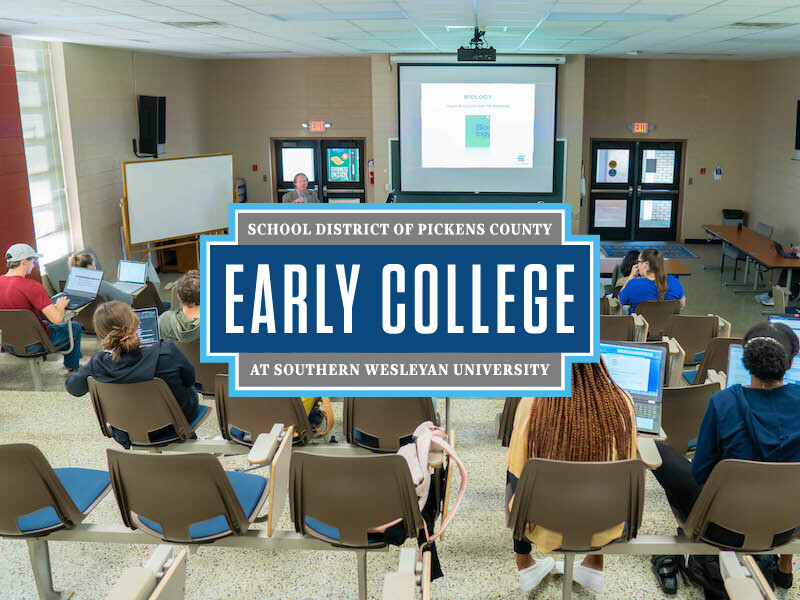 Pickens County is now home to a new Early College Program that seeks to provide students with an opportunity to pursue a college education while still in high school. Southern Wesleyan University is excited to team up with the School District of Pickens County to offer a Faith-Based Early College Program. SWU's Early College program allows qualified students to be fully admitted and enrolled at Southern Wesleyan University while completing high school. The courses students take as a part of the Early College program will not only satisfy high school course requirements, they will also provide college-level credit that can result in students entering college with as much as two years of college-level credit.
"We are so excited to see our partnership with the School District of Pickens County produce this very unique program." stated Dr. Brian Swords, Vice President of Enrollment Management at SWU.
The SWU Early College Program provides students with three separate tracks that can be taken during grades 10-12.
The Associate Degree @ SWU program provides Pickens County Students an opportunity to earn an Associate's Degree, attending college courses on Southern Wesleyan's campus beginning the summer following the student's sophomore year. Students will experience college life in grades 11 and 12 while completing their high school diploma requirements. Students will be able to complete up to 60 hours of college credit at a fraction of the cost of regular tuition.
"Upon completion of the 60 credit hours required for an Associate's Degree, students will be awarded the degree at their high school graduation." said Dr. Sandra McLendon, Interim Provost at SWU. "Upon graduation, students can enter SWU with junior level standing, which would allow them to complete a Bachelor's Degree in only two years"
The Jumpstart to College program enables students that may only want to take a few college-level courses, but not necessarily an entire Associate's Degree, to be admitted and enrolled in college level courses through Southern Wesleyan University. The courses can either be taken on-campus at SWU, on the student's high school campus, or online.
The third option of the SWU Early College program is SWU @ CTC, which is a very unique partnership between SWU and the SDPC Career and Technology Center. Students enrolled at the SDPC Career and Technology Center can choose to co-enroll in a dual-credit course in their program of study at the Career and Technology Center. Students will be taught by School District of Pickens County teachers, alongside Southern Wesleyan University professors. Courses taken will not only earn credit toward your program at the Career and Technology Center, they will also earn college level credit at Southern Wesleyan University. Students will be able to choose from four program areas at the Career and Technology Center: Business Management, Sports Medicine, Criminal Justice, Media Arts and Communications.
"During our planning sessions, we kept hearing the important role that the Pickens County Career and Technology Center played in making students not only college, but career ready in Pickens County." stated Swords.
"After several members of the SWU administration and faculty visited the PCCTC, we were determined to identify alignment between SWU programs and programs at the PCCTC." stated McLendon.
"This is definitely not the old vocational school that many of us attended decades ago, the PCCTC is a state-of-the-art facility that plays an important role in the economic development of the county, not only preparing students for a career but also setting the stage for them to further their education. We are so excited to see these initial programs gain approval for our Early College Program" said Swords
Tuition for the Associates Degree at SWU program will be supplemented by the school district. Students enrolled in Jumpstart to College or SWU @ CTC classes will also earn a scholarship of $100 per credit hour for every hour of dual credit successfully completed (up to 60 credit hours) toward tuition at SWU.
Students and parents will be able to learn more about the Early College program by attending one of the two scheduled information sessions next week: Tuesday, April 18th at Pickens High School and Thursday, April 20th at the Pickens County Career and Technology Center. Both sessions will start at 6pm.
For more information go to: https://www.swu.edu/school-district-of-pickens-county-early-college-program-at-swu
Southern Wesleyan University is a Christ-centered, student-focused, faith-filled community that offers inventive learning experiences. The university endeavors to prepare its students to be dedicated scholars and servant-leaders who impact the world for Christ. For details about degree programs, go online to swu.edu.
Follow SWU:
facebook.com/southernwesleyan/
twitter.com/SWU_edu
instagram.com/swu_edu
linkedin.com/school/southern-wesleyan-university/