Southern Wesleyan University Establishes Exercise Science B.S. Transfer Agreement with Cleveland Community College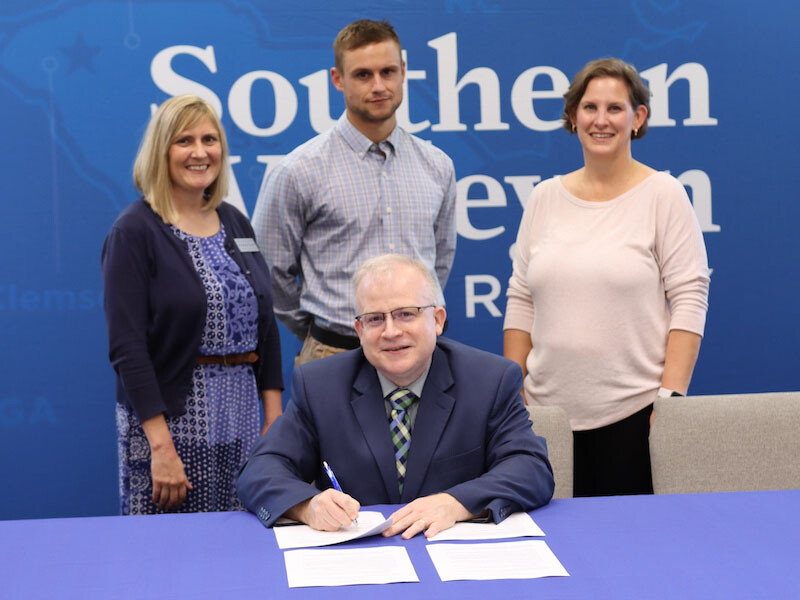 CENTRAL, S.C. – A new agreement enables Cleveland Community College students completing an Associate of Applied Science (A.A.S.) in Health and Fitness to transfer to Southern Wesleyan University (SWU) to complete a Bachelor of Science (B.S.) in Exercise Science.
This new, simple process was established between the two institutions, and marked by a contract signing that included (pictured, left to right) Life Science Coordinator Dr. Michele Eller, former professor Dr. John Krzyszkowski, and Chair, School of Science, Technology, and Mathematics Dr. Staci Johnson and seated and Dr. William Barker, president of Southern Wesleyan University.
Dr. Staci Johnson, School Chair and Associate Professor of Biology, says, "We are very excited to partner with Cleveland Community College in providing a new opportunity for their students to complete their B.S. in Exercise Science. We are confident that we can prepare these students to a variety of careers in the field while building relationships that support and enrich their lives."
"It is important that we support our students in their educational journey and help them go as far as they wish," said Dr. Jason Hurst, president of CCC. "Agreements with partners like Southern Wesleyan University help us fulfill that mission and provide our students a pathway to future success."
SWU's B.S. of Exercise Science prepares students to optimize the human body through research and faith. The hands-on and faith-filled curriculum teaches science of the human body in addition to psychology, spirituality, and emotional health as it applies to human function, disease prevention, and quality of life. The widely applicable degree program culminates in a dynamic internship working directly with experts in the fields of fitness and/or clinical exercise. Students who complete a B.S. of Exercise Science at SWU are prepared for multiple American College of Sports Medicine (ACSM) health fitness certifications and a range of graduate studies.
Southern Wesleyan University is a Christ-centered, student-focused, faith-filled community that offers inventive learning experiences. The university endeavors to prepare its students to be dedicated scholars and servant-leaders who impact the world for Christ. For details about degree programs, go online to swu.edu.
Follow SWU:
facebook.com/southernwesleyan/
twitter.com/SWU_edu
instagram.com/swu_edu
linkedin.com/school/southern-wesleyan-university/