Southern Wesleyan University Establishes Transfer Agreement Promise with Limestone University for Master of Science in Athletic Training Degree Program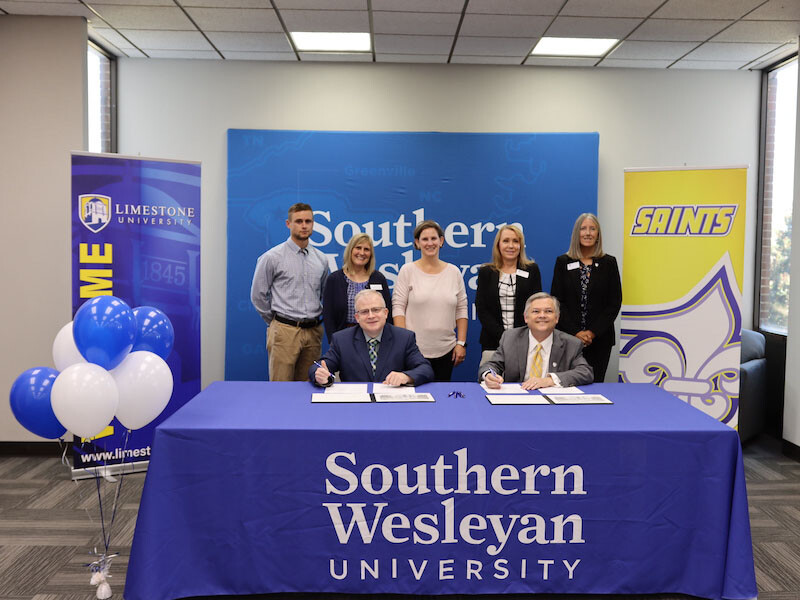 CENTRAL, S.C. – Earlier this fall, Southern Wesleyan University (SWU) entered into a formal transfer admission promise with Limestone University's Master of Science in Athletic Training program (MSAT). This agreement guarantees admission for up to two qualified SWU.
Signed by SWU President Dr. William Barker (pictured left) and Limestone President Dr. Darrell Parker (pictured right), this partnership provides early acceptance into the MSAT program. Under this agreement, Limestone University will partner with SWU to host on campus events related to Athletic Training and this program. Other representatives present at the September 26 event on SWU's campus included (pictured back row, left to right) SWU's Assistant Professor of Exercise Science Dr. John Krzyszkowski, Life Science Coordinator Dr. Michele Eller, and Chair, School of Science, Technology, and Mathematics Dr. Staci Johnson, and Limestone's Provost Dr. Monica Baloga and Associate Provost for Online & Graduate Programs Dr. Pamela Wash.
"The agreement with Limestone University is yet another way that Southern Wesleyan University is working to create pathways for students interested in furthering their education," says SWU Provost Dr. April L. White Pugh. "The clearer options are for students, the easier it is for them to chart a journey to their end goal, and we are committed to walking alongside our students to prepare and support them along the way."
To qualify for consideration, SWU students must: Complete an admissions application on time; complete of necessary courses with a grade of C or better; graduate with a cumulative undergraduate GPA of 3.00 minimum per official transcript; complete observational hours under a certified athletic trainer; provide proof of Emergency Cardiac Care certification; submit two letters of recommendation.
The program is not limited by a student's major, but students majoring in exercise science, biology, and pre-medical/pre-dental "can easily complete the required courses in their normal course of study at SWU," says Dr. Staci N. Johnson. Chair of the School of Science, Technology, and Mathematics and Associate Professor of Biology.
Limestone's recently established MSAT will launch its first cohort in summer 2023. The 60-hour graduate program takes place over 24 months in face-to-face and hybrid settings and prepares students to earn the certified athletic trainer credential.
"As a clear path for students who are interested in preparing for a career in athletic training, I look forward to the great impact this agreement with Limestone will have on Southern Wesleyan University's Exercise Science graduates," says White Pugh.
Southern Wesleyan University is a Christ-centered, student-focused, faith-filled community that offers inventive learning experiences. The university endeavors to prepare its students to be dedicated scholars and servant-leaders who impact the world for Christ. For details about degree programs, go online to swu.edu.
Follow SWU:
facebook.com/southernwesleyan/
twitter.com/SWU_edu
instagram.com/swu_edu
linkedin.com/school/southern-wesleyan-university/