Southern Wesleyan University growing rapidly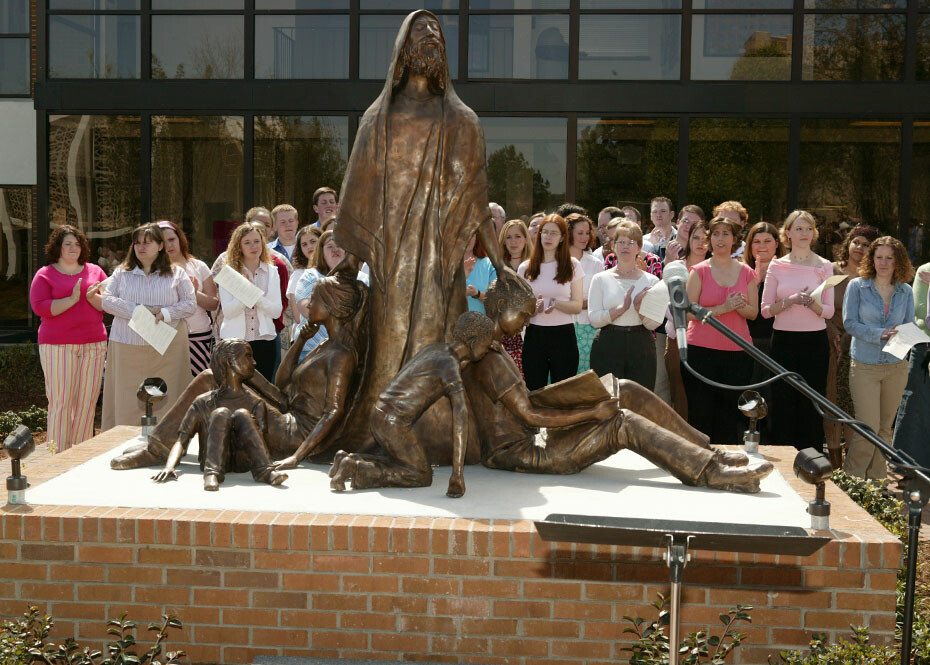 By Anna Simon - The Greenville News
CLEMSON BUREAU
CENTRAL — Chiming bells announced the noon hour on the Southern Wesleyan University campus Tuesday, as a cover was lifted from a new piece of art — a statue of Jesus with some young people — that will be an anchor point in an era of expansion.
Today the campus community will gather again and break ground for a new dining commons and a new 200-bed residence hall to serve a growing number of students discovering the small campus in a quiet corner of the Upstate.
"It's a mix of academic and Christian values in life," said Stassi Gibert, 19, a physical education major from Anderson.
The atmosphere, the people and the opportunity to know teachers better than at a large school all help to attract students, said Justin Williams, 21, a physical education major from McCormick.
The new statue, called "Intercession," is on a newly landscaped square behind the library.
Created by Israeli artist Rick Wienecke, it features a life-size Jesus looking heavenward. Two college-age students lean against Him and study while two younger children watch the example of their older peers.
"I like it," said Steven Medlin, 20, a biological sciences major from Easley. "It's nice how (the younger children) are looking for guidance from the older students."
Sherilyn Sheets, 22, an English major from Spartanburg, said the artwork reflects the school's mission "to represent Grace and to lead us into a more intimate walk with Him."
The statue is a gift from Dr. Wilbur Williams and his wife, Ardelia, both teachers at a sister Wesleyan school, Indiana Wesleyan University. Williams graduated in 1947 from a high school that was on the Southern Wesleyan campus.
The dominant figure of Jesus, wearing a Hebrew prayer shawl, represents His centrality in the lives of believers and the seated students show that "we need to be able to lean on Him," said Wienecke, a Canadian native who now lives in Israel.
The new Intercession Square will be a place where people can stop, reflect and pray, said David Spittal, president of the university, during dedication and unveiling of the statue.
Meanwhile, the campus will grow around it as more students enter the school seeking to be part a community knit together by the values this newest work of art represents.
Residential enrollment has doubled in recent years, with 600 students now living on campus. Current campus housing is almost at capacity, Spittal said. The new 200-bed suite-style residence hall is scheduled to be completed by the 2005-2006 school year.
Gibert said that although she could save money by living at home in Anderson, living on campus is important for students because there's more involvement in campus life.
"You know everybody on campus. There's not a face on campus you haven't seen," Gibert said.
The dining commons is being built to accommodate growth and as an outreach to the community, Spittal said. The new facility will seat 500 people and when not in use for students will be available to the public for banquets and conferences. It also is planned for completion on the 2005-2006 school year.
Southern Wesleyan's board is meeting on the campus this week and looking at plans for the next two years that include a new chapel, fine arts center and athletic/wellness center. Fundraising already has started, Spittal said.