Southern Wesleyan University Media Communication program gaining visibility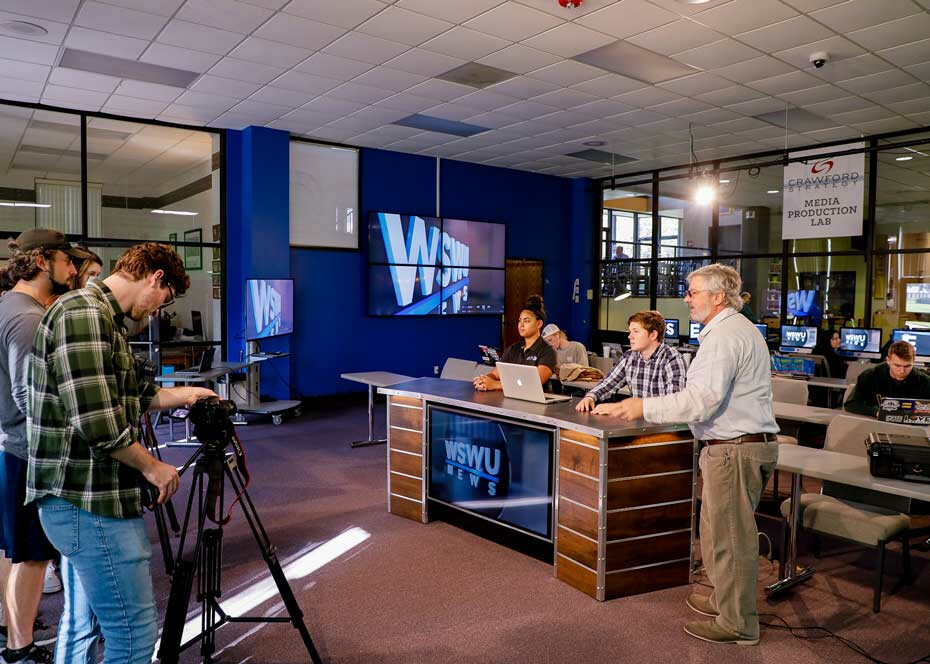 In 2013, when Dr. Lewis Knight came to Southern Wesleyan University as coordinator of its Media Communication program, classes were being offered in limited facilities tucked away on a lower level of Newton Hobson Chapel and Fine Arts Center.
At the start of the current academic year, the program has gained high profile status, thanks to a move that brought the program into a more visible studio at the Jennings Campus Life Center, close to Blue Hill Coffee, the Campus Store and the post office. Southern Wesleyan's new Digital Media Center (DMC) can be missed no longer – situated in the midst of one of the university's highest traffic areas, where numerous passersby can observe what's happening through a wall of plate glass.
Academics with a "real world" emphasis
The DMC isn't just another classroom. A massive green screen, a video wall, lights, Macintosh-based editing suites and gleaming anchor desk attest to the fact that this is a working studio where video content is being shot, edited and packaged daily.
"As we're showing news packages or other student work and are evaluating, fixing up and improving them, I'm watching out there and students are seeing what's on the video wall, so it's generating interest," said Knight.
For Knight, who gained experience as a reporter, videographer and producer at network television owned and operated stations in major markets including Philadelphia and Houston, Southern Wesleyan's DMC represents the fulfilling of a vision for a place of inventive learning where students produce news packages, newscasts and other programming in an environment similar to what they'll experience working in the mass communications field.
"I was in hiring positions throughout my career, so I know what people are looking for. I'm making sure the students get the skill sets and knowledge they need so that professional industry hiring decision makers see what they're getting," Knight said.
Southern Wesleyan Media Communication graduates have gone on to work for networks and network affiliates, including TNT and News 12 Chattanooga. Others have gone into internal communications roles at Charleston International Airport and the University of South Carolina. Another graduate is producing video content for national clients such as Best Western.
The Media Communication program has received hearty support from Dr. Todd Voss, university president, and Chris Williams, athletic director. Others have taken notice of Southern Wesleyan's Media Communication program, including the website Zippia, who gave the program a number 6 ranking of top colleges for communication majors in South Carolina. Crawford Strategy, a public relations and marketing agency based in nearby Greenville, has also provided support. The DMC's Media Production Lab is named for the agency.
What the students are saying
When Sawyer Price, a senior transfer student from Colorado Springs, Colo., found out about Southern Wesleyan and was recruited by their baseball team, he also discovered the Media Communication program. For Price, who hopes to be an ESPN broadcaster or take on a communication role for a professional sports team someday, he says that he's gaining experience by calling play-by-play broadcasts of sporting events and hosting SWU's coach's show. Price also co-hosted WSWU News, a 15-minute newscast that began production recently.
"Dr. Knight throws us into some real-life scenarios. Instead of doing homework he makes us do a bunch of projects, which is super beneficial for students," Price said.
Halee Morrison is a junior from Anderson who co-anchored one of the first newscasts with Price. Morrison, a member of the Women's Basketball Team, would also like to work in an area of sports media.
Ben Wyant, a junior from Clemson who is interested in journalism, has been producing news packages and gaining experience as he focuses in on his professional goals.
"At first, being in the Media Comm program was all about being able to explore the different options. It helped me to realize what I want to do and what I don't want to do, and then once I realize what I want to do, how to do that to the best of my ability," Wyant said.
"We really just touch anything that has to do with mass communications. I've learned how to use Adobe Premiere. I've learned to do videos. I love being creative through that," said Lydia Perry, a sophomore from Perry, Ga. Perry loves talking to people, and gets to use her training as a work study in Southern Wesleyan's Marketing Office, where she posts her interviews on the university's social media platforms, including Facebook and Instagram.
"This coming January, we're going to be a fully functioning live streaming production facility for three camera studio shoots. We're going to start doing live sporting events, live streaming with three cameras and a switcher, intercom, the whole shebang," Knight said. "We're getting to the point where I hoped we would be."
To learn more about the Media Communication program, visit swu.edu/academics/division-of-humanities/ba-in-media-communication.
Southern Wesleyan University is a Christ-centered, student-focused learning community devoted to transforming lives by challenging students to be dedicated scholars and servant-leaders who impact the world for Christ. For details about degree programs, go online to swu.edu.
Follow SWU:
https://www.facebook.com/southernwesleyan/
http://www.twitter.com/SWU_edu
http://pinterest.com/swuedu/
http://instagram.com/swu_edu