Southern Wesleyan University to build new housing that transforms the student experience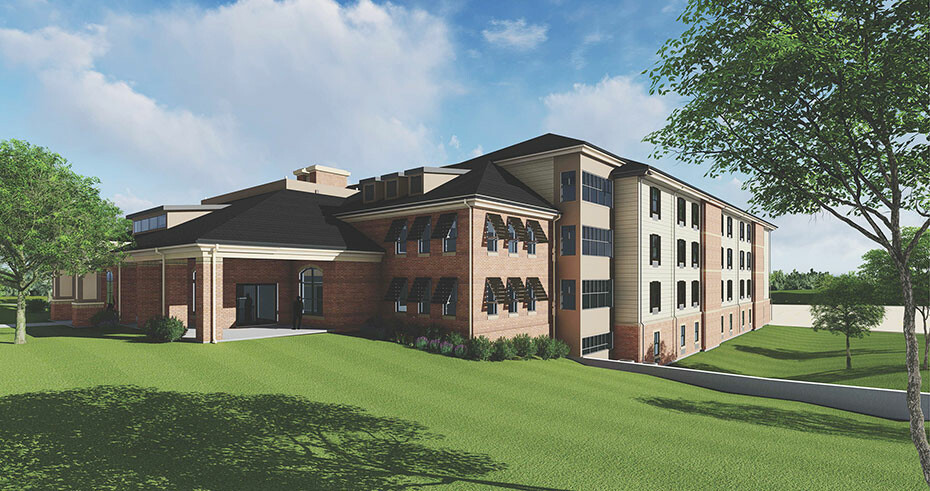 A new four-story living and learning community will soon become a reality on Southern Wesleyan University's Central Campus.
Southern Wesleyan's new 67,000 square-foot residence hall will be located on Wesleyan Drive at Southern Wesleyan's Central Campus across from the Newton Hobson Chapel and Fine Arts Center. The facility will provide comfortable single, dual and triple occupancy suites for 243 students. The floorplan also includes 15,000 square feet of space devoted to amenities that include a large lobby with a bistro and ample gathering space, fitness rooms, a theatre and a conference room. Also included will be laundry facilities, study suites, classrooms and a 200 space parking lot.
"This particular project at Southern Wesleyan University will give students a blend of the academic and social environments they want, and in turn, will keep them more engaged on campus," said Dr. Todd Voss, president of Southern Wesleyan University.
Voss stated that this new housing community is necessary to allow for growth in traditional housing and "will catapult enrollment into the future."
Southern Wesleyan University has partnered with Mainstreet Student Living of Carmel, Ind., for this new project development. Local developers were approached with the opportunity, but Mainstreet Student Living, the student housing arm of Mainstreet®, a national company known for its award-winning transitional care properties, secured this particular project partnership with Southern Wesleyan. A factor that Southern Wesleyan's administration cited is how Mainstreet® encompasses the investment, development and management sides of student housing.
"The missions of Southern Wesleyan University and Mainstreet Student Living align nicely," said Voss. As Southern Wesleyan University is a Christ-centered, student-focused learning community devoted to transforming lives by challenging students to be dedicated scholars and servant-leaders who impact the world for Christ, purposefully designed living and learning spaces for students and faculty are a must. Zeke Turner, founder and CEO of Mainstreet understands this need at SWU and is mission-aligned by desiring to "transform lives," saying "we look at businesses where there is great opportunity to effect change and real need for innovation."
"We are excited to be adding this first-class facility to house our students. This significantly improved quality of life will result in students who are more engaged in their preparation for the future that God intends for them," said Dr. Joe Brockinton, vice president for student life.
Southern Wesleyan seeks to continually reinforce three pillars of uniqueness – inventive learning, faith-filled community and contagious generosity. This new facility on SWU's campus will be conducive in exercising these institutional characteristics.
Dr. Voss has decades of student life and innovative facility design experience. According to both Voss and Justin Farris, managing director of development at Mainstreet, the traditional college "dormitory model" is "a thing of the past" and students favor more unique housing options.
Voss added that new housing is a crucial need as enrollment grows and existing housing becomes increasingly inadequate and outdated. Plans are in place to repurpose some existing housing facilities on campus and renovate others all in an effort to aid in the living and learning collegiate experience for students.
"Adding high quality residential options similar to Mullinax Hall and the apartments will assist with recruitment efforts and continue to improve student satisfaction," Voss said. "The time is now and the need is great for this new residence hall."
The project, which represents a $9.3 million investment, will create numerous jobs and expand Pickens County's economic impact footprint.
Site preparation began in early June, and construction is expected to begin in early July followed by an official groundbreaking ceremony taking place Aug. 30. SWU expects to welcome student residents into this completed facility in August of 2017.
For details about Southern Wesleyan University degree programs, go online to swu.edu.
Follow SWU:
http://www.facebook.com/southernwesleyanuniversity.central
http://www.twitter.com/SWU_edu