Stack named Teacher of the Year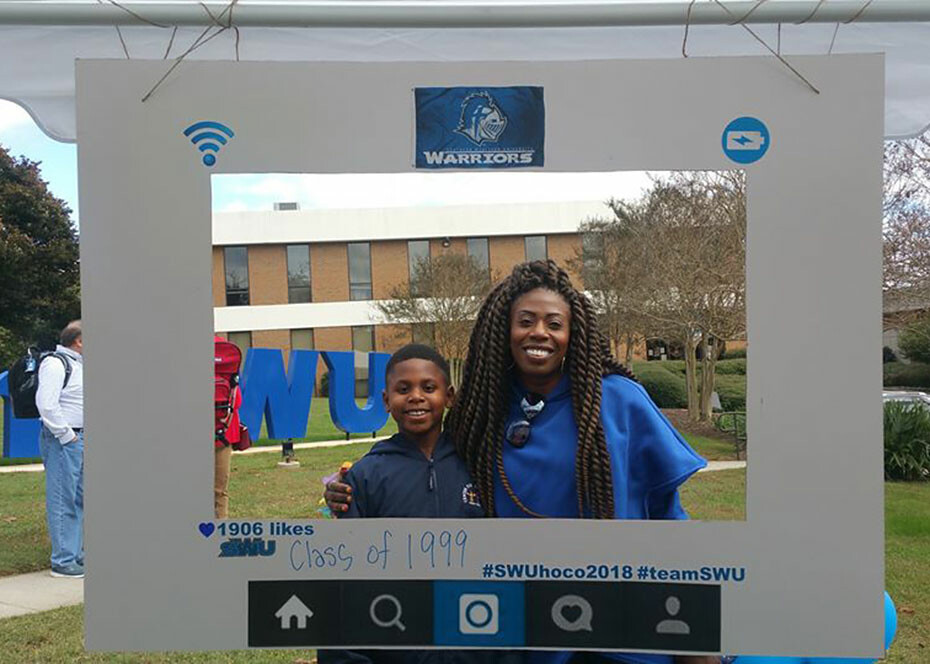 Heath Mullikin, SWU director of alumni relations, interviewed Stack for SWU Soul Stories.
Camille Stack was participating in a Zoom meeting from her home when her 10-year-old son came running into the room where she was, shouting "Come see the parade!"
As she brushed aside his urgent announcement to continue her meeting, he was insistent, saying "You've got to come see – it may have something to do with you!"
As she went to her front door, Stack was greeted by her school's director and lead teachers carrying balloons toward her home.
"I saw the director walking down and she was talking to one of my colleagues on her phone. I thought 'are we having a quarantine meeting at our house? What's going on?' As she received the balloons and a congratulatory message saying that she had been named Teacher of the Year at Center for Knowledge North in Blythewood, Stack was pleasantly surprised.
"I was absolutely shocked. I wasn't expecting it," said Stack, who received her undergraduate Music Education and her M.Ed. at Southern Wesleyan. "I work with some of the finest teachers in our district."
Stack teaches music for Center for Knowledge North and Center for Knowledge, magnet schools located near Columbia in Richland District 2. Out of a total of 21 years of teaching music, seven of them have been at Center for Knowledge North.
Coming to SWU
Stack's father, Levon Stack (currently a member of SWU's Board of Visitors) served in a military unit together with David Rhyne, who served as chaplain at Southern Wesleyan. Rhyne enthusiastically told Levon and his wife Earline, Stack's parents, about Southern Wesleyan.
"I have to say I wasn't enthusiastic about it at first – I wanted to go to Florida where I had scholarships," Stack said. "I resisted at first but, as of the first three months, I really just fell in love with the family feel of Southern Wesleyan. At the time Dr. David Spittal was president of the college. I remember going to his house for March Madness and Mrs. Spittal made brownies. We were just camped out at the president's house watching basketball."
Stack also recalls how Prof. Jane Dill asked her to direct children's choir at First Wesleyan Church (now ALIVE Wesleyan) when it was located on the university campus.
When she was Stack's professor at Southern Wesleyan, Barbara Bross recalled that she was a talented student with a beautiful singing voice. Stack also played the cello and bass stringed instruments, performing in the instrumental ensemble and numerous recitals. She also performed in a musical and traveled with "From the Heart," a summer ministry team, for two years.
"She was a diligent student, excelling in courses such as Music History and others. In addition to her Music Education major, she was a gifted actress and performed in several student productions," said Bross, adding that she saw Stack live out her faith, sharing freely with others and demonstrating leadership.
Stack remembers how her professors at Southern Wesleyan taught her the value of relationships and the importance of putting students first.
"I believe that's been the heart of why God has allowed me to be so successful, just building those relationships with people," Stack said. She fondly recalls rewarding experiences of watching her students develop their musical talent. She shared one noteworthy story of teaching the son of one of her former principals.
Patiently working with him over the years, Stack said, "He got frustrated and told me flat out when he was in second grade he never thought he'd be good musician. I said 'you're going to be fine, you're going to get it.' When I was working with him I didn't pay him any special attention, mainly I just encouraged him. By the time that child reached fifth grade he had lead role in a musical at a local children's theater. He auditioned for it and nailed the part. I still remember when he couldn't sing a note and here he is, he's just blowing it out."
For someone who values relationships as does Stack, moving online and away from school has been tough.
"Content is content, but if my kids are okay, then I'm okay," said Stack. "This is hard especially for me because I'm a hugger. When I see their faces come across my screen I light up. It brings me joy to see them and they get excited to see me and to see each other. It's just tough not having that personal interaction. I can't wait until we can go back to school."
Southern Wesleyan University is a Christ-centered, student-focused learning community devoted to transforming lives by challenging students to be dedicated scholars and servant-leaders who impact the world for Christ. For details about degree programs, go online to swu.edu.
Follow SWU:
https://www.facebook.com/southernwesleyan/
http://www.twitter.com/SWU_edu
http://pinterest.com/swuedu/
http://instagram.com/swu_edu