Stafford named 2019 South Carolina Assistant Principal of the Year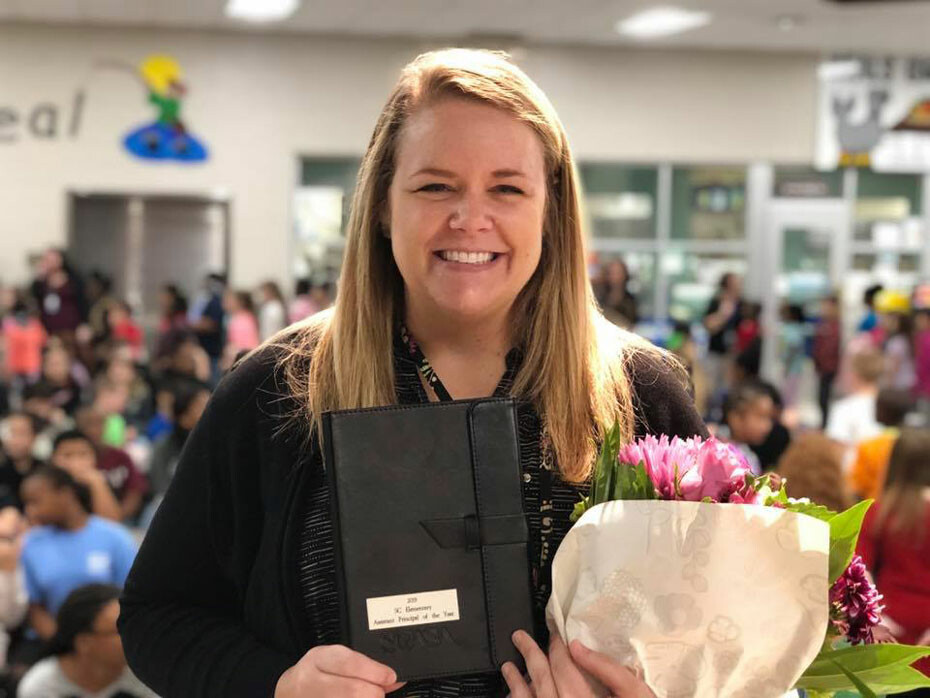 Photo: Greenville County School District
Leah Stafford, assistant principal at Simpsonville Elementary School
Leah Stafford, assistant principal at Simpsonville Elementary School and 2013 master of education in administration and supervision (MEDAS) graduate, was recently named the 2019 South Carolina Assistant Principal of the Year.
Making an impact
Stafford has been with Simpsonville Elementary for three years, and prior to that, was at Chandler Creek and Heritage elementary schools. Early in her life, she felt she wanted to make a big impact on the world, which led her initially on the track towards studying law. When attending her first pre-law classes, Stafford realized she had little in common with others following that path, so she turned to education.
"Teaching has been a mind shift for me and has allowed me to see that it's the little actions that are filled with passion that make the largest difference in our world. It's that one child, that one lesson, that one opportunity that you provide for a student," she said.
Coming to SWU
Stafford and her husband Todd Stafford, who is an administrator at Greenville County Schools, both enrolled in Southern Wesleyan's MEDAS program, becoming among the first to enter the program. She jokingly refers to her "date nights" with Todd early in their marriage, going over what they learned in class that week. When she became pregnant with their first child, her classmates threw them a baby shower.
Of SWU's MEDAS program, Stafford says, "the program fit perfectly in with what I was already doing in my classroom at the time. Professors encouraged us to look at situations in our school using our 'administrative hat' rather than our 'teacher hat.' It gave me a new perspective on our school and the decision that were made. Our professors also gave us time to discuss these real life experiences in a safe space where we could learn and grow from the challenges each classmate faced in their buildings."
Preparing students for success
While it's pretty much the norm for an assistant principal to be a school's disciplinarian, Stafford takes a creative approach, turning an issue facing a student into an engaging, memorable learning experience. For girls in particular, Stafford sought to address issues hindering learning and came up with the PEARLS (Preparing, Engaging and Respectful Lady Scholars) Club.
"We meet a few times a month to cover topics that include confidence, self-esteem, leadership, college and career opportunities, academic achievement, public speaking skills and much more," Stafford said, adding that many in the community support this effort, including the Peace Center donating tickets for performances and a restaurant providing a multi-course meal and an opportunity for teaching etiquette.
"What started with some girl drama has blossomed into this amazing movement in our school where every girl desperately wants to be a member of the PEARLS Club," Stafford said. "Leaving these girls special motivational notes on their desks, meeting with individually about their progress reports, providing them with opportunities they may never get to experience, just being a person they know they can count on that will always have their back – that is where I find my joy in my job as assistant principal."
Stafford added that being the parent of a child diagnosed with autism has impacted her and Todd's parenting role, but has also has reinforced for her the importance of being actively involved in IEP (Individualized Education Program) meetings with parents.
"I try my best to show the parent sitting across the table from me that I hear them, in all their frustration and anxieties and fears for their child. I want to show them that even though they might not understand every line of the IEP, they can trust us completely to do what is absolutely best for their child," Stafford said.
Dr. Sandra McLendon, dean of Southern Wesleyan's School of Education, says, "I am so proud of Leah. Our program is awesome at SWU and this is why we do it!"
Southern Wesleyan University is a Christ-centered, student-focused, faith-filled community that offers inventive learning experiences. The university endeavors to prepare its students to be dedicated scholars and servant-leaders who impact the world for Christ. At the same time, it's Southern Wesleyan's desire to practice contagious generosity within the surrounding community. For details about degree programs, go online to swu.edu.
Follow SWU:
https://www.facebook.com/southernwesleyan/
http://www.twitter.com/SWU_edu