Students 'immersed' in innovative Bible Reading experience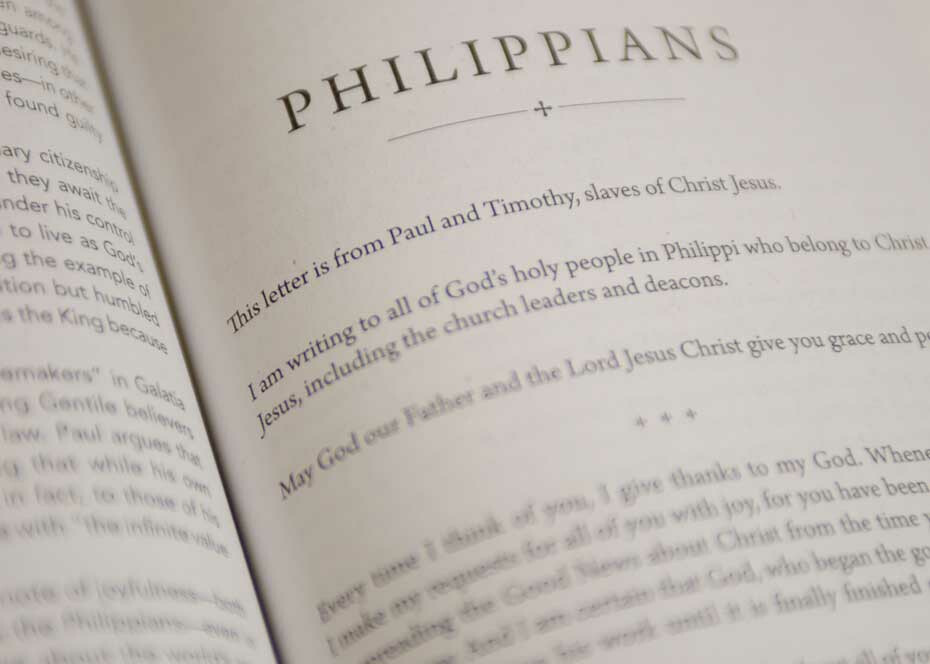 Motivating students to read the New Testament in its entirety can be a challenge, to say the least.
A Southern Wesleyan University professor has introduced her students to an innovative way to do just that, and their response has been overwhelmingly positive.
"At an out loud reading pace, it takes 18 hours to read the New Testament. You could spend 18 hours binge watching a Netflix show," Rev. Andrea Kind Summers, who teaches a general education New Testament course. "Putting it in perspective," she tells her students, "you realize the only reading for the semester is the New Testament. You can totally do 18 hours."
Summers, a religion professor at Southern Wesleyan, incorporated a new kind of Bible reading experience into her course's curriculum. In fact, Southern Wesleyan is the first university to use Immerse: The Bible Reading Experience in a class setting.
Immerse is a version of the New Living Translation (NLT) and is the complete Bible, but organized differently. Summers noted that books of this Bible translation are placed by author and by voice; for example, Luke and Acts are read together, and Paul's epistles are placed in chronological order.
Summers' class is filled with students representing a diversity of majors. She stresses the importance of reading as a community, having students share what they've read in a book discussion format.
"I see this New Testament class as an opportunity for students who are new to their faith and are new to owning their faith," Summers said. "When students with an open heart ask the Holy Spirit to speak to them, they will have an encounter with the living God – it will be formational. I try to create that space to do that."
Summers continued, "I feel so strongly that if a student at SWU is taking a New Testament class – if nothing else, I want them to encounter the living God. I try to take away all the intimidation factors I can. They are going through so much, facing tough stuff in their lives. I can't be everyone's mentor or savior, but I can give them tools to study God's word to find the Holy Spirit there."
The Institute for Bible Reading (IFBR), creators of Immerse, interviewed Summers and a few of her students about this new, inventive way of engaging with Scripture. The video can be seen on their website.
"The Institute for Bible Reading is committed to the proposal that deep, authentic Bible engagement is at the heart of welcoming the next generation into the faith," says Paul Caminiti, co-founder of IFBR. "It's a privilege to partner with Southern Wesleyan University toward that end."
Southern Wesleyan University is a Christ-centered, student-focused learning community devoted to transforming lives by challenging students to be dedicated scholars and servant-leaders who impact the world for Christ. For details about degree programs, go online to swu.edu.
Follow SWU:
https://www.facebook.com/southernwesleyan/
http://www.twitter.com/SWU_edu
http://pinterest.com/swuedu/
http://instagram.com/swu_edu