Summer at SWU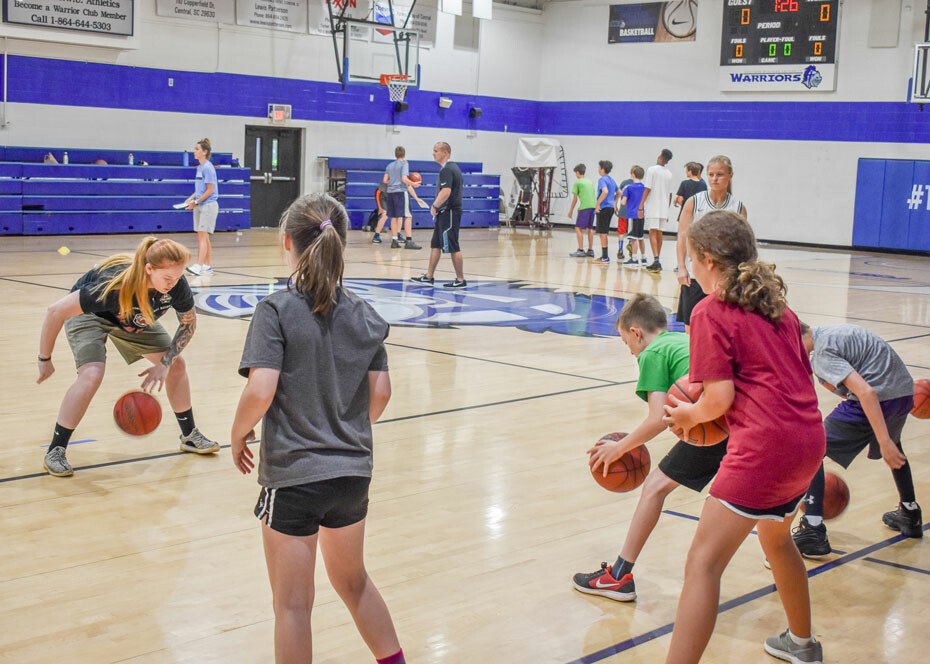 After students head home in May, there's a different feel on Southern Wesleyan University's campus as the normal mix of lectures, chapels and athletic events gives way to summer days filled with camps, conferences and events.
SWU President Dr. Todd Voss sees a trend toward colleges and universities hosting more camps and conferences, rather than allowing them to lay dormant.
"Our philosophy is that we should never keep an asset like a college campus idle, but for very different reasons than some might think. For SWU, it is about the influence on those who use our campus in the summer. It is about serving and hospitality. It is about making an impact on those we serve," Voss said.
Summer offers a chance for area youngsters from grade school to high school to improve athletic skills as they take part in a variety of sports camps. Summer can also be an energizing time of spiritual renewal during youth camps that draw students from around the corner or from several states away. Or it can be a time to hone God-given musical talent.
Athletic camps
Nearly 300 youngsters participated in camps devoted to baseball, basketball, soccer and volleyball, benefiting from the instruction of coaches and student-athletes. According to Julia Reininga, associate athletic director and women's volleyball coach, the university offered more camps in 2018, offering something for everyone "from beginner to elite."
Head Men's Soccer Coach Garrett Bireline says, "It's a great opportunity for our own players to showcase their leadership skills, not only among themselves but to the youth in the community. We talk about how to love others like Jesus and what it looks like." Bireline conducts soccer camps for grade-school age players as well as for older players.
Head Women's Basketball Coach John Davis saw 28 young players come out to Breakthrough Basketball Camp in Tysinger Gymnasium and learn more than just how to excel on the court.
"From a personal standpoint, I enjoyed hearing our counselors speak on team attributes from a Christ-centered standpoint to the campers. We were able to incorporate our love for Christ into basketball for the week," Davis said.
"It is so much fun working with kids and seeing our SWU athletes coach the next group of great athletes as well," Reininga said.
Cool Tunes
In addition to sports, SWU's 18th Summer Jazz Experience took place June 12-16, a camp where despite hot summer days, young musicians were having fun playing cool tunes. According to Greg Day, professor of music and director of bands at SWU, this was the largest group of campers and staff to date, totaling 70 participants. Day noted that six combos worked over four days to present three performances while learning the variety of skills involved with jazz improvisation.
"Area music teachers also participated as campers this year, which may lead to some additional formats designed specifically for educators in the future. A great staff included long time teacher Rick Simerly and former Navy Band member Bo Clayton as well as local professionals," Day said.
Youth Camps
SWU hosted more than 300 youth June 18-22 for CREED Camp. According to Carson Cobb of Northlake Church, CREED camp was about students getting to know God more deeply and for connecting with youth from different churches.
"From our first visit on campus, the SWU staff was incredibly welcoming and gracious. We felt that our camp was something really wanted here at campus and that our vision for the week was something that SWU wanted to see come to fruition," Cobb said. "They were willing to dream with us, to plan with us, and essentially lay out whatever they could do for us to help us fulfill our mission of this week of CREED Camp."
After CREED, SWU again hosted several hundred middle school and high school students for two large NTS (Never The Same) camps. Each camp presented a fun, yet challenging week for youth to draw closer to God through dynamic worship in a high-energy environment. Eight buses from 12Stone campuses around Metro Atlanta arrived at the Central campus July 16 for the first week of NTS Camp, and, during the second week, youth groups from several churches came from as close as around the corner or as far as several states away.
"We are so thankful that SWU would host NTS Camp again this summer," said NTS Camp Director Arianna Eckart. "In our two weeks at SWU, over 100 students accepted Jesus for the very first time and more than 50 students stood to answer a call to full time vocational ministry."
"One of our students who has been doubting what will happen after he dies, now knows he will be in Heaven," said one of the pastors attending NTS with a youth group. Another pastor said "One of our students who had a great life but lost it because he was so consumed with drugs and other things, refocused his life this week and is ready to go home follow Jesus with his whole heart," Eckart added.
Nearly 500 teenagers experienced Quest Academy, which included three camps on the SWU campus, offered through the university's Division of Religion. Funded by a grant from the Lilly Endowment Inc., Quest is a ministry for high school students who want to explore God's calling on their life.
According to Rev. Mark Wilson, assistant professor for discipleship, multiplication and renewal, Quest Academy has exceeded their expectations.
"It is amazing how eager high school students are to explore their faith and life-calling. Already, we are seeing good fruit from this initiative, and youth pastors are asking how they might bring Quest to their local church," Wilson said.
Onward and Upward
SWU hosted the Upward Bound Summer Component, six weeks that are designed to give students a taste of college life as they live in residence halls, have roommates, eat in the University Dining Commons and attend classes.
"Student participants also engaged in academic enrichment course work, college admissions workshops, motivational speakers, college tours, cultural activities, health/wellness and life skills activities," said Dr. Thwanda Davidson of the Upstate Institute of Youth Programs Inc. Davidson added that the students, who were from Seneca, Crescent and Westside high schools, were also able to enroll in an ACT preparatory class.
Campus Challenge
On July 28, 42 students from 15 Wesleyan churches in six states competed in a talent competition for nearly $50,000 in scholarship money during Campus Challenge, sponsored by Wesleyan Higher Education and Education ad Clergy Development to help students discover and develop their God-given talents. Competition categories include dance, instrumental, vocal music performance, oratory, photography and video production.
Denominational gatherings
Wesleyan congregations from several states came together June 22 and 23 for Renuevo, a multiethnic two-day camp full of workshops, worship and prayer, fellowship, games and activities.
"I was blessed as I saw Family's been blessed. Every age group – children, youth and adults – were touched by the Word and by the fellowship that was shared," said Rev. Frankie Rodriguez, pastor of Iglesia Wesleyano El Camino in Greenville. "We were blessed by the hospitality of SWU and the love we received from those who represented the University. We truly felt welcomed, it's like we were at home."
As the South Carolina District Conference took place close to SWU at ALIVE Wesleyan Church, Wesleyans from across the state gathered brought their appetites to the Central campus July 7 at Southern Wesleyan University's Dining Commons for a hearty meal and some great fellowship.
Hosting community events
Southern Wesleyan University also serves as the venue for many events throughout the summer, including, for the first time, the starting point for an escort of U.S. Special Operations Command Marines, along with spouses June 11. During the event, organized by Honoring Their Service, well-wishers from the university and the surrounding community were on hand to show appreciation to those who are actively engaged in service to our country.
On July 14 the university hosted a Bastille Day celebration to benefit Black Sheep Farm, a nonprofit organization that provides horse-assisted education programs for the surrounding community, including the special needs population.
The university's Conference Services and Dining services have been busy throughout the summer organizing and providing support services for these and other activities, including annual training for employees at Duke Energy's Oconee Nuclear Station.
Serving community = Amazing benefits
For Voss, an uptick in summer activity benefits both Southern Wesleyan and the thousands who set foot on the Central campus during summer months.
"The benefits are amazing – young people for the first time envisioning themselves as a college student, families finding a cost effective way to finally get together with relatives that otherwise would never have happened, campers deeply impacted by faith and music, young athletes becoming more familiar and gifted in a sport, and visitors treated with the joy and excitement of what is happening at SWU.
Voss adds that inventive learning carries over from the academic year into summer as student leaders grow in their leadership skills and prospective students get a feel for the uniqueness of campus life at SWU.
"All in all, summers at SWU are life-giving, leadership-enhancing and allow our campus to stretch its reach to new heights of service," Voss said.
For details about hosting an event at Southern Wesleyan, contact the university's Conference Services office at (864) 644-5192 or email .
For a calendar events, click the link at swu.edu.