SWU a community partner in child abuse prevention efforts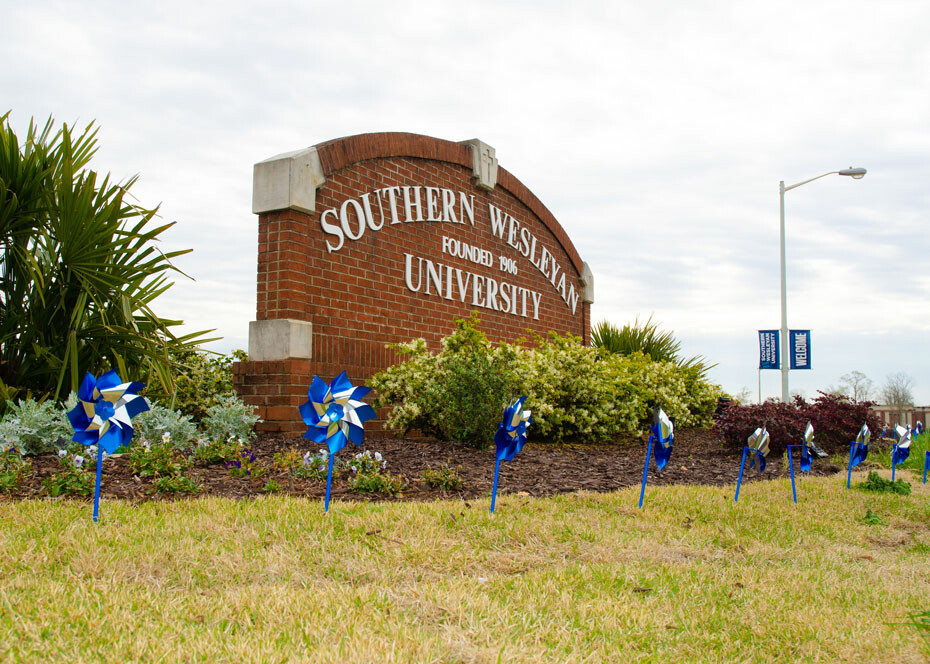 Southern Wesleyan University is pleased to join community partners across South Carolina in raising awareness of efforts to prevent child abuse, demonstrating its support with a "pinwheel garden" at the entrance to its campus in Central.
By its very nature, the pinwheel connotes whimsy and childlike notions. In essence, it has come to serve as the physical embodiment, or reminder, of the great childhoods we want for all children. As a community partner, SWU reinforces the messaging of child abuse prevention throughout the Upstate, affirming that we all have a role to play in child abuse prevention. It begins with paying attention to the needs of young families around us.
The Parenting Place has served as a leader in the Upstate by raising awareness and planting pinwheel gardens with its many community partners, SWU being one of them. There are pinwheels planted across Pickens County. Together with other partners, they are leading 2019 Child Abuse Prevention Month activities in the Pickens area. For details, visit scchildren.org.
Southern Wesleyan University is a Christ-centered, student-focused, faith-filled community that offers inventive learning experiences. The university endeavors to prepare its students to be dedicated scholars and servant-leaders who impact the world for Christ. At the same time, it's Southern Wesleyan's desire to practice contagious generosity within the surrounding community. For details about degree programs, go online to swu.edu.
Follow SWU:
https://www.facebook.com/southernwesleyan/
http://www.twitter.com/SWU_edu