SWU alumna becomes assistant coach at Division I institution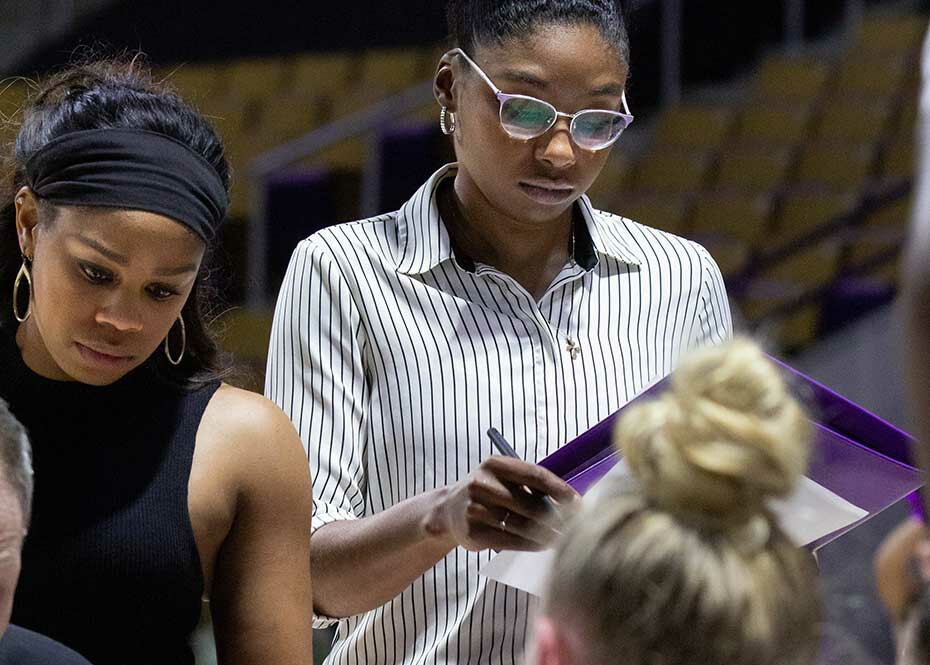 In June, Shyla Coleman was named director of basketball operations at Western Carolina University, then things began to move quickly when the opportunity came up to become an assistant coach for the Catamounts Women's Basketball Team.
A 2015 Southern Wesleyan University Biology graduate, Coleman went on to complete her master's degree in athletic leadership at Clemson University, where, upon the invitation of then Tigers Women's Basketball Coach Audra Smith, she became a graduate assistant for the women's basketball team at Clemson. When Coleman was still at SWU, she was also working with summer basketball camps at Clemson – an experience that influenced her to pursue a coaching career.
Coaching in Division I
Of her new role at Western Carolina, Coleman says, "I was blessed with an opportunity to move up. Most people don't get this opportunity, especially in Division I and right out of a graduate assistant position. I love being able to come to work every day and mentor young girls, because I didn't have anyone that looked like me when I was playing in school. I never had a female coach before – this is very much a male-dominated profession. I want to progress to a head coaching position when the time is right."
Coming to SWU
In 2010, when Coleman was at a senior all-star regional basketball tournament, she met LaCheryl Smith, former SWU basketball coach. Shortly after giving Smith and Tim Valentine, her assistant coach, a videotape of one of her games, she was invited to the Central campus.
"I went on a campus tour, met the players, watched them work out and played pick-up. That night before I left, they offered me a scholarship," Coleman said.
Soon after that, she learned that Smith was leaving SWU for another opportunity and they were going to look for another coach. When the basketball season started, Coleman found herself playing for Coach John Davis, newly hired by SWU.
"We had a brand new coach and were coming off a losing season. We were skeptical, to be honest, but he pushed us to be better than we thought we could be. He let us make mistakes. It made my experience so much more memorable – he was like a father to me. He truly lived by being a servant leader," Coleman said.
Also while at SWU, Coleman sought a closer relationship with God.
"My time at SWU pushed me into dedicating my life to the Lord, being saved, getting baptized, and finding a church home," she said, adding "SWU introduced me to people from all walks of life and allowed me to find common ground with those who I thought were nothing like me. SWU taught me how to step outside of my comfort zone and build connections with those with views and beliefs different from my own."
Coleman's faith makes a huge difference in how she handles the day-to-day of coaching and the stress that comes with the job.
"For me, being patient, persistent and persevering have been three things that have constantly come up – trying to prioritize and find that work-life balance where I can still show up and be here for these young women and having enough time for myself so I can refill my cup. If my cup is empty, how can I continue to pour into other young women? That's been the biggest thing for me," Coleman said.
For details about degrees, contact Southern Wesleyan University at 877-644-5556 or visit www.swu.edu.
Southern Wesleyan University is a Christ-centered, student-focused learning community devoted to transforming lives by challenging students to be dedicated scholars and servant-leaders who impact the world for Christ. For details about degree programs, go online to swu.edu.
Follow SWU:
https://www.facebook.com/southernwesleyan/
http://www.twitter.com/SWU_edu
http://pinterest.com/swuedu/
http://instagram.com/swu_edu