SWU alumna runs Antarctica Marathon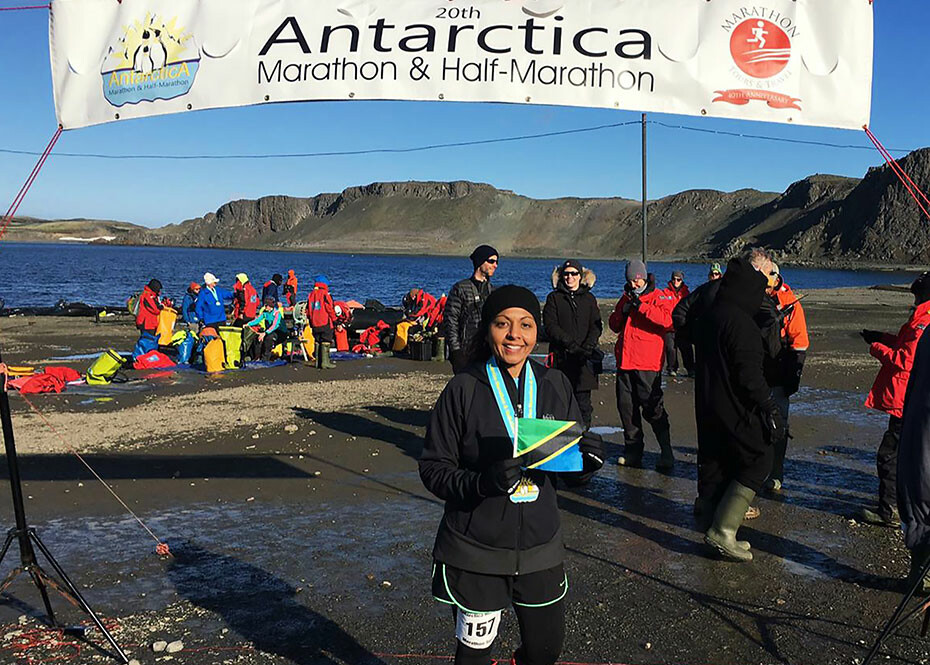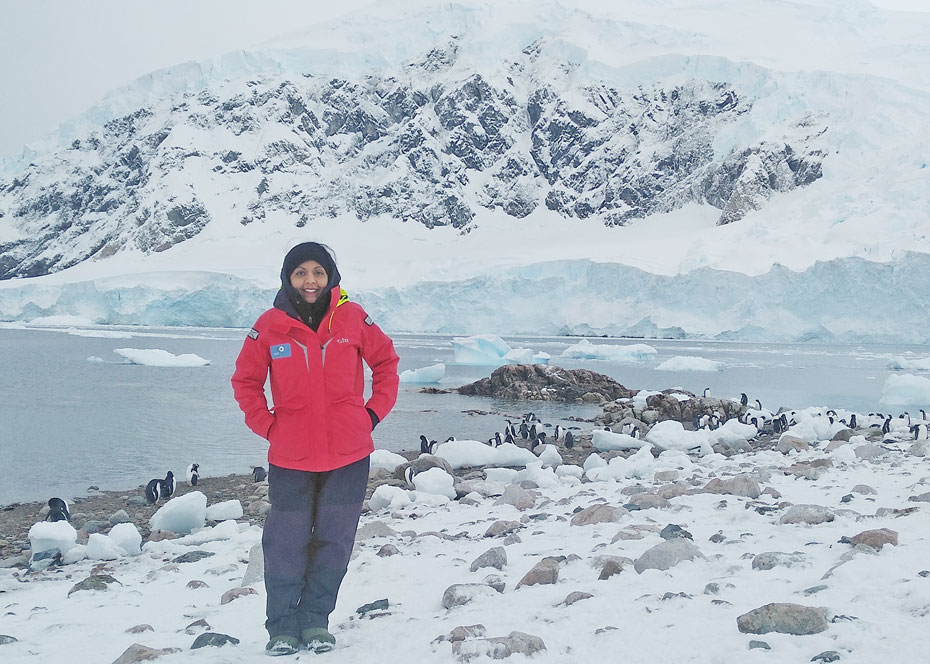 For most of us, Antarctica is a place of mystery visited only by a small number of explorers and researchers.
For Southern Wesleyan University alumna Rupal Shah, it was the setting for her latest marathon, an experience she described as being "brutal and epic."
In 2017, Shah earned the Six Star Finisher, having run in the six Abbott World Marathons, which consist of six of the largest and most renowned marathons in the world: Tokyo Marathon, Boston Marathon, London Marathon, Berlin Marathon, Chicago Marathon and New York City Marathon.
After receiving the prestigious Six Star Finisher's medal, Shah wanted to keep going and set her sights on another achievement, to run a marathon in each continent of the world. That's what took her to Antarctica.
Shah's journey to Antarctica began with a flight to Buenos Aires, Argentina, then another flight to Ushuaia, the world's southernmost city, located in the Province of Terra del Fuego. From there she boarded a 348-foot ship, the Akademic loffe, sailing to Antarctica through the Drake Passage.
Nauseous from a bout of seasickness on the small ship, Shah took medications for motion sickness and then concentrated on nourishing herself to prepare for the marathon.
Shah ran in one of two groups of two hundred runners competing in the 20th Antarctica Marathon and Half-Marathon. Her marathon took place on March 18. The course was located on the Russian base, taking a route of 2.18 miles back and forth repeatedly over steep hills on icy, muddy paths.
"On Monday temperatures were in the 30s, the sun was shining with negligible wind and everyone finished. Even the last person finished in under seven hours – great timing, said Shah, who had a finish time of 6:39:29.
"The terrain was solid ground, like a dirt road. It was icy when we started, but as it got warmer it became muddy. Unless you've trained to run in the mud, the race was difficult. The cold was okay, because I trained in Boston in very cold weather. The hills were brutal – I wasn't prepared for the hills," said Shah, noting that she encountered inclines that were steeper than she encountered during the 2014 Marathon in Tanzania.
"According to the race organizers, the day our group ran the race was the first time in 20 years that the weather had been perfect with no rain, no wind, no snow, moderate temperatures, and plenty of sunshine. I have to thank God for the good weather because even as I heard about the race conditions that fellow runners encountered the previous day, I was convinced we would have similar weather conditions," Shah said.
After the marathon, she went on an excursion onto the continent.
"We saw many penguins, whales, and seals. I was in awe of the beauty of the glaciers. Everything in Antarctica looked like it was straight out of the National Geographic magazines. I am glad to see that humans have not colonized the continent and set up life there, except for the researchers who live there short term. Antarctica is truly one of the most breathtakingly beautiful places I have ever seen," Shah said.
Shah is scheduled to run a marathon in Sydney, Australia on Sept. 15. If she completes a marathon there, she will have run on all seven continents of the world – joining the 478 men and 235 women.
"I enjoy running, but more than that I enjoy running marathons, especially these big marathons. Over the years I've also formed relationships with a wonderful community of runners from different parts of the world," Shah said.
Shah, a 2004 Southern Wesleyan University graduate, was living in Boston for the past 10 years and currently lives in Fond les Blancs, Haiti, where she works as a grants manager for a hospital in Haiti.
Southern Wesleyan University is a Christ-centered, student-focused learning community devoted to transforming lives by challenging students to be dedicated scholars and servant-leaders who impact the world for Christ. For details about degree programs, go online to swu.edu.
Follow SWU:
https://www.facebook.com/southernwesleyan/
http://www.twitter.com/SWU_edu
http://pinterest.com/swuedu/
http://instagram.com/swu_edu