SWU Announces Outstanding Alumnus of the Year Award Winner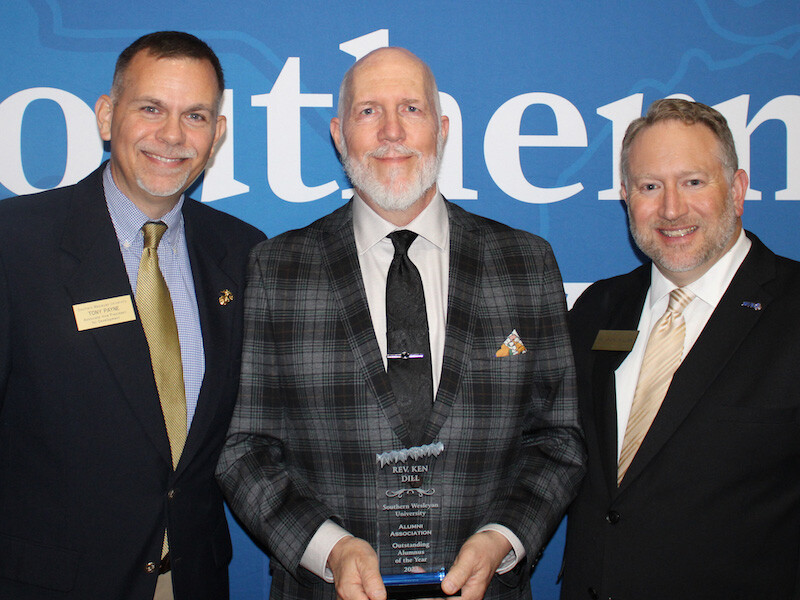 CENTRAL, S.C. – Southern Wesleyan University hosted its Alumni Awards Program on September 30 to honor its alumni, including one outstanding alumnus.
SWU proudly presented the 2023 Outstanding Alumnus of the Year Award to Rev. Ken Dill, class of 1981. Rev. Dill went on to complete seminary training at Emory University in 1984.
Rev. Dill served as Central First Wesleyan's Youth Pastor and Decatur Wesleyan's Assistant Pastor between 1981 and 1984. From 1984 to 1989, he took on pastoral roles at Emmanual Wesleyan in North Carolina and was a Children and Young Adult Pastor in Kannapolis from 1989 to 1990. He also coached youth sports.
Rev. Dill was the Southern Wesleyan University Chaplain for 33 years. During that time, he was central in reshaping the chapel program to increase student engagement and introduce a redemptive approach for those missing chapel commitments. Livestreamed sermons now reach audiences in 92 countries via YouTube.
SWU's Spiritual Life Department thrived under Rev. Dill's direction. He coordinated the construction of the Newton Hobson Chapel and Fine Arts building, started the University Singers program, created a discipleship program and Missionary in Residence program, and expanded the student chaplain program. He also introduced two enduring SWU traditions: Passing the Mantle for new students and the Servant's Towel for graduates.
Rev. Dill participated in 162 graduation ceremonies at SWU, authored five academic courses, led 55 student trips, served 6,000 pancakes at the late-night breakfast events, directed a performance of "Annie," and contributed to other musical productions. He planned and attended 2,630 chapels.
Rev. Dill has created Sunday School lessons and devotions. He also co-authored a chapter on "Land and Water Conservation" with Dr. Rocky Nation for Care of Creation.
Southern Wesleyan University is a Christ-centered, student-focused, faith-filled community that offers inventive learning experiences. The university endeavors to prepare its students to be dedicated scholars and servant-leaders who impact the world for Christ. For details about degree programs, go online to swu.edu.
Follow SWU:
facebook.com/southernwesleyan/
twitter.com/SWU_edu
instagram.com/swu_edu
linkedin.com/school/southern-wesleyan-university/