SWU Announces Professional Excellence Alumni Award Winners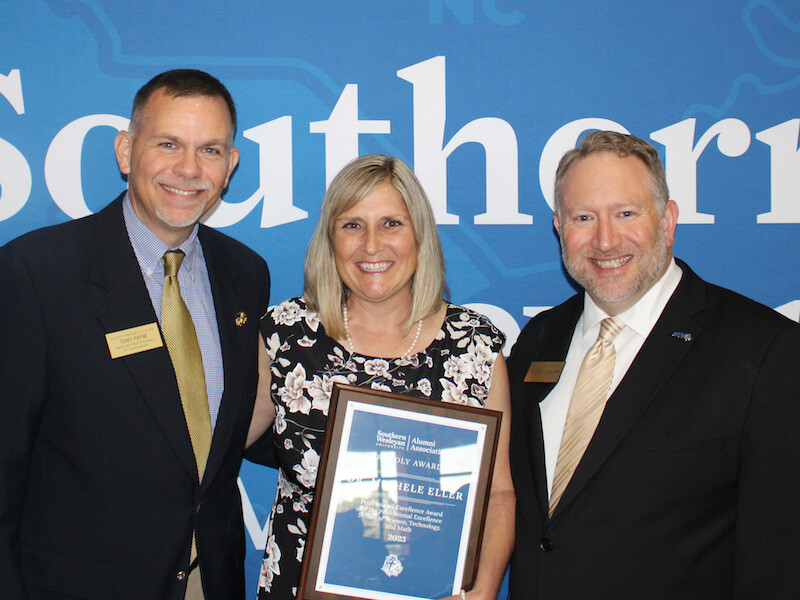 CENTRAL, S.C. – Southern Wesleyan University hosted its Alumni Awards Program on September 30 to honor its outstanding alumni, including those demonstrating professional excellence.
SWU was proud to present the 2023 Professional Excellence Award to Debbie Lin Muller Walker, class of 2004; Dr. Michele Eller, class of 1997; Amy Byrd, class of 1998; Rev. Dan Leroy, SWU Board of Trustees member from 1999-2016; and Rev. Matt Leroy, class of '99.
Debbie Lin Muller Walker, '08
Walker received a BS in Management from the University of South Carolina in 1981 and an MBA from SWU in 2008. She also graduated from the Southern Association of College and University Business Officers' College of Business Management Institute at the University of Kentucky.
Walker began her career in banking, where she spent 13 years before accepting a job at Midlands Technical College. Her career progressed quickly, moving from a contract employee in the Student Financial Services File Room to her current role as the Vice President for Business Affairs and Chief Financial Officer.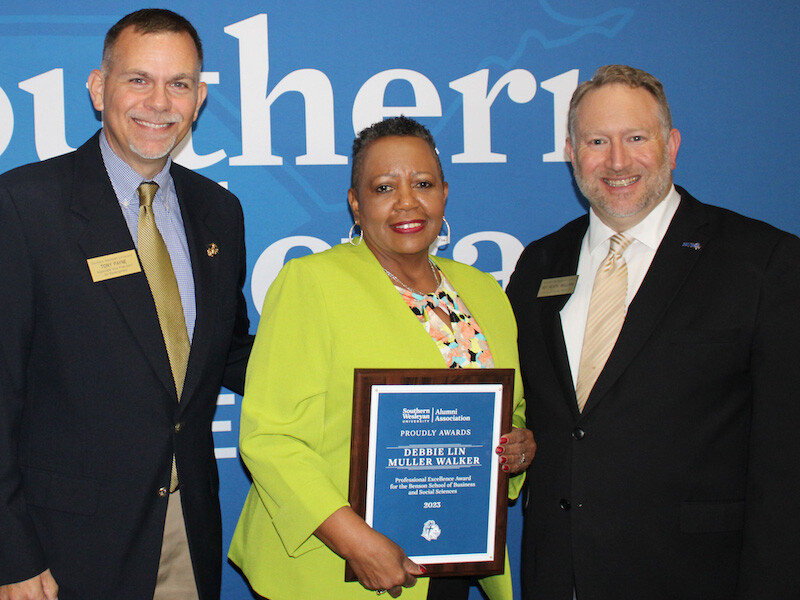 Under her leadership, MTC has received the Certificate of Achievement for Excellence in Financial Reporting for 27 consecutive years.
Walker is a certified Government Finance Officer (CGFO) and has held various offices in the Government Finance Officers Association of South Carolina. She is an instructor for the Community College Business Officers Leadership Academy. Walker served on the Compliance Certification Team during MTC's successful reaccreditation process in 2010 and 2020.
In 2020, Greenville Business Magazine named Walker one of South Carolina's leaders of Women in Business. She was recently inducted into the Airport High School Educator Hall of Fame.
Walker grew up in a family of 13 children and participated in sports, clubs, and other activities. She and her daughters, Felicia and Courtney, created an endowed scholarship at MTC in memory of her late husband, Fletcher. Walker is a member and CFO at New Faith Community Church and an active volunteer.
Dr. Michele Eller, '97
Dr. Eller received a B.S. in Chemistry from SWU in 1997 and a Ph.D. in Genetics from Clemson University in 2005. After other teaching positions, Dr. Eller became Assistant Professor of Biology at SWU in 2017. She was promoted to Associate Professor of Biology in 2022 and currently serves as the Coordinator of the Life Sciences Department in the School of STeM.
Under her direction, 13 SWU students completed independent research projects supported by grants for undergraduate faculty/student research. Dr. Eller is an active member of the national Genomics Education Consortium and serves as Co-Chair of the Carolinas Node.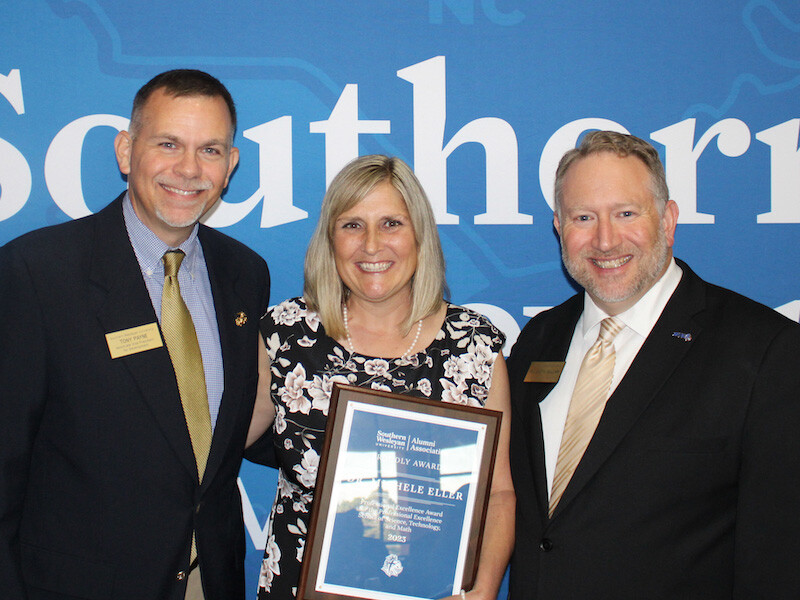 Dr. Eller believes science is the most significant mission field and that SWU taught her how to share what she believes and why. Her mission is to prepare the next generation of Christian scientists to be missionaries in the workplace.
Dr. Staci Johnson, Professor of Biology and Chair of the School of SteM, said, "SWU students and alumni recognize the impact their professors have made in their professional journey. Dr. Eller has taken up that mantle and is providing this amazing level of guidance and mentorship to the next generation of SWU alumni in the sciences."
Dr. Eller comes from a family of SWU alums and supporters. Her husband, Jason, is also a SWU alumnus. They have a daughter, Carys Grace. Dr. Eller is grateful for God's faithfulness through her four-year battle with colon cancer.
Amy Byrd, '98
Amy Byrd received her B.A. in Music Education from SWU in 1998. She studied under Mrs. Jane Dill, to whom she credits her teaching success and her love of music.
Mrs. Jane Dill said, "It has been a joy to watch Amy Byrd go from being a SWU student to the wonderful wife, mother, and teacher that she is today. She does everything with the love of Christ in her heart, and all who come in contact with her see that. Amy is so deserving of this award."
Byrd started her career in Greenville at League Academy of the Arts, serving from 1998 to 2004. She has directed choruses in both Greenville and Pickens Counties. As a teacher at Gettys Middle School, she directed the largest middle school choir in South Carolina, with over 300 singers. She was a WYFF4 Golden Apple Teacher in 2015.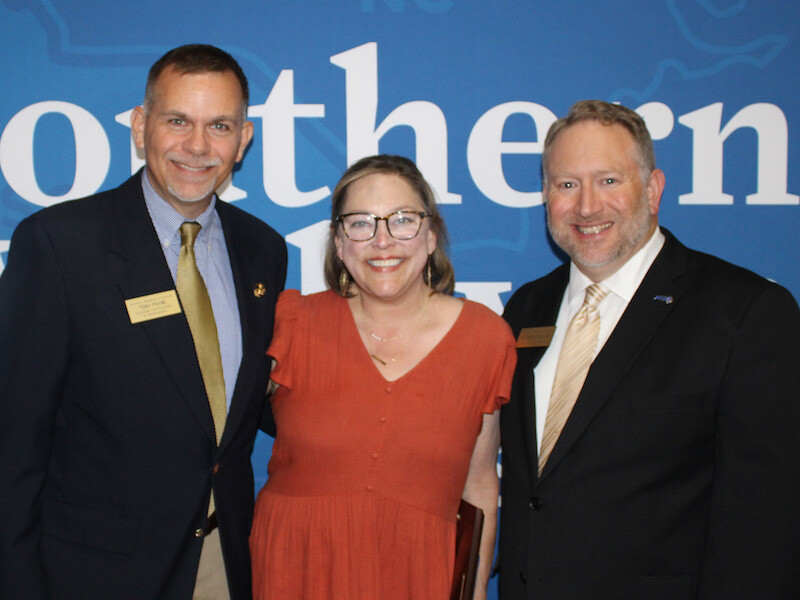 In 2017, Byrd transitioned to Easley High School, where she was a WYFF4 Golden Apple Teacher in 2022 and a finalist for the 2022-2023 school year.
Byrd has been described as a music teacher who makes every student feel loved with each note they sing. She is committed to excellence in choral education and creates a vibrant learning environment that fosters an appreciation for the arts among her students. Her students have excelled at local, district, and state levels.
Byrd is married to Darian, a fellow SWU graduate, and the proud mother of Will and Charlotte.
Rev. Dan Leroy, SWU Board of Trustees
Rev. Dan Leroy was part of the last graduating class of Kernersville Wesleyan College in 1971 and continued his education at Asbury Theological Seminary in Wilmore, Kentucky.
Rev. Leroy served at Foster Street Wesleyan Church from 1975 to 1980, then moved to Bagley Swamp Wesleyan Church from 1980-1987. Rev. Leroy and his family moved to Chapel Hill, NC, to plant the Chapel Hill Wesleyan Church during a time when church planting efforts were revived nationwide. He pastored the church from 1987 to 1999.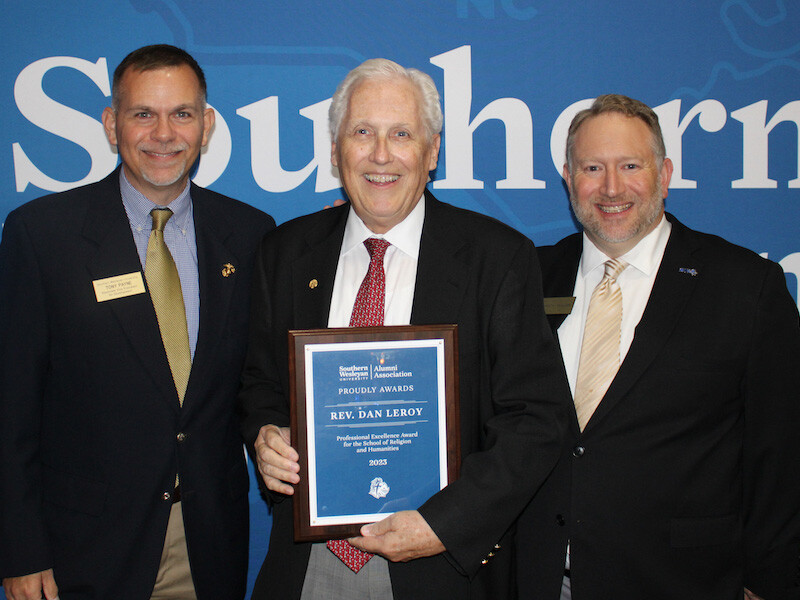 In 1999, Rev. Leroy was elected the Assistant District Superintendent for the North Carolina East District of the Wesleyan Church, where he served until 2004. He was then elected District Superintendent, a role he maintained until his retirement in 2016.
Rev. Leroy served on the SWU Board of Trustees from 1999 to 2016 and was elected a Trustee Emeritus in 2016.
He has long been a champion for the next generation, focusing his efforts on the youth movement of the Wesleyan Church. His recent books, Rediscovering Our Holiness Heritage and Reclaiming Our Holiness Heritage, continue to influence the movement. He and his son, Matt, collaborated on the latest book in the series, Reimagining Our Holiness Heritage: A Path Forward. He is working on his next book, Redefining Our Holiness Heritage: Bringing Holiness Back to the Heart of the Wesleyan Church.
Rev. Leroy and his wife Cynthia have three sons: Kris, Matt, and Josh. All three graduated from SWU, along with their daughter-in-law, Laura, a SWU Hall of Fame member. Rev. Leroy and Cynthia have nine grandchildren.
Rev. Matt Leroy, '99
Rev. Matt Leroy graduated from SWU in 1999 and attended Asbury Seminary from 2004 to 2007 to deepen his theological understanding and ministry work.
He served at Trinity Wesleyan Church in Indianapolis from 1999 to 2004. He received the 2004 SWU Young Leader Award. In 2008, Rev. Leroy and a community of friends planted Love Chapel Hill, which became a transformational force. Rev. Leroy served at Love Chapel Hill until 2022.
Rev. Leroy now leads "The Circuit" as Director of Church Planting for the NC East District of the Wesleyan Church. The Circuit consists of a collective of Jesus Pioneers commissioned to multiply disciples, churches, and transformation.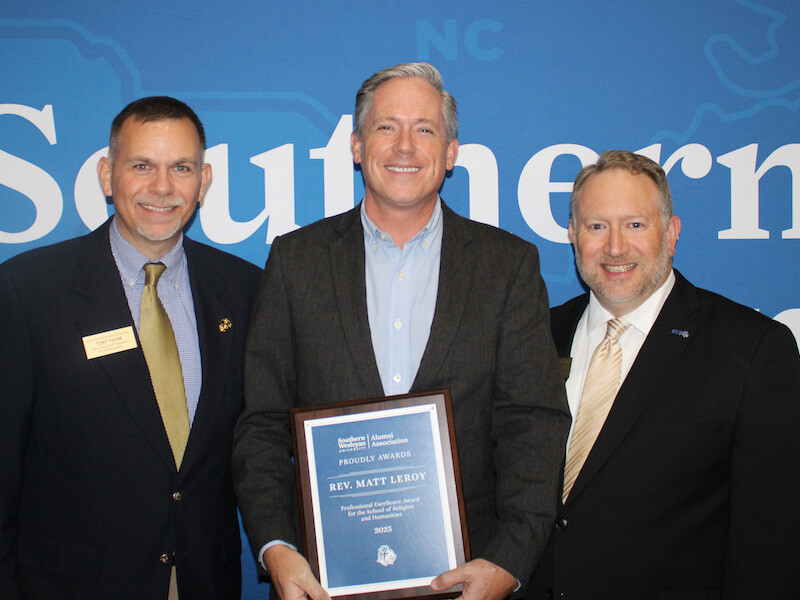 An accomplished author, he has written several books, including Reimagining Our Holiness Heritage, which he collaborated on with his father, Rev. Dan Leroy.
Rev. Leroy is an active member of the General Board of the Wesleyan Church and a Trustee for the Wesley Seminary. He is a sought-after speaker who captivates audiences with his insights and messages.
In 2003, Rev. Leroy married Sarah. They have been blessed with twin sons, Sam and Luke.
Southern Wesleyan University is a Christ-centered, student-focused, faith-filled community that offers inventive learning experiences. The university endeavors to prepare its students to be dedicated scholars and servant-leaders who impact the world for Christ. For details about degree programs, go online to swu.edu.
Follow SWU:
facebook.com/southernwesleyan/
twitter.com/SWU_edu
instagram.com/swu_edu
linkedin.com/school/southern-wesleyan-university/