SWU Celebrates May 2022 Graduates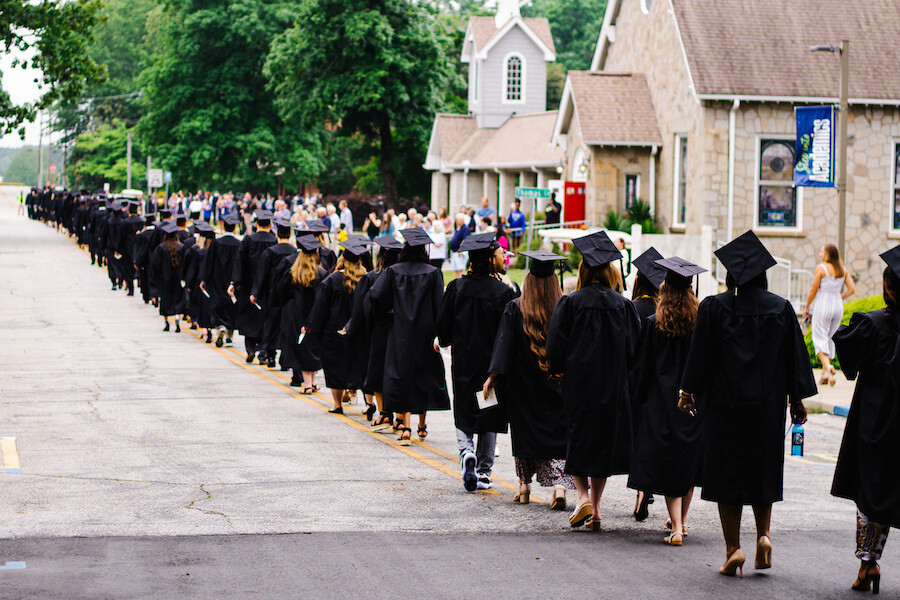 CENTRAL, S.C. – On May 6, 2022, Southern Wesleyan University held graduation exercises in the Newton Hobson Chapel and Fine Arts Center. The ceremony was live streamed on the Southern Wesleyan University YouTube Channel for friends and family who wanted to join the celebration from afar.
US Senator Lindsey Graham served as Commencement speaker to an overflow audience on campus in Central, SC, the town in which he grew up. Graham was presented with the President's Citation by Dr. William Crothers, SWU Interim President, assisted by Dr. William Barker, President-Elect of SWU.
Graham addresses graduates stating, "You've gotten a degree from a special place. Southern Wesleyan University is a special place. It used to be Central Wesleyan. You know why it's special? Because you actually get to know each other. You come here with a common purpose, common values, and you're surrounded by people who love and care about you… the theme of this is that whatever challenges you face you will not be alone. Your number one helper will be the Lord Jesus Christ."
Both the University Brass Ensemble and University Singers provided special music for the ceremony. Reverend Ken Dill, Associate Vice President for Spiritual Life and University Chaplain, led the class devotion. Dr. Barker led the Litany of Servanthood. Dr. April White Pugh, Provost and Vice President for Academic Affairs, presented the graduates and Dr. Crothers conferred the degrees of the graduates.
Pastor Vadym Kylenchenko of the Ukraine was honored by the SWU Board of Trustees with the Doctor of Humane Letters (honoris causa) in recognition of his brave example to the world of his defense of freedom and democracy in the Ukraine, for his service as a pastor taking extreme risk of entering the war-torn areas to relocate the suffering Ukrainian people and by providing food, clothing, and shelter, and for demonstrating the love of God during the crisis of war.
Barker concluded the commencement ceremony encouraging graduates saying, "Go from here to serve the world in the name of Christ and for His good purposes."
SCHOOL OF EDUCATION
DOCTOR OF EDUCATION
Curriculum and Assessment
Deva Cathryn Stevens
BENSON SCHOOL OF BUSINESS
MASTER OF BUSINESS ADMINISTRATION
Angela Denuse Allen
Roger Bayne
Brennan Cameli
Sawyer Price
Rebecca S. Sterner
MASTER OF SCIENCE IN MANAGEMENT AND LEADERSHIP
Laura Tossey Austin
Tammy Davis Butler
Brandy N. Pilgrim
Jami Colleen Wright
SCHOOL OF EDUCATION
MASTER OF EDUCATION
Classroom Leadership
Sarah Carter
Emily Southern
e-Learning and Instructional Design
John Norton Broda
Kelli S. Horne
Brittany Towe Martin
Roderick Patterson
Michael Tapper
Nicole M. Urbaniak
COLLEGE OF ARTS AND SCIENCES
BACHELOR OF ARTS
Chemistry
Nytashia Crosby
Ty Matthew King Richards
Briannah Lea Woodhams
English
Joya Leilani Lewis
History
Tyler Brooke Bennett
Casey Frock
Bailey Faith Legacy
Anita Rene Rhodes
Jacob Standridge
Media Communication
Carrie Ann Barton
Delaney Mila Byers
Jonathon Duane Hofstetter
Leonard Hughes
Lydia Grace Perry
Brian William Roach
Jesse Holland Soles
Music
Trevon Bacon
Elyanah Grace Xiang Chen
Jeremy David Rish
Religion
Abril Avendano Alfaro
Taylor Bumgarner
Rhianna Elizabeth Elrod
Aaron J. Gray
Jacob Harris
Matthew Thomas Hofstetter
Andrew Michael McClung
Carter Thomas Rains
Eric Shelton
Dessie Lynn Smith
Sean Sutay
Eric S. Thompson
Richard Tysinger
Walter Barron Wilson
BACHELOR OF SCIENCE
Biology
Malachi Christianno Beck
Taylor Grace Broadwell
Kelsey Mae Hawkins
Bethannie Perrine
Cassandra Leslie Scrimpsher
Kaitlyn Bryanna Stewart
Gabriela Sutay
Meghan Harrison Tew
Jake Wisniewski
Computer Information Systems
Brian-Reid Eugene Doty
Isaac Farsht
Criminal Justice
Tabitha Joy Beecher
Marcus Alexander Greene
Rasy Taylor Groesbeck
Brooklyn Shaniah Kinmore Scott
Payton Irene Woolbert
Environmental Studies
Dylan Gary Bryant
Bethannie Perrine
Dawson Raymond Posick
Cassandra Leslie Scrimpsher
Seth William Stillwell
Exercise Science
Kensley Elizabeth Bailey
Lydia Grace Clanton
Makala Kaiulani Latsch
Hattie Pitts
Peyton E. Shelton
Avonlea Elizabeth Smith
Matthew Ryan Turner
Forensic Science
Shekinah Shyann Sade Brown
Briannah Lea Woodhams
Human Services
Antonio Basilio Armijo
Mary Bolden
Terria McCaskill Dawkins
Tamera Alaina Ervin
Amber Nicole Henderson
Amelia Jernigan
Joy Namyst
Jennifer Pence
Makayla Lashay Robinson
Ronda D. Rogers
Trinity L. Smith
Michelle Sterner
Kari H. Sutton
Kaylyn Woods
Mathematics
Ashley Lauren Latham
Pre-Medicine/Dentistry
Haley Marie Bertie
Ashlyn Holford
Donald Joseph Ludwick
Falon Elexis Mathis
Katherine Kaeleigh McDaniel
Mark Seth Reece Stevenson
Psychology
Trevon Bacon
Hayden Hughes
Kheisha Joseph
Anya King
Madison Mae Lewellen
Misha Abigail Mercius
Tricia Sands
Recreation and Sport Management
Demarcus Addie
Jordan Blue
Emma Nicole Collins
Hunter Michael Davis
Tranard Ferrell Jr.
Nick Howell
Mycherie Onwuzuruike
William Stewart Pitts
Jiras Singnoi
Social Science
Alana Nicole Edwards
BENSON SCHOOL OF BUSINESS
BACHELOR OF SCIENCE
Business Administration
Bess L. Athens
Lauren Taylor Avant
Josiah Edward Bolding
Cody Michael Bohemier Boynton
Charlie Ponsy Carpenter
Nick Collins
Jocelyn Marie Cosgrove
Marcus Anthony Eisen
Daniel Scott Fisher
Rebecca Tamea Freeze
Joshua Michael Galloway
Katina A. Green
Joseph Michael Grups
Brendan M. Hoban
Arusha Hunter Jr.
Ashton Aleigh Irby
Marion Sanders Johnson
Lynda Mae Knox
Trent Adam Kokay
Leslie Lynette Lagos Alaverz
Dylan McDonagh
Jordan Montgomery
Emma Louise Paige
Parker Reilly Pillsbury
Naomi Patricia Portilla
Joshua L. Price
Lewis Schaller Jr.
Sasha Garrison Schoenborn
Makayla Lee Sexton
Hannah Lee Smith
Solomon George-Willford Smith
Ainsley Avant Stanley
Isaac Stanley
Gregory Zayn Sutton
Leonard Allen Traynum
Jonesha Tribble
Brandon Trimby
Dylan Tsirkas
Chandler Whittle
Jonah Bradley Williams
SCHOOL OF EDUCATION
BACHELOR OF SCIENCE
Early Childhood Education
Meredith Ashlyn Alexander
Nyeshia Monai Crosby
Harley Owen Gibson
Dallace Nicole Mae Graham
Early Childhood and Family Studies
Ashley Nicole Clayton
Anna M. Genzer
Emilee M. Jones
Tarra Nikitia Danielle Hayes
Savanah Kimble
Ashton Mikayla Martin
Elementary Education
Derrik O'neil Cook
Hannah Dennis
Elicia N. Hughes
Alexis-Lee Maude McMillian
Cassidy Dawn Pittman
Mary Ashly Sikes
Special Education
Kaitlin M. Potter
COLLEGE OF ARTS AND SCIENCES
ASSOCIATE OF ARTS
General Studies
Lauren Blakely
Hannah Gleason
Deon Cherrell Jackson
Jerry A. Norris Sr.
Southern Wesleyan University is a Christ-centered, student-focused, faith-filled community that offers inventive learning experiences. The university endeavors to prepare its students to be dedicated scholars and servant-leaders who impact the world for Christ. For details about degree programs, go online to swu.edu.
Follow SWU:
https://www.facebook.com/southernwesleyan/
http://www.twitter.com/SWU_edu
https://www.linkedin.com/school/southern-wesleyan-university/
http://instagram.com/swu_edu