SWU December 2022 Dean's List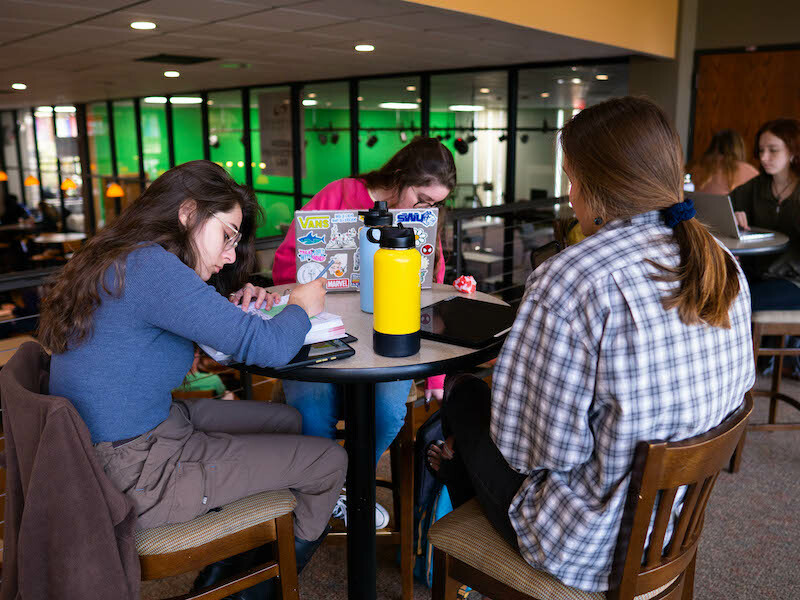 CENTRAL, S.C. – The following Southern Wesleyan University students earned a term GPA of 3.5 or higher on all work attempted (12 hours or more) during the fall 2022 semester, with no grade for any single course below a grade of B.
The Southern Wesleyan University Dean's List includes:
Abbeville, SC
Talissa Cannady, Business Administration
Anderson, SC
Johnny Adger, Business Administration
Ally Barton, Psychology
Katherine Childers, Early Childhood Education
Trinity Eichman, Music Education
Noa Glover, Computer Information Systems
Mikaylen Kay, Early Childhood and Family Studies
Miranda Kelly, Elementary Education
Noah Koch, Business Administration
Caroline Lamb, Recreation and Sport Management
Natasha Levesley, Early Childhood Education
John Locke, Pre Medicine/Dentistry
Collin Milstead, Business Administration
Wilmer Najar, Business Administration
Christa Paulus, Environmental Studies
Amanda Ridgell, Early Childhood and Family Studies Mgmt
Jacob Smith, Elementary Education
Jeremy Smith, Physical Education
Taliyah Turner, Early Childhood Education
Hayleigh Von Ins, Recreation and Sport Management
Madison Wurst, Exercise Science
Archdale, NC
Makala Hall, Special Education
Daevis McMurphy, Non-Specified
Asheboro, NC
Carter Duggins, Human Services
Batesburg, SC
Amanda Hull, Early Childhood and Family Studies
Beech Island, SC
Christopher Gilbert, Music
Robert Gilbert, Music
Belton, SC
Jada Patterson, Chemistry
James Wagher, Media Communication
Bennett, WI
Gabrielle Kidder, Pre Medicine/Dentistry
Birdsboro, PA
Sarah Leiden, Human Services
Bluffton, SC
Yael Echeverria, Recreation and Sport Management
Boiling Springs, SC
Caroline Reese, Recreation and Sport Management
Bulawayo, ZW
Ashley Dube, Exercise Science
Byron Center, MI
Alia Lewis, General Studies
Calhoun Falls, SC
Russell Chappell, Physical Education
Canton, GA
Isabela Castillo, Early Childhood Education
Carrollton, GA
Laura Perez-Padilla, Business Administration
Catawba, SC
Malecha Cousar, Business Administration
Central, SC
Noah Dilday, Environmental Studies
Caitlynn Holder, Criminal Justice
Carolin Justus, Media Communication
Garrett Kuczinski, Business Administration
Dylan Medlin, Business Administration
Caleb Perkins, History
Julia Reid, Media Communication
Gabriel Rollins, Music
Megan Ropp, Music
Rebecca Tankersley, Business Administration
Emmaline Wolfe, Pre Medicine/Dentistry
Chadds Ford, PA
Jordan Sockriter, Religion
Chapin, SC
Ashley Elmore, Forensic Science
Charlotte, NC
Donovan Mackey, Business Administration
Cherryville, NC
Adelyn Seate, English
Chesterfield, MI
Kaela McLeod, Forensic Science
Christiansburg, VA
Makayla Carr, Media Communication
Clayton, NC
Isabella Hanzel, Business Administration
Taylor Hanzel, Media Communication
Clemson, SC
Kenneth Drury, Religion
Michael Hammel, Business Administration
Linette Manwaring, Human Services
Taylor Rouse, Computer Information Systems
Climax, NC
Riley Staley, Religion
Clyde, NC
Shelby Glance, Physical Education
Coconut Creek, FL
Emily Ellis, Psychology
Commerce, GA
Jada Pittman, Biology
Concord, NC
Zechariah Copeland, Religion
Conway, SC
Emily McNair, Pre Medicine/Dentistry
Cope, SC
Jordan Kuck, Human Services
Crestwood, KY
Kali Letcher, Physical Education
Dallas, GA
Sarah Prater, Business Administration
De Pere, WI
Meg Madsen, General Studies
Easley, SC
Abigail Avant, History and Public Policy
Josue Avendano, Exercise Science
Hayley Baldwin, Criminal Justice
Matthew Barnes, Business Administration
Wesley Bigbee, Business Administration
Anna Bolter, Environmental Studies
Devyn Bond, Business Administration
Audrey Brown, Music
Janey Dixon, Elementary Education
Savanna Dyer, Human Services
Betsy Hansen, Biology
Megan Nix, Elementary Education
Rachel Page, Exercise Science
Sarah Page, Pre Medicine/Dentistry
McKenzie Patterson, Business Administration
Katelyn Perry, Early Childhood Education
Makayla Pittman, Elementary Education
Emily Pliauplis, Special Education
Lyndsey Posey, Media Communication
Emily Redding, Music Education
Anya Yegorov, Business Administration
Fair Play, SC
Brittney Gilliam, Business Administration
Fayetteville, NC
Thomas Macagg, Recreation and Sport Management
Fort Myers, FL
Randy Echeverria, Recreation and Sport Management
Fruitland, MD
Pag-Asa Sison, Business Administration
Gaffney, SC
Rachel Jennings, Early Childhood and Family Studies
Gastonia, GA
Evangeline Johnston, General Studies
Glassboro, NJ
Tamara Cooper, General Studies
Graniteville, SC
Matthew O'Banion, Religion
Great Falls, SC
Christina Dixon, Early Childhood and Family Studies
Greensboro, NC
Adam Cromer, History and Public Policy
Greenville, SC
Michaela Addessi, Psychology
Natalia Antonio-Martinez, Criminal Justice
Taylor Evatt, Media Communication
Jeffrey Highsmith, Exercise Science
Joel Hultquist, General Studies
Aidan McCard, General Studies
Isaac Tassie, Recreation and Sport Management
Greenwood, SC
Andrew Davis, Biology
Emma Hodge, Music Education
Greer, SC
Brionnah Hamblet-Molinaro, Criminal Justice
Hannah Satterfield, Business Administration
Jayna Weichmann, Early Childhood and Family Studies
Harlan, KY
Sydney Schwenke, General Studies
Hephzibah, GA
Demerital McNeil, Early Childhood and Family Studies
High Point, NC
Ashley Matherlee, Non-Specified
Hilton Head, SC
Amanda Magnin, Exercise Science
Hodges, SC
Chelsey Dial, Early Childhood and Family Studies
Joshua Groff, Mathematics
Homer, GA
Caden Cotton, Pre Medicine/Dentistry
Honea Path, SC
Alyssah Whitfield, Forensic Science
Hyattsville, MD
Jamie Solis Gonzales, Biology
Inman, SC
Caroline Lark, Psychology
Irmo, SC
George Schodowski, Business Administration
Jefferson, GA
Selah Holcombe, Business Administration
Kernersville, NC
Seth Blackburn, Religion
Kings Mountain, NC
Kalie Brown, Early Childhood Education
Lake City, FL
Mikah Gustavson, Mathematics
Lamar, SC
Effie Copeland, History
Land O' Lakes, FL
Alexis Mammarello, History
Largo, FL
Ava LaBrant, Business Administration
Lavonia, GA
Ethan Marchman, History and Public Policy
Lexington, NC
Caleb Caldwell, Music
Anne Lane, Pre Medicine/Dentistry
Lexington, SC
Giorgi Lamb, Physical Education
Charissa Wrobel, Psychology
Liberty, SC
Caleb Dover, Business Administration
Braelyn Elrod, Psychology
Tonia Ford, Early Childhood and Family Studies
Abbigale Frock, Business Administration
Jacob Jackson, Business Administration
Haley Miller, Elementary Education
Hannah Phillips, Criminal Justice
Emily Rusher, Early Childhood Education
McKara Street, Business Administration
Zachary Turner, Media Communication
Sydnee Violett, Elementary Education
Savannah Wade, Elementary Education
Samantha Walker, Biology
Sarah Watson, Exercise Science
Liverpool, NY
Madyson Oliveri, Elementary Education
Louisville, KY
Cierra Wright, Exercise Science
Ludhiana, IN
Sarvesh Maria, Business Administration
Lyman, SC
Lydia Stoddard, Psychology
Macon, GA
Clifton Olmstead, Exercise Science
Macungie, PA
Jared Baldwin, Religion
Manning, SC
Sherri Bush, Early Childhood and Family Studies
Melissa Pendergrass, Early Childhood and Family Studies
Marietta, GA
Aidan Campbell, Exercise Science
Emma Grace Sullivan, General Studies
Mauldin, SC
Hadley Adkins, Early Childhood and Family Studies
Mechanicsville, MD
Faith Bouch, Business Administration
Murrells Inlet, SC
Sarah Duncan, Business Administration
Hannah Wallace, Criminal Justice
Myrtle Beach, SC
Christian Cassidy, Pre Medicine/Dentistry
Nimitz, WV
Caleb Okes, Media Communication
Ninety Six, SC
Willa Farrar, Non-Specified
Norris, SC
Jaiden Marcengill, Criminal Justice
North Augusta, SC
Graham Morlan, Business Administration
Casandra Williams, Human Services
North Port, FL
Adriana Ghersini, Psychology
North Scituate, RI
Shelby Phillips, Business Administration
Nottingham, MD
Steven Mufareh, Exercise Science
Oak Ridge, NC
Luke Gordy, Business Administration
Orange Park, FL
Adrionna Coleman, Exercise Science
Oro Valley, AZ
Kori Rominger, Recreation and Sport Management
Pelzer, SC
Kayla Stone, Early Childhood and Family Studies
Pendleton, SC
Madelyn Dale, Psychology
Alexis Glover, Psychology
Ronan O'Neill, Physical Education
Pickens, SC
Skyler Albright, Early Childhood Education
Victoria Bailey, Religion
Kyle Clardy, Media Communication
Abigail Dodgens, Elementary Education
Mallorie Doty, Special Education
Klara George, Elementary Education
Dawson Gilstrap, Business Administration
Daniel Watson, Business Administration
Mackenzie Watson, Elementary Education
Piedmont, SC
Vivian Ewart, Music Education
Austin Pope, Business Administration
Carry Sikes, Biology
Pipersville, PA
Laura France, General Studies
Portsmouth, RI
Alexis Greffen, Exercise Science
Rancho Cucamonga, CA
Martin Grisso, Business Administration
Randleman, NC
Abigail Robertson, Music Education
Reidsville, NC
Jessica Surrett, Human Services
Remington, VA
Valerie Reitz, General Studies
Riverview, NB
Olivia Hoyt, Early Childhood Education
Rock Hill, SC
Caleb Caulder, Business Administration
Saint Johns, FL
Isabel Matos, Media Communication
Salem, SC
Sara Krause, Human Services
Rylee Overfelt, Environmental Studies
Lana Pitts, Special Education
San Antonio, TX
Darin McGrane, General Studies
Sandy Springs, SC
Lyndsey Hilley, Psychology
Saukville, WI
Camdyn Melin, Exercise Science
Seneca, SC
Benjamin Arnold, History
Victoria Arnold, Religion
Jed Bowen, History and Public Policy
Christina Cleveland, Music
Nicole Feagan, Physical Education
Mary Gibson, Early Childhood Education
Hunter Henderson, Human Services
Joanna Johnsonwall, Criminal Justice
Olivia Keaton, History
Alyssa Kilpatrick, Early Childhood Education
Deandra Martin, Business Administration
Ryan Moore, Business Administration
Jessica Raether, Human Services
Anthony Reno, Business Administration
Titus Thompson, Physical Education
Emilee Westmoreland, Elementary Education
Bryson Worsham, Exercise Science
Simpsonville, SC
Eric Abercrombie, Business Administration
Christian Boulton, Religion
Alexis Cummins, Psychology
Jonathan Davenport, Human Services
Mackenzie Moreau, Business Administration
Haley Morgan, Elementary Education
Mary Sullivan, Recreation and Sport Management
Grace Williams, Recreation and Sport Management
Six Mile, SC
Taylor Cummings, Psychology
Allison Holladay, Special Education
Spartanburg, SC
Katrina Gray, Early Childhood and Family Studies
St. Petersburg, FL
Merritt Smith, Human Services
Statesville, NC
Mackenzie Cook, General Studies
Summerville, SC
Alicia Howard, Early Childhood and Family Studies
Sumter, SC
Abagail Kovalcik, Exercise Science
Hannah Kovalcik, Physical Education
Lexi Richardson, Physical Education
Andersen Wingate, Exercise Science
Sunset, SC
Hannah Simmons, Special Education
Tamarac, FL
Wilvens Fleurizard, Business Administration
Tamassee, SC
Ethan Holland, Media Communication
Tampa, FL
Lauryn Tate, Business Administration
Lycia Zavala, Early Childhood and Family Studies
Temple, TX
Levi Wilson, General Studies
Thomasville, AL
Alexandria Newberry, Environmental Studies
Thomasville, NC
Caleb Bowen, Religion
Lleyton Storey, Religion
Toccoa, GA
Dahlia Clay, General Studies
Blayze Haddock, Business Administration
Townville, SC
Riley Young, Biology
Travelers Rest, SC
Cameron Lomax-Byrd, Media Communication
Trinity, NC
Allyssa Elliott, Religion
Sarah Thompson, Psychology
Wake Forest, NC
Kailey Demorest, Elementary Education
Waldorf, MD
Alicia Brosco, Religion
Walhalla, SC
Aidan Evans, Recreation and Sport Management
Emily Herndon, Special Education
Keisha Chesney Holcombe, Elementary Education
Sarah Hood, Early Childhood and Family Studies
Stephanie Howell, Psychology
Carson Mull, History and Public Policy
Wesley Chapel, FL
Joshua Martin, Business Administration
West Union, SC
Sydney Baker, Early Childhood Education
Hannah McCall, Elementary Education
Claire Sherman, Early Childhood Education
Westminster, SC
Addison Boggs, Media Communication
Faith Ray, Recreation and Sport Management
Williamston, SC
Dylan Carter, Chemistry
Caden DeFronzo, Business Administration
Caroline Ellison, Special Education
Addilyn Johnson, Biology
Bryanna Pickens, Biology
Lydia Scroggs, Early Childhood and Family Studies
Ashley Sexton, Business Administration
Winter Park, FL
Juan Garcia Morales, Recreation and Sport Management
Zirconia, NC
Stella Osteen, Mathematics
Southern Wesleyan University is a Christ-centered, student-focused, faith-filled community that offers inventive learning experiences. The university endeavors to prepare its students to be dedicated scholars and servant-leaders who impact the world for Christ. For details about degree programs, go online to swu.edu.
Follow SWU:
https://www.facebook.com/southernwesleyan/
http://www.twitter.com/SWU_edu
https://www.linkedin.com/school/southern-wesleyan-university/
http://instagram.com/swu_edu