SWU Ed.D Student Successfully Defends Dissertation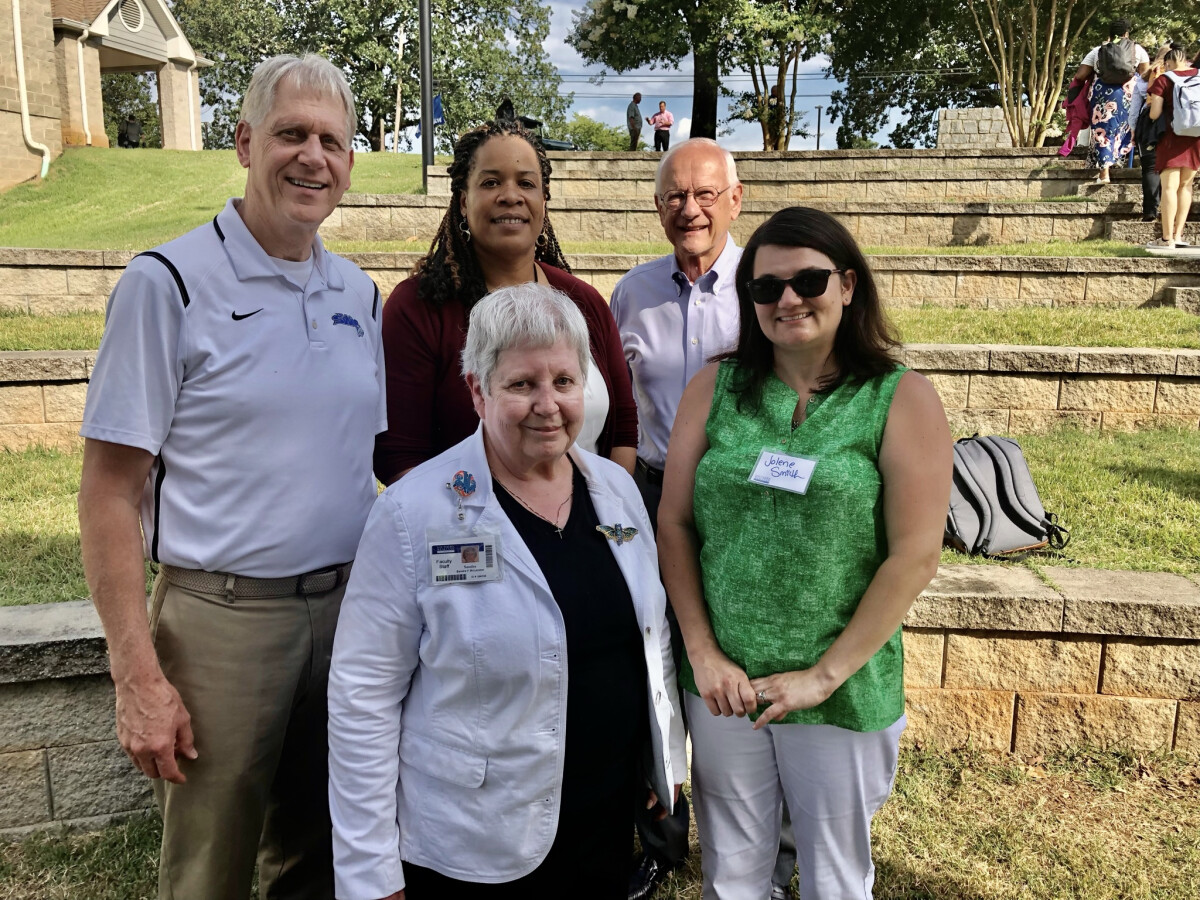 Dr. Sandra McLendon (Dean of the School of Education) celebrated the success of one of SWU's Ed.D students, "Congratulations to Amber Jolene Smith who successfully defended her Doctoral Dissertation, June 28, 2021. Her Dissertation is the Effect of South Carolina's Initial Mentorship Training on the Self-Efficacy of Mentor Teachers: A Cross-sectional Research Study. She defended to a packed house in a Newby classroom with overflow in another classroom – this defense was scheduled when we had Summer Residency…Dr. Paul Shotsberger served as her Dissertation Chair; Dr. Candace Moore, Methodologist, and Dr. Missy West, Reader."
Jolene reflected that it does not seem real that her dissertation is finally completed. She came to SWU when the Ed.D program first began in 2018. The Christian perspective and the Curriculum and Assessment concentration rather than the common Curriculum and Instruction concentration really set SWU apart. She had no connection to SWU and with a background in Business, she went through the PACE program to get her start in teaching.
Faced with the challenge of balancing her busy schedule of being a full-time working mom and pursuing her doctorate, she eventually found a rhythm and highlighted the value of the program, "All the projects were relevant and related to either what I was currently doing or could implement in the future…they were real-life."
Like many, she almost chose not to pursue her doctorate because of the dissertation. However, she found the process at SWU to be straightforward and felt constant support from the faculty, "There was no point throughout the dissertation or throughout the whole process that I felt like I couldn't do it or felt unsupported."
Despite the program being online except for the summer residencies, Jolene watched her cohort go from acquaintances to family. With zoom meetings, group projects, and connecting through the residencies on campus, she noticed a stark difference between her online MBA courses and her experience at SWU.
"I would definitely recommend the program to anyone who is looking...I have thoroughly enjoyed it and have learned a lot! Now I'm not sure what I'm going to do with all the time I have," she joked.
SWU's Ed.D program offers concentrations in Curriculum and Assessment or The Exceptional Learner. To learn more, please visit SWU's website or contact .
Southern Wesleyan University is a Christ-centered, student-focused learning community devoted to transforming lives by challenging students to be dedicated scholars and servant-leaders who impact the world for Christ. For details about degree programs, go online to swu.edu.
Follow SWU:
https://www.facebook.com/southernwesleyan/
http://www.twitter.com/SWU_edu
http://pinterest.com/swuedu/
http://instagram.com/swu_edu