SWU Forensic Science named Editor's Top Pick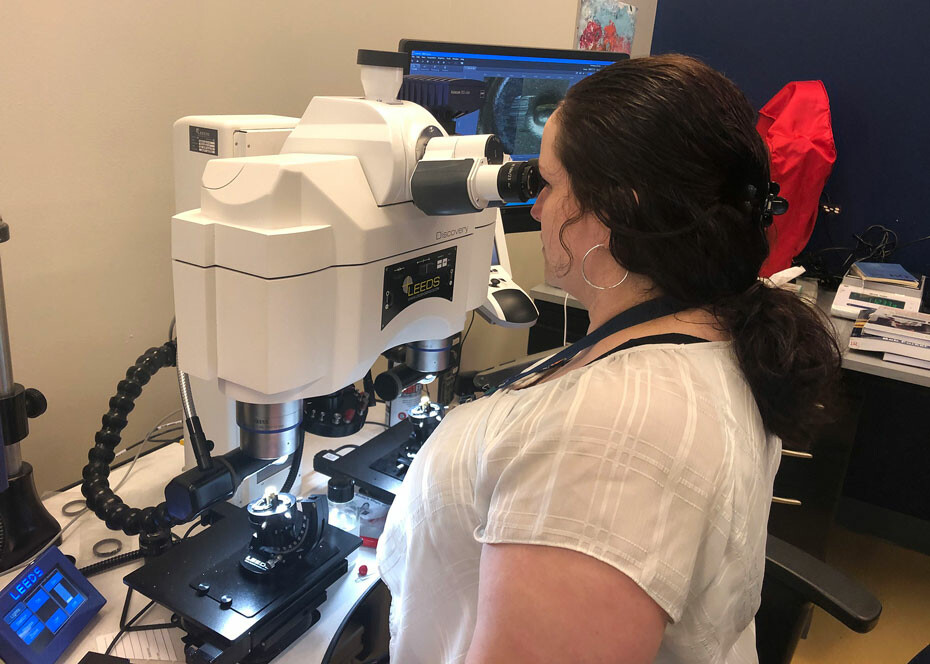 CrimeSceneInvestigatorEDU.org named Southern Wesleyan University's Forensic Science degree program an editor's top pick for 2020.
Jobs in Forensic Science are expected to grow by about 14 percent in the next decade, making it among the fastest-growing professions in the U.S. Crime Scene Investigation has enjoyed high visibility, thanks to classic shows such as CSI, Forensic Files and The First 48. Although the field has been somewhat glamorized on TV, there's actually a lot of hard science behind this growing field.
For many years, Southern Wesleyan University has been preparing graduates to enter forensics-related fields in law enforcement agencies at local, state and regional levels and also private sector companies handling chemical and forensic analysis. Southern Wesleyan's B.S. degree in forensic science prepares graduates for work in law enforcement agencies, hospitals, coroner's offices and in a variety of lab settings. Specialties include DNA analysis, fingerprint analysis, toxicology or tests on substances connected to a criminal investigation.
CrimeSceneInvestigatorEDU.org, an independent online publishing group, chose Southern Wesleyan's Forensic Science program because of factors that include professors with real-world experience, high quality experiential learning experiences offered in partnership with law enforcement agencies and forensics labs, and also state-of-the-art facilities.
"When we came to Southern Wesleyan University, it was clear we had a winner. With state-of-the-art labs equipped with the most advanced investigative technology, connections to world-class crime labs to facilitate student internships, and a long track record of exceptional student outcomes, the Southern Wesleyan University BS in Forensic Science easily earns a place on our list of Top Picks for the Best Undergraduate Degrees in CSI & Forensic Science for 2020-21," said the Crime Scene Investigator Edu editorial staff.
"It is so encouraging to be recognized in this way for one of the many academic programs that sets SWU apart. Forensic Science opens an exciting array of options for students and their success in the field is outstanding," said Dr. Todd Voss, Southern Wesleyan University president.
Julia Brittony Drennen, who works at Consolidated Forensic Laboratories in Washington, D.C., is close to completing her firearms examiner training. This will enable her to perform comparisons of firearm ammunition components from a crime scene to potential firearms or other ammunition components to determine if they were fired from the same weapon.
"In our agency, to qualify for a position with any of our units ranging from Crime Scene all the way to the various Forensic Lab Units, they require you to have a bachelor of science degree and prefer for it to be a physical science. I was confident with the science foundation Southern Wesleyan provided me when I applied five-and-a-half years ago that I no doubt would be representing a solid science foundation," Drennen said.
Courtney Thompson, a forensic serologist at the South Carolina Law Enforcement Division (SLED), feels that her Forensic Science degree from Southern Wesleyan helped her get noticed by those who hired her.
"I feel like the program gave me a good foundation for understanding not just my discipline but other disciplines I have to work with all the time. The upper-level courses gave me the head knowledge to understand the science of what I was working with and then the forensics courses prepared me for the actual day-to-day type of work I was going to be experiencing," said Thompson.
Southern Wesleyan graduate Courtney Johnson has spent several years working for the Horry County Police Department as a forensic chemist. Her facility is a regional drug analysis laboratory, serving law enforcement agencies in Horry and Georgetown counties in coastal South Carolina, as well as SCDHEC, the S.C. Department of Natural Resources (SCDNR) and Santee Cooper, a state operated public electrical utility. When Johnson is asked where she went to college, she says she's proud to tell them she went to Southern Wesleyan.
"I feel like I was equipped and there always someone there pushing me, like Dr. Walt Sinnamon (professor of science). That's been helpful. It has really helped me stay on top of workload we have. Multiple professors really poured into us and cared about our success. I took pride in that success because it was so much more than just an "A" in a class; it was really like they were setting us up for life essentially," said Johnson.
For details about the Forensic Science degree program, contact Southern Wesleyan at , call 877-644-5556 or visit swu.edu/forensics. To see the listing, visit CrimeSceneInvestigatorEDU.org.
Southern Wesleyan University is a Christ-centered, student-focused learning community devoted to transforming lives by challenging students to be dedicated scholars and servant-leaders who impact the world for Christ. For details about degree programs, go online to swu.edu.
Follow SWU:
https://www.facebook.com/southernwesleyan/
http://www.twitter.com/SWU_edu
http://pinterest.com/swuedu/
http://instagram.com/swu_edu