SWU graduate becomes charter school principal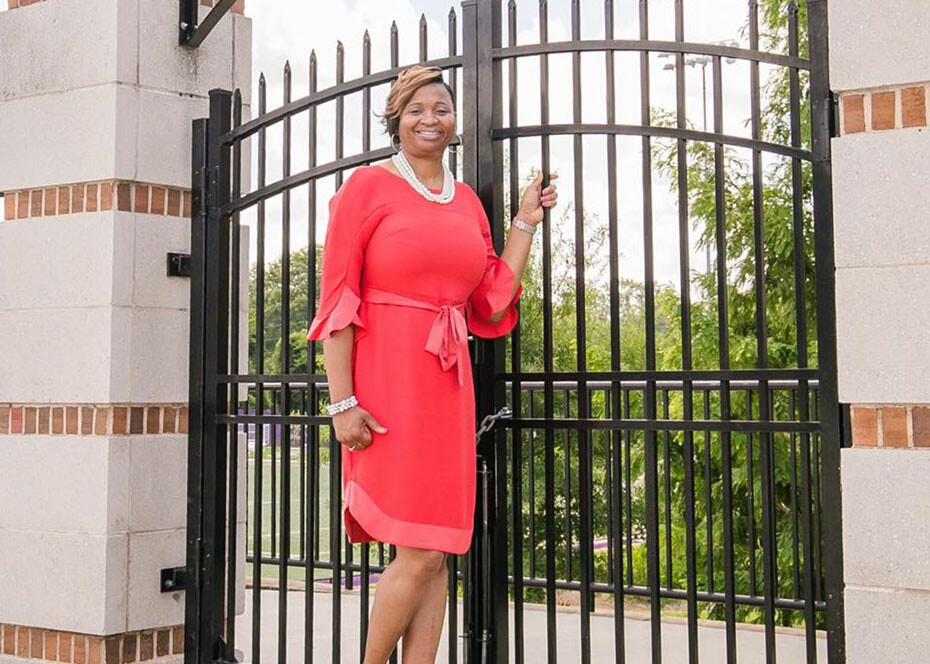 Southern Wesleyan University Education alumna and former women's basketball coach LaCheryl Smith was recently named principal at Legacy Early College High School in Greenville.
Smith, who has more than 20 years of experience in education and coaching, came to Legacy five years ago as parent coordinator. In addition to her staff duties, Smith has coached Legacy's girls' basketball team, turning a winless program around and sending seven team members to play intercollegiate basketball in three years.
Though she was not seeking another administrative role at the charter school, William Brown, interim executive director, believed in Smith and her abilities.
Legacy Early College was founded in 2010 as Legacy Charter School, fulfilling the vision of Brown, an area businessman and lifelong advocate of education. Located in the historic Parker High School, Legacy operates with an educational model that combines academic excellence, nutrition and fitness and is the only public school in South Carolina to provide daily physical education for every student, as well as social, relational and emotional skill-based lessons. Smith notes that there are no vending machines and that no fried foods are served at meals. She adds that all scholars at Legacy wear a uniform.
"Our mission is for our scholars to be college-bound and our vision is to get to and through college. Every scholar who graduates from Legacy gets a $4,000 scholarship towards college. Our to-and-through director helps them transition from high school to college, monitors their grades. If they are able to maintain a 2.5 GPA they get $500 each semester for four years.
Career beginnings
After graduating from SWU with an early childhood education degree, Smith taught in the School District of Oconee County, teaching at J.M. Kellett Elementary School, then Code Elementary School. While in Oconee County, Smith also coached basketball at West-Oak High School, becoming their head coach at age 23.
Smith then transitioned to Greenville County Schools to become a special education teacher at Mauldin Middle School. She went on to coach at Wade Hampton High School, then Hillcrest High School (her alma mater) before coming to Southern Wesleyan (also her alma mater) as their head women's basketball coach from 2007-2010. She then went to Furman University, spending three years as their assistant women's basketball coach before coming to Legacy.
"Honestly, I had a great time at Furman, coaching in Division I, but I had an urge to be somewhere where I could feel like I was making a difference. I found that at Legacy," Smith said.
Coming to SWU
As a high school sophomore playing on Hillcrest's basketball team, Smith met then-SWU basketball coach Charles Wimphrie, who at the time was seeking to sign Uzzie Cannon, who went on to be one of SWU's outstanding players, having her No. 32 jersey retired. At the same time, Wimphrie noticed Smith as she played and would follow her progress through her senior year, then offer her an athletic scholarship to play for the Warriors.
"Once I got to SWU, my faith and Christianity grew and blossomed. Then I was a captain of the team and an RA (resident assistant) – that really enhanced my leadership," Smith said, adding that she came in as a business major but changed over to education her junior year.
"I came in as a business major because my dad was a businessman. I felt like that's what he wanted me to do, but I had a tug at my heart the entire time because I've always loved working with kids. So I switched over in my junior year," Smith said.
Education faculty members Dr. Fred Woodworth, Charlotte Bodenhorn, Ted Jennings and the late Harold Waters were helpful and encouraging as Smith navigated the challenges of becoming an education major so late in college. When Smith returned to earn her master's degree, she said that Dr. Sandra McLendon and the late Lillie Lewis played "key" roles in her success.
"It's a God thing; God put me in a position," Smith said of her new role as Legacy's principal. "When I stepped away from coaching, I still wanted to be able to have an impact on kids. Coaching was like a ministry to me, but God put me on a higher level, to be able to do more than just coach those 12 girls; now I'm the leader of a school that has 370 scholars."
For details about bachelor's, master's and doctoral education programs, visit swu.edu/education.
Southern Wesleyan University is a Christ-centered, student-focused, faith-filled community that offers inventive learning experiences. The university endeavors to prepare its students to be dedicated scholars and servant-leaders who impact the world for Christ. At the same time, it's Southern Wesleyan's desire to practice contagious generosity within the surrounding community. For details about degree programs, go online to swu.edu.
Follow SWU:
https://www.facebook.com/southernwesleyan/
http://www.twitter.com/SWU_edu