SWU graduate drawn into health care to serve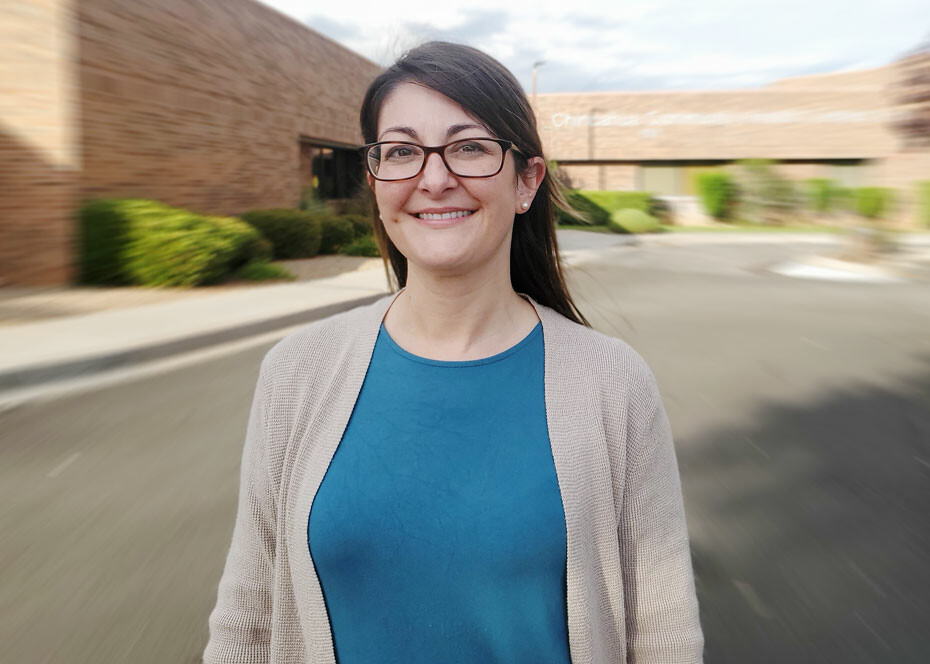 Southern Wesleyan University graduate Kelly Barrington and her husband Joel were drawn to Southeastern Arizona, where she works as a pediatric nurse practitioner for the Chiricahua Community Health Center in Sierra Vista and he teaches middle school in Huachuca City.
Barrington's special areas of interest are pediatric mental health and development and helping victims of abuse.
Sierra Vista is the largest city in Cochise County, a largely rural county located on the Mexican border, an hour south of Tucson.
As a federal qualified health center, Chiricahua provides service to residents regardless of their ability to pay or insurance status. In Cochise County, which is larger than the state of Connecticut and has approximately 125,000 inhabitants, mobile units go to areas where there's no local healthcare nearby. They also offer telehealth services, which have been particularly useful since the COVID-19 restrictions were put into place in March.
"I think it's meant a lot to the patients to see our faces. Everybody's stuck at home but then we can see them over the video component for our visit and it's so fun to see kids' faces light up. Parents have been grateful and say 'thanks for checking in on us.' We're making sure they are okay and getting the supplies they need," Barrington said, adding that the health center does a COVID testing blitz, offering drive-through testing.
A heart for serving
"I was raised with the understanding that it's our duty and privilege to be able to help others in whatever way that speaks to us," said Barrington, whose father is a pastor and whose mother is a teacher. Barrington often thought about nursing as a girl growing up in Spartanburg. Serving as a candy striper – a volunteer at a hospital – she has fond memories of preparing gift bags for parents in the hospital's Labor and Delivery department.
"I really enjoyed providing that service to people and putting a smile on their face and making their day a little better," Barrington said.
Coming to SWU
Many members of Barrington's family attended Southern Wesleyan, and she was attracted also by the size of the campus and emphasis on service, so she enrolled and majored in Biology.
"At that time they did not have a nursing major. In my junior year Dr. Walt Sinnamon told me they were going to partner with Tri-County Technical College for the associates in nursing program, so I was really excited," Barrington said, adding that she and fellow alumna Beth Irvine were the first "guinea pigs" to do the nursing partnership. A year after graduating from Southern Wesleyan with her Biology degree, she finished her nursing program at Tri-County, graduating there in 2005.
"Kelly was an excellent student with a big heart for others and worked well with others," Sinnamon recalls.
Dr. Staci Johnson, chair of Southern Wesleyan's Division of Science, notes that students continue to enter the nursing profession through accelerated nursing programs after completing their BS in biology or pre-medical/ pre-dental degree at SWU.
After graduating from Southern Wesleyan, Barrington got married and moved to Raleigh where her husband lived, finding a job at Duke University Medical Center.
"After working in the hospital a few years and having children, I decided I wanted to be a school nurse for more stability in schedule," Barrington said. "I worked in school nursing several years and really enjoyed that. Then I got to the point in my career where I wanted to help serve children and help families in a different way than I was able to as an RN, so I decided to earn my nurse practitioner Degree."
After Barrington earned her nurse practitioner degree from Duke, she sought the type of job that would match up with her desire to serve others in the best way for her.
"We were a little familiar with Sierra Vista because Joel had been out there for some training. I saw this job come available at federal qualified health centers and the idea appealed to me," Barrington said. "We decided to take a chance and came out here. It's been a great fit. I've grown a lot as a person and as a provider. I've just been able to really serve the community in a really special way."
Barrington said, "The rewards are great but there are challenges. I definitely feel peace and draw strength from the Lord – that does help me in my day to day work. To have that renewed peace and the strength to go through the challenges only comes from the Lord."
Southern Wesleyan University is a Christ-centered, student-focused learning community devoted to transforming lives by challenging students to be dedicated scholars and servant-leaders who impact the world for Christ. For details about degree programs, go online to swu.edu.
Follow SWU:
https://www.facebook.com/southernwesleyan/
http://www.twitter.com/SWU_edu
http://pinterest.com/swuedu/
http://instagram.com/swu_edu