SWU graduate gives TEDx Talk on childhood trauma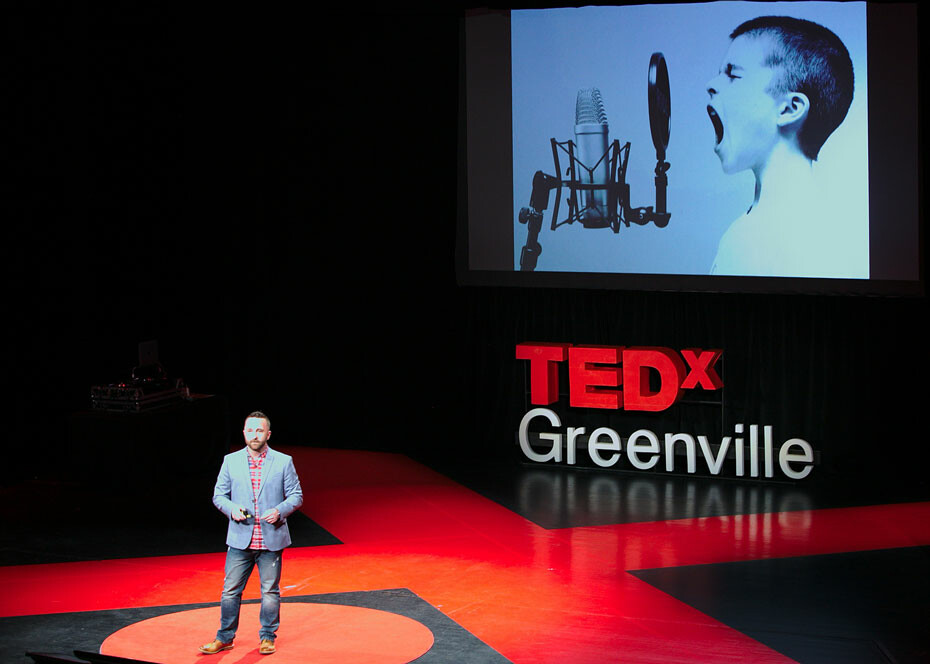 As schools in Greenville County seek to understand the impact on childhood trauma as it affects students and impacts their teachers and classmates, a Southern Wesleyan University graduate is reaching out to help students in meaningful ways.
TJ Rumler is a licensed social worker with Greenville County Schools, where he serves as an advocate of alternative solutions to out-of-school suspensions for students whose actions often reflect the abuse and neglect they experience outside the classroom.
"I do a lot of speaking around the school district, and the topic that I spoke on at TED, that started over a year ago with the presentation I did for the school district and a friend of mine heard it," Rumler said.
Rumler's friend, who had done a TEDx talk, urged him to submit a presentation idea to TEDx. Similar to TED Talks, which feature top thought leaders from around the world, TEDx provides a similar forum on more of a local level.
"Between her and another friend I had that was my TEDx coach – they really coached me," he said, adding that preparation for the talk is a rigorous process.
"If you don't really want to do it, you're probably going to quit through the middle of it. What I really loved about it was it made me take an idea that I usually spend two or three hours speaking about and condense it into 13 minutes."
In Rumler's TEDx Talk, he asserted, "It's our professional duty and our ethical duty to make sure we do everything we can to quit suspending kids for nonviolent infractions." Rumler questioned actions such as a five-day suspension for bringing a cellphone to class, warning of long-term consequences when the punishment doesn't fit the offense.
Out of 4 million suspensions, 3 million are for nonviolent offenses, according to U.S. Dept. of Education statistics.
"Our brains risk-reward regions aren't fully developed until our mid-20s, yet what we know about suspensions and the outcomes, we are quick to turn a stupid mistake made by an adolescent brain into a potentially life-altering punishment; it doesn't make sense," he said.
Rumler sees hope in On track Greenville, an initiative formed through a partnership with United Way, Greenville Health System, Greenville County Schools and several other community partners. On Track has an early warning system to identify middle school students who are already at-risk for not graduating.
Rumler points out there was no single factor that led him to his current profession. He recalled how he enjoyed leading youth in church and at camps. He had recently returned from a deployment to Iraq, following an impulse to enter the military after 9/11. When Rumler returned home, he took a sales job, but never felt fulfilled.
"I ran into an old guidance counselor at a high school graduation at my actual high school. I told her what I was doing and she kind of kicked me in the butt, figuratively speaking, and she said 'you're too smart to have never finished a degree.' She told me about the Human Services program at Southern Wesleyan. ­I can be somewhat of an impulsive person. I looked into it and it spoke to what I wanted to do," he said. "A week or two later I was enrolled. Through that process, I was lucky enough, thanks to Mildred Williams, even in my undergrad program I went ahead and transitioned into two jobs in the field while I was doing that. Already in my career I've been able to work with a lot of different populations, and at the end of the day, I feel this is where my sweet spot is."
Southern Wesleyan University is a Christ-centered, student-focused, faith-filled community that offers inventive learning experiences. The university endeavors to prepare its students to be dedicated scholars and servant-leaders who impact the world for Christ. At the same time, it's Southern Wesleyan's desire to practice contagious generosity within the surrounding community. For details about degree programs, go online to swu.edu.
Follow SWU:
https://www.facebook.com/southernwesleyan/
http://www.twitter.com/SWU_edu