SWU graduate leads special needs individuals on adventure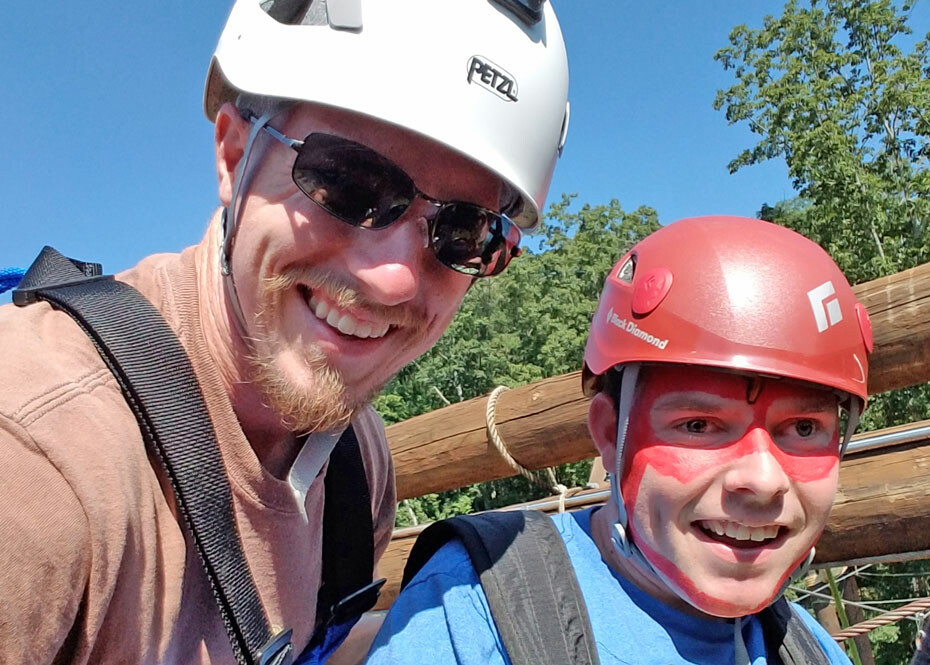 Chris Peck, a 2015 Southern Wesleyan University graduate, is working to open the doors to a world of adventure that's normally closed to individuals with special needs.
Peck recently joined the staff of Camp Spearhead, where he conducts team building activities such as games and low ropes. Camp Spearhead offers eight-week long residential camp sessions during the summer and a weekend program during the school year at Pleasant Ridge Camp and Retreat Center, which is operated by Greenville County Parks, Recreation and Tourism.
But this isn't what Peck had in mind when he graduated from Southern Wesleyan with his Criminal Justice degree. After serving as a police officer for a few years, Peck began feeling God was calling him in a different direction.
After serving in the United States Marine Corps and attaining the rank of corporal, Peck enrolled in Southern Wesleyan's Criminal Justice degree program with plans to enter law enforcement work. While at Southern Wesleyan, he also toured with the University Singers and took part in Operation Freedom's Cadence, visiting members of the U.S. Armed Forces stationed in Germany and Italy as well as the congregations of churches in those countries.
Peck has spent this past summer working on Camp Spearhead's Know Boundaries Challenge Course as a lead facilitator, providing high ropes adventure opportunities for campers. One of the specific areas where Peck worked was on the 55-foot tall Alpine Tower. Peck worked from the top of the tower, utilizing the 4:1 haul system, assisting individuals out of their wheelchairs as they made their way to the top of Alpine Tower.
"Through the use of a haul system, we were also able to open up our zipline to everyone who wanted to try," Peck said.
Peck traveled to Camp Summit in Texas this month to receive additional experience working with a special needs camp. He says that working at the camp has helped him to uncover his passion and calling.
"I am putting to practice many of the things I learned at SWU. Like, how people loving people can change lives for the better; or that service never stops," Peck said. "There is always a way to help and serve someone if you are bold enough to look."
Details about Camp Spearhead can be found online at https://greenvillerec.com/therapeutic-special-needs/.
Southern Wesleyan University is a Christ-centered, student-focused, faith-filled community that offers inventive learning experiences. The university endeavors to prepare its students to be dedicated scholars and servant-leaders who impact the world for Christ. At the same time, it's Southern Wesleyan's desire to practice contagious generosity within the surrounding community. For details about degree programs, go online to swu.edu.
Follow SWU:
https://www.facebook.com/southernwesleyan/
http://www.twitter.com/SWU_edu