SWU graduate melds ministry with creativity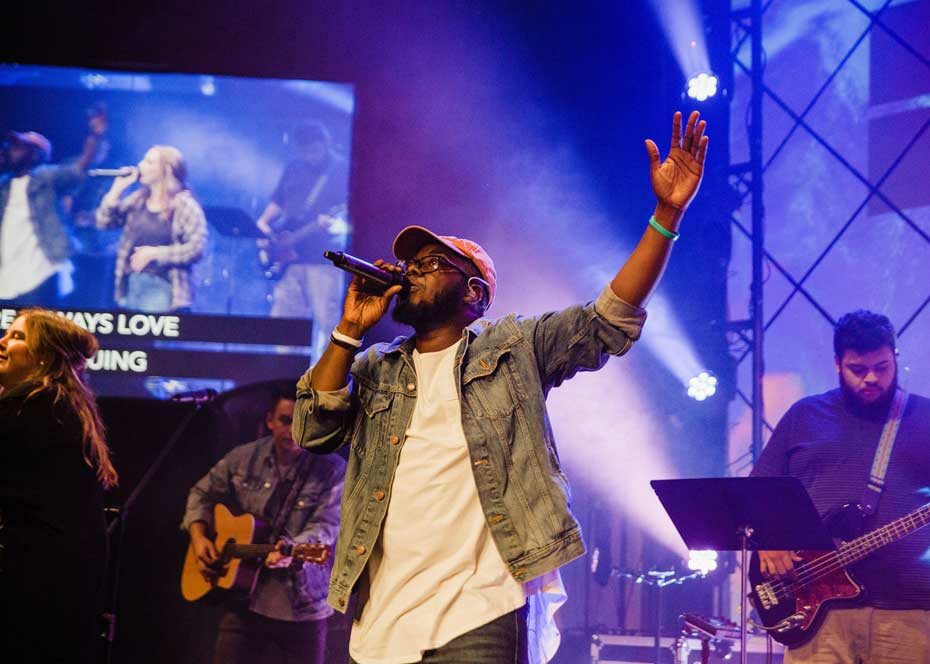 A recent Southern Wesleyan University graduate is one of the composers of "New Things," a group of original worship songs inspired by the stories and prayer requests from within the congregations of New Life Church.
Experiences as a student leading worship and singing in Southern Wesleyan's Chapel Band and Gospel Choir as well as numerous fine arts presentations prepared Patrick Hampton to the point that he felt he was following a natural progression spiritually and creatively.
"I was a writer, co-producer and singer," said Hampton, who is worship resident at New Life. "I had the chance to do some writing on it. I also co-produced songs. Almost all of the worship leaders were able to collaborate on that."
In January 2019, the first original song was presented to the church during worship. According to New Life's website, "From there God has moved through the music in powerful ways, and New Life's congregations are experiencing worship like never before."
When "New Things" was released Aug. 23, more than 1,200 people came out to a concert celebrating the release. The website goes on to say, "We believe that God is writing a special story within our community, and are excited to see that story grow and spread to other churches."
When Hampton was considering college choices, he initially didn't feel drawn to Southern Wesleyan, so he visited a few other colleges, but felt they weren't right for him.
"I was graduating from high school and looking at colleges. I got a flyer in mail about SWU. I remember that I got a letter saying 'we want you.' I wasn't 'gung ho' about going to SWU, but when I got there, it felt like home. God was really doing awesome things. I got a lot of opportunities," Hampton said. "The musical knowledge that I received from my professors in the music department played a role in shaping the musician within me along with the biblical classes."
While at Southern Wesleyan, Hampton joined a summer ministry team, the Difference, where he recalls a time when ministering at one of the camps they visited. At that camp, he felt God's calling into ministry. After graduating in 2018 with his BA in music, Hampton took part in New Life's Residency Program, a two-year, fulltime, post college leadership development program for leaders who feel called to vocational church ministry.
"Ministry has been very eye-awakening; It's been way more than what I thought; It's been a fun experience," Hampton said, adding that his residency is an opportunity to experience ministry training in a church setting where he's engaged in a variety of activities and interacting with church leadership.
"New Life serves metro D.C. area. It's a very diverse church. You have Asians, African Americans, Caucasians, Latinos, everybody from all walks of life, economic statures as well," said Hampton.
For details and a sampling of "New Things," visit this link.
Mike Hilson, who chairs Southern Wesleyan's board of trustees, is lead pastor at New Life Church. New Life has campuses in La Plata Md.; Prince Frederick, Md.; Alexandria, Va.; King George, Va.; and an online church. Their website is newlife.live.
Southern Wesleyan University is a Christ-centered, student-focused learning community devoted to transforming lives by challenging students to be dedicated scholars and servant-leaders who impact the world for Christ. For details about degree programs, go online to swu.edu.
Follow SWU:
https://www.facebook.com/southernwesleyan/
http://www.twitter.com/SWU_edu
http://pinterest.com/swuedu/
http://instagram.com/swu_edu