SWU graduate named Mayo Elementary Teacher of the Year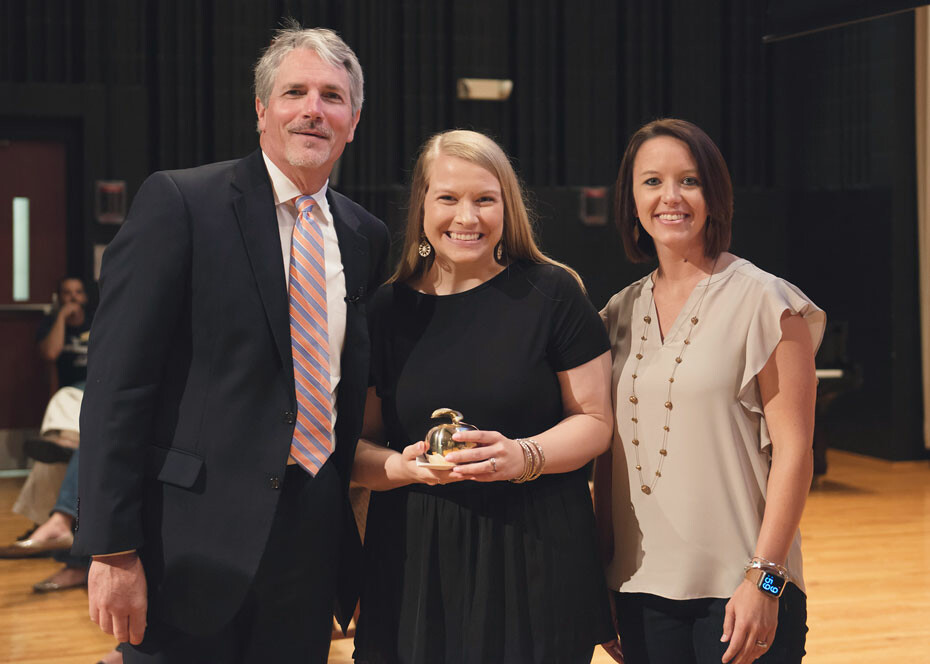 A line from a popular song says a lot about Mayo Elementary School Teacher of the Year's Ashley Brady's approach to teaching: "Where you invest your love, you invest your life."
Brady, a 2012 Southern Wesleyan University Early Childhood Education graduate, teaches first-grade at Mayo. Her teaching philosophy is simple: "What's best for students is what's best."
Brady first became interested in education as a young child, recalling happy memories of summers spent helping in her mother's classroom to set up for the new school year, writing students' names in their books and crafting bulletin boards.
"Her school always felt like such a warm, happy place. I loved being there," Brady said.
For Brady, who considers her educational career as a calling, every day is a brand new adventure, and building relationships with students and their families is a source of joy.
"I love that we are all invested in each other's lives," says Brady, who attends her students' games, birthday parties and other special events. As she recently gave birth to her son, families of her students threw her a baby shower.
"It was an honor to be chosen as Teacher of the Year for Mayo Elementary School. To be chosen as Teacher of the Year is a privilege that I do not take lightly," Brady said.
As she prepared for a teaching career at Southern Wesleyan, Brady came to appreciate the "Christian Ethic of Care" foundation of the university's School of Education to the point that it has become a standard that she strives to model in her classroom.
"Being a teacher is far more than just teaching material when it is a calling from God," Brady said.
"Southern Wesleyan University is an integral part of who I am as a person – Christian wife, mother and teacher. It is there that I began to develop into the person I am today," Brady said, adding that she met her husband Jonathan when they were both students. Jonathan is assistant pastor of spiritual growth at Eden Wesleyan Church.
Southern Wesleyan University is a Christ-centered, student-focused, faith-filled community that offers inventive learning experiences. The university endeavors to prepare its students to be dedicated scholars and servant-leaders who impact the world for Christ. At the same time, it's Southern Wesleyan's desire to practice contagious generosity within the surrounding community. For details about degree programs, go online to swu.edu.
Follow SWU:
https://www.facebook.com/southernwesleyan/
http://www.twitter.com/SWU_edu