SWU graduate receives funding for environmental project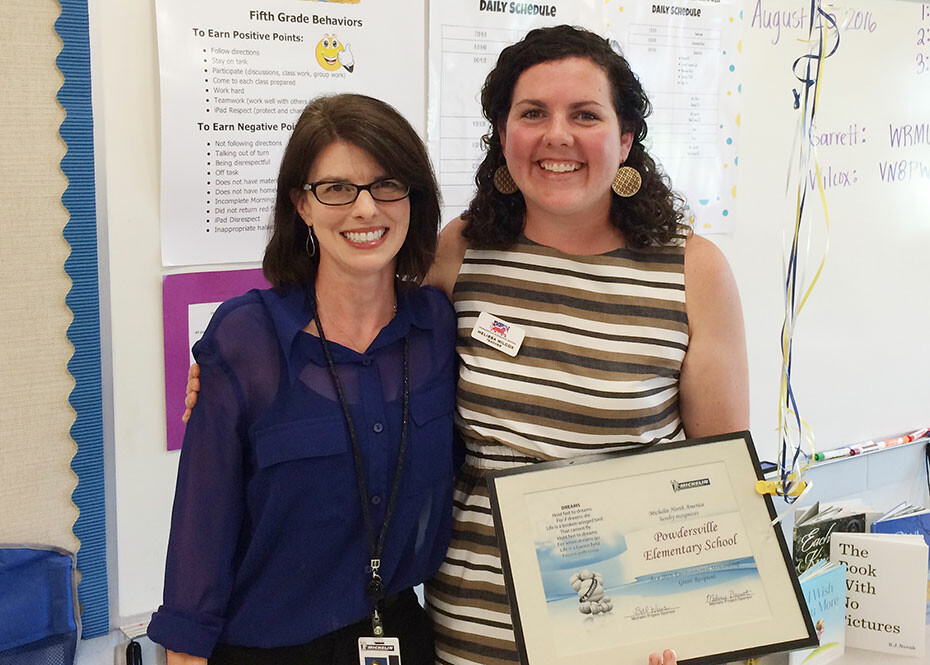 Melissa Wilcox, a Southern Wesleyan University education graduate and teacher at Powdersville Elementary School, received full funding from Michelin North America on her environmental grant proposal, which will benefit education on sustainability and nutrition.
The $17,000 grant will help make possible expansion of Powdersville Elementary's bee project as well as development of a raised-bed garden that supports the bee project – all providing an opportunity for hands-on learning that has real-life implications in the community. Powdersville Elementary was one of only two schools in South Carolina to be awarded an Environmental Stewardship Grant. Michelin awarded six grants in North America during 2016.
"As an environmental engineer with Michelin and an elementary school parent, I was impressed with Powdersville Elementary's efforts toward environmental education. As a result, I simply provided a link between the school's initiatives and Michelin's commitment to environmental stewardship by making the school aware of the funding opportunity and assisting with the application process," said Melanie Barrett, environmental engineer with Michelin Americas Research Company.
"We are very grateful to Michelin for their involvement in our school and community and are excited for this new partnership," Wilcox said. She noted that funds will be used to extend the school's problem-based learning.
The first phase of that learning, linked with Powdersville Elementary's science curriculum, focused on honeybees. Wilcox noted that the grant will fund the installation of raised-bed vegetable and flower gardens.
"We are excited for the possibility of providing our students with real-world learning opportunities through this grant, as well as the community collaboration that it will encourage as well," Wilcox said. "It also provides a wonderful avenue for teaching soft-skills – things like teamwork and compassion that sometimes are difficult to teach in traditional classroom settings."
Wilcox is grateful for the solid educational foundation Southern Wesleyan provided her when she was an Early Childhood and Elementary Education major.
"I feel that I was well-prepared for the 'real-world' of education, as well as learning to see the child as a whole person-physical, spiritual, emotional, and intellectual being who needs to be treated as such," Wilcox said. "The phrase 'a Christian ethic of care' was emphasized during my time at SWU, and became ingrained in me as a pre-service teacher. I hope that it follows me in my work always, remembering that Jesus has first called me to love the students given to me, as well as calling me to excellence in my work and the utilizing of the gifts and talents He has given."
Wilcox says she's grateful for the lessons she learns each day in her classroom.
"Sometimes I think I learn more than my students," she said.
Southern Wesleyan University is a Christ-centered, student-focused learning community devoted to transforming lives by challenging students to be dedicated scholars and servant-leaders who impact the world for Christ. For details about degree programs, go online to swu.edu.
Follow SWU:
https://www.facebook.com/southernwesleyan/
http://www.twitter.com/SWU_edu