SWU graduate to participate in World Race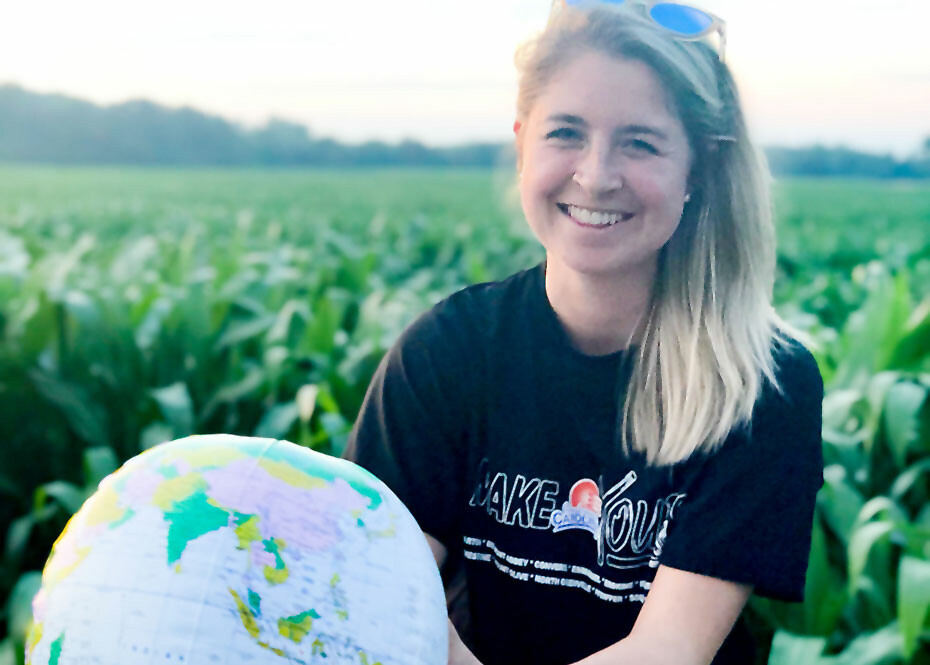 While a student at Southern Wesleyan University, Shelby Gilbert learned the importance of serving and about how much can be accomplished when teaming up with others to achieve a common goal.
As a student-athlete, Shelby excelled on the court, and she, along with her teammates, brought the Warriors back-to-back regional NCCAA Championships in 2014 and 2015.
Three years ago, she found a racer's vlog (video blog) about The World Race, giving her a strong desire to learn more about the race and its mission of making a global spiritual impact.
The World Race is an 11-month journey to 11 different countries to serve and spread the gospel of Christ. In June, Shelby will travel with a team to Guatemala, Nicaragua, Costa Rica, Morocco, Ethiopia, Djibouti, India, Nepal, Myanmar, Thailand and finally, Indonesia.
During the race, participants engage in planting churches, working in orphanages, teaching English, and ministering to women in children imprisoned in human trafficking.
"The one thing that will stay constant is the provision of Jesus," said Shelby, who will begin the race June 15 and return to the U.S. April 29, 2020.
Gilbert has been raising support to make her trip possible, speaking to churches and other groups, but at the same time realizes her goal is more than a monetary one.
"The importance is not the total; the importance is God showing out, up, down, left and right and all the way around. Not just to me either, but everyone who is going through this process with me," she said.
After her first visit to the Central campus, Shelby initially decided that SWU was not for her; but a couple of months later, Women's Basketball Coach John Davis called her and said he would drive 12 hours to Indiana to see her play basketball. She didn't score a single point. Certain that Davis had already made up his mind and left for his hotel, Shelby felt defeated.
"I came out of the locker room, so upset and I walked into the gym and there was Coach Davis standing there. I went up to him and I was so surprised, but he gave me a huge hug and told me how proud he was of me for not giving up. I knew right then and there that I wanted to play for this man," Shelby recalled, adding that she feels God called her to move 12 hours away from her home to become a part of SWU and to be coached by Davis.
Davis, who feels that Shelby had special qualities as a student-athlete that impacted him, is excited to see her move into this new role as a servant leader.
"What will always be impressed on me about Shelby is her heart for others. She sees the best in all people and that is a special gift to have. She made our campus a better place because she grew in her faith and was transparent in her testimony to others," Davis said. "The legacy she has left behind at Southern Wesleyan is still being talked about by members of our program and within our community."
Looking back on her years at Southern Wesleyan, Shelby recalls challenges but also a keen sense of community.
"My teammates, classmates and friends benefited my time at SWU by just giving me a community to be around," she said. "The opportunities and experiences God used while I was at SWU showed me who He was in my life and how much He loved me. It was difficult getting there, but God truly put the right people at the right time – coaches, friends, pastors and professors – to help me get through some of my darkest times."
Serving as an operations specialist in the health care field, Shelby feels her SWU education helped her to gain confidence in her abilities. Before coming to SWU, she says she could barely talk to someone to order a pizza, but as a student and a student-athlete she was challenged to leave her comfort zone and not to lounge in a life of complacency – the challenge she is taking hold of again as she enters The World Race.
Shelby has posted a blog on the worldrace website – shelbygilbert.theworldrace.org – along with details on how to support her as she competes.
NOTE: Southern Wesleyan's Track and Field Complex is named for Shelby's grandfather, Joe R. Gilbert, known as a Christian man who had a strong work ethic and a great love for his family. To honor his memory, members of his family donated financially to make the complex a reality.
Southern Wesleyan University is a Christ-centered, student-focused learning community devoted to transforming lives by challenging students to be dedicated scholars and servant-leaders who impact the world for Christ. For details about degree programs, go online to swu.edu.
Follow SWU:
https://www.facebook.com/southernwesleyan/
http://www.twitter.com/SWU_edu
http://pinterest.com/swuedu/
http://instagram.com/swu_edu