SWU Honors Sinnamon and Voss for Dedicated Service
Dr. Walt Sinnamon with his family.
Surrounded by family, friends, and colleagues, Dr. Walt Sinnamon and Dr. Todd Voss were honored in a retirement reception on May 11th for their years of dedicated service.
Beginning his tenure in 1982, Dr. Sinnamon currently serves as a Professor of Biology. Dr. Emily Germain (Assistant AD Director for Academic Success) and Mrs. Regina Bolding Harned (Associate Registrar) shared their reflections and memories of Dr. Sinnamon. Dr. April White Pugh (Provost & VP for Academic Affairs) presented Dr. Walt Sinnamon the honor of being Professor Emeritus of Biology.
After leading SWU as President for the past ten years, Dr. Voss's impact and accomplishments were commemorated by Mrs. Sue Rickman (Former Chair, SWU Board of Trustees). He was presented with a flag that was previously flown over the U.S. Capitol Building by K. Scott Drury, JD (VP for Advancement). The flag was flown at the request of the Honorable Jeff Duncan to honor and celebrate the retirement of Dr. Todd & Julie Voss and their 10 years of service at Southern Wesleyan University. Both retirees received a gift of a university chair and were honored with a commissioned portrait.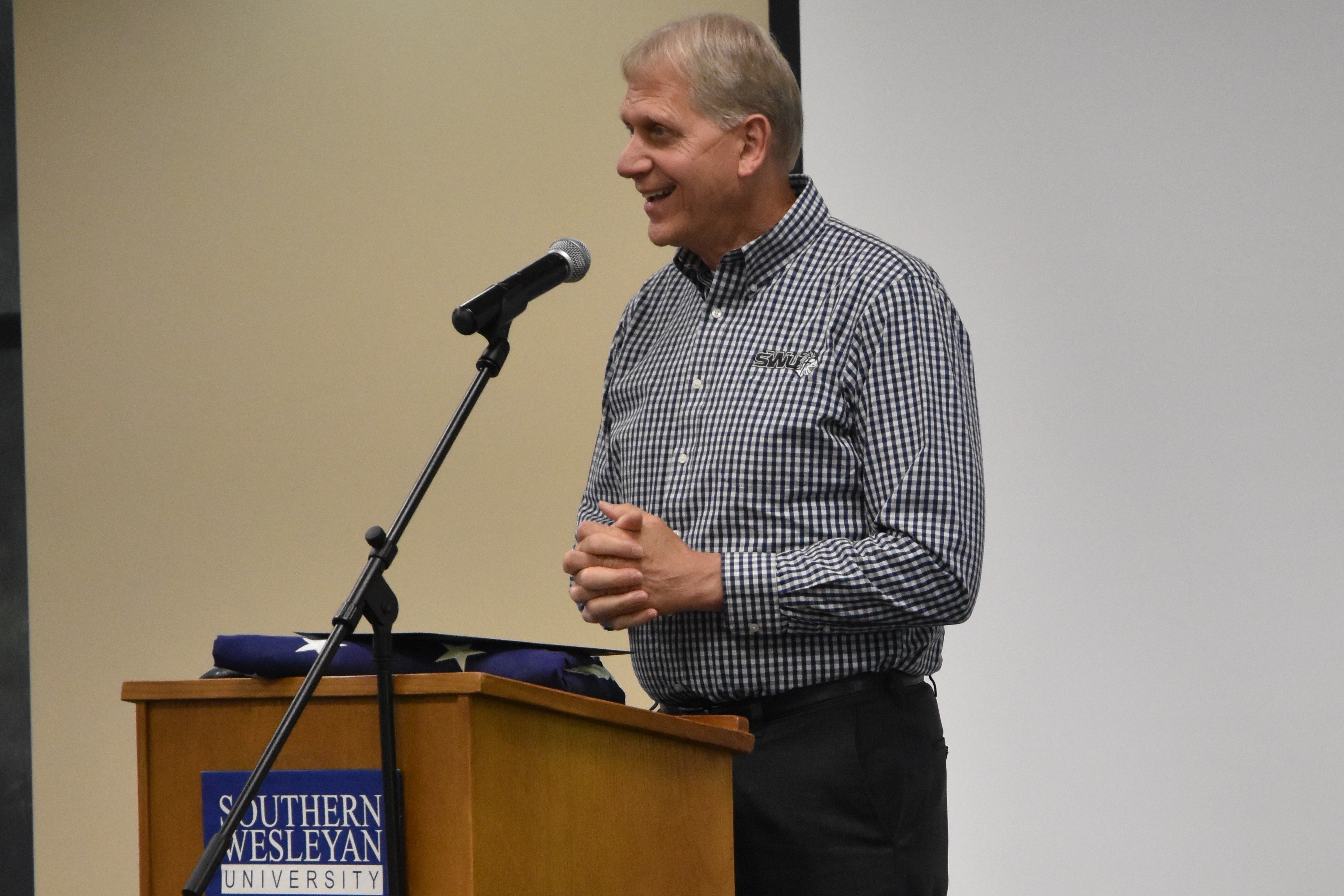 Dr. Todd Voss gives remarks during the event.
Southern Wesleyan University is a Christ-centered, student-focused learning community devoted to transforming lives by challenging students to be dedicated scholars and servant-leaders who impact the world for Christ. For details about degree programs, go online to swu.edu.
Follow SWU:
https://www.facebook.com/southernwesleyan/
http://www.twitter.com/SWU_edu
http://pinterest.com/swuedu/
http://instagram.com/swu_edu