SWU Marks Veterans Day with Event Honoring Military Branches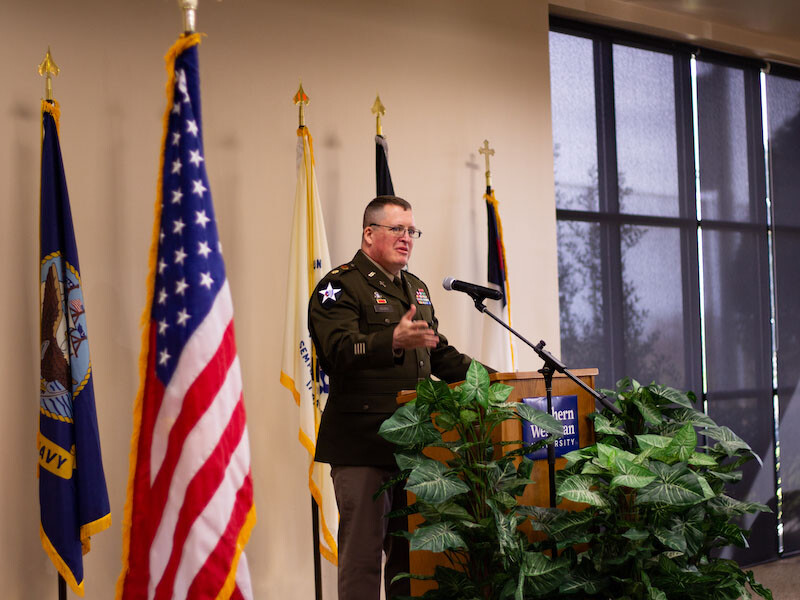 CENTRAL, S.C. – In a gesture to demonstrate Southern Wesleyan University's (SWU) commitment to serving the United States Armed Forces, the University hosted military veterans, families, and legislative delegates for a Veterans Appreciation Event in their honor on November 9, 2022.
The event represented each branch of the U.S. military and included a special Chapel service featuring Director of Alumni Relations Heath Mullikin and SWU President Bill Barker, an Air Force chaplain. Next, a luncheon featured a keynote address by alumnus Ch. (Major) Kevin Hovan, a decorated chaplain and major in the U.S. Army.
"Veterans are a diverse group of people, represented by men and women of every economic, ethnic and religious background, from every state and territory, but bound by one common commitment: To defend the Constitution of the United States against all enemies foreign and domestic with their life if it's called upon," said Hovan.
Other event highlights included: President Barker's welcome, thanks, and continued appreciation for veterans and their families; hosting World War II veteran Mr. E.B. Thomas of the U.S. Army—a SWU alumnus, recipient of the 1978–79 Alumnus of the Year Award, and the former SWU head of maintenance; the Daniel High School Air Force JROTC giving the presentation of the colors; and a closing by Dr. Brad Fipps, a retired colonel of the United States Army, that offered a blessing to all and a reminder of the sacrifice that many have made to be protectors of the United States, the Constitution, and our way of life.
Named a 2022–23 Top Military Friendly School, SWU offers events, specialized care, and programming for military and veteran students. The new Warriors CARE Center at SWU serves student veterans and military dependents with facilities and services including tutoring, academic counseling, career counseling. SWU honors the The Post 9/11 GI Bill® and fully participates in the Yellow Ribbon Program and Scholarship.
Southern Wesleyan University is a Christ-centered, student-focused, faith-filled community that offers inventive learning experiences. The university endeavors to prepare its students to be dedicated scholars and servant-leaders who impact the world for Christ. For details about degree programs, go online to swu.edu.
Follow SWU:
facebook.com/southernwesleyan/
twitter.com/SWU_edu
instagram.com/swu_edu
linkedin.com/school/southern-wesleyan-university/