SWU mourns loss of P.B. Wood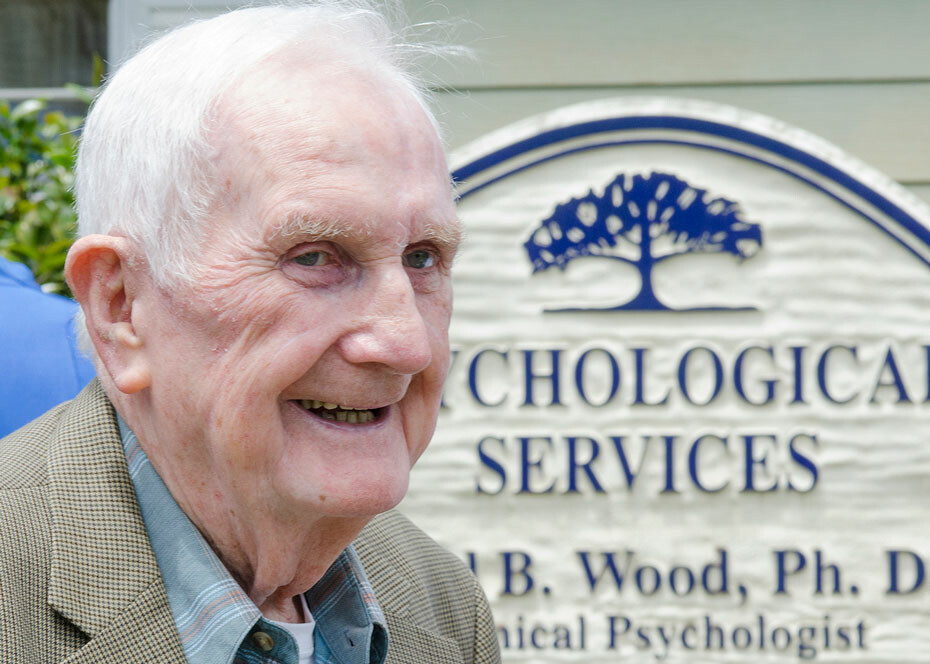 The Southern Wesleyan University family is mourning the loss of Dr. Paul B. Wood, 88, who passed away peacefully at the Cottingham House on Aug. 4.
On Aug. 8, family and friends of Dr. Paul Baker Wood, celebrated his life in a memorial service at Newton Hobson Chapel and Fine Arts Center Auditorium at Southern Wesleyan University.
Wood, who went home to be with the Lord Aug. 4, was remembered for his decades of leadership to the university and for the many lives he impacted.
During the service, Katie Wood Ray, Wood's daughter, recalled how she and her siblings, Shauna and Andrew, grew up in a home filled with laughter – a place where her father regularly welcomed not only aunts, uncles and cousins, but missionary kids, ball players and summer school students in need of a place to stay.
"We marvel now at how we existed with the three of us kids plus an extra person or two all sharing that same small bathroom. I've thought a lot of what it means to grow up in a house like that. I believe my siblings and I learned an openness about people, about letting them into our lives. That is foundational to who we are today," Ray said.
She also remembered the many trips they took, including overseas trips the Wood children were able to take, and a memorable road trip out West.
Speaking to an audience filled with SWU alumni, Joan Wood Rampey, Wood's niece, said, "We all have stories of his role in our lives while we were students here." Rampey recalled the wit, wisdom and loving guidance imparted by her uncle.
"He was truly the wisest man I've ever met, as he merged knowledge and experience and produced wise counsel," Rampey said.
Rampey recalled how her husband Buddy, as a college student, would play a round of golf with Wood every Monday afternoon and noted how he introduced the game of golf to many others. A golf tournament in his name annually raises thousands of dollars that benefit SWU students and programs.
Coming to Central
Wood, first enrolled at the Wesleyan Methodist Academy in 1944, then graduated from the junior college of what was then known as Wesleyan Methodist College in 1956. He then continued his studies at Guilford College and then the University of North Carolina at Chapel Hill, where he received his Ph.D. in clinical psychology.
Dr. Bob Black, retired professor of religion, noted two of the wisest decisions Wood ever made – marrying his wife Christine and giving his life to Christ.
Wood joined the faculty of the university in 1962 and retired in 1994 as Faculty Emeritus, then devoting himself fulltime to the School District of Pickens County as a consulting psychologist, expanding on a service he provided many years for the district. He also maintained an office on the SWU campus, continuing to see clients and people in need for as long as he was able. He also served as president of the South Carolina Mental Health Association and chaired the 13th Judicial Circuit Foster Care Review Board. He has served as a psychological consultant to the Department of Wesleyan World Missions and served as director of Wesleyan Medical Fellowship. Wood served as a delegate to the General Conference of The Wesleyan Church and was an active member of ALIVE Wesleyan Church.
Black said the Wood family has been an integral part of the university since its founding in 1906, including his maternal grandfather, H.S. Dixon, who was one of a group of men who prayed on a hilltop where SWU would be founded as Wesleyan Methodist Bible Institute and his father J.A. Wood was one of the first two ministry majors.
"Generation after generation of Woods have left their mark on this place and it's forever better because of it," Black said.
An agent of change
Wood joined the university, which by then was known as Central Wesleyan College, in 1962. He challenged restrictive rules concerning dating and appropriate dress. He also championed student representation on campus committees and created a "vibrant model" for student government. He brought credibility to the teaching and practicing of psychology at a time when the Christian church frowned upon it.
Another key achievement was of Wood's key role in accreditation for the university by the Southern Association of Colleges and Schools Commission on Colleges (SACSCOC) and the beginnings of an intercollegiate athletics program.
Wood was also known for taking a stand on admitting African-Americans into CWC during a time when trustees, concerned about the potential reaction from their constituents, expressed misgivings over this controversial issue. Wood went as far as to resign along with other Ph.D.-credentialed faculty members until the trustees reconsidered and the matter was settled, opening the door for blacks and other ethnicities to enroll.
Black also recalled how, on a cold December night in 1963, Wood and then-Academic Dean Dr. Claude Rickman attempted to enter McDonald Hall, risking smoke, heat and flames to attempt to find two female students who were unaccounted for, then later found dead.
"Out of tragedy God brought triumph. He brought new growth for the college not long after those days when people wondered if the school would even reopen. It entered into a period when, through the rest of the decade – from 1963 to 1969, four buildings were built on campus in a flurry of construction, of growth, of optimism on campus," recalled Black, who was a student there during the 1960s. Black credited Wood's role as one of the "minds, souls and hearts" behind that growth.
"With a mind like his, armed with a Ph.D. from the University of North Carolina and in Clinical Psychology no less, Paul Wood could have gone anywhere he wanted and done anything he wanted to do. He came here and changed us all, and we are profoundly grateful," concluded Black.
Leaving a godly legacy
"We remember today Paul Wood as a faithful churchman, a caring professional, a significant relative and a committed family man," said Rev. Fred Andrews, who came to Central in 1977 to pastor ALIVE Wesleyan when it was located on the SWU campus and known as First Wesleyan Church. Andrews, now pastor of congregational care at ALIVE, told of how Wood taught a Sunday School class for college students and married couples for more than 50 years.
"Only the Lord knows the influence that Paul had on the countless number of people who sat under his teaching," Andrews said.