SWU Online student honored for 25 years of service to BMW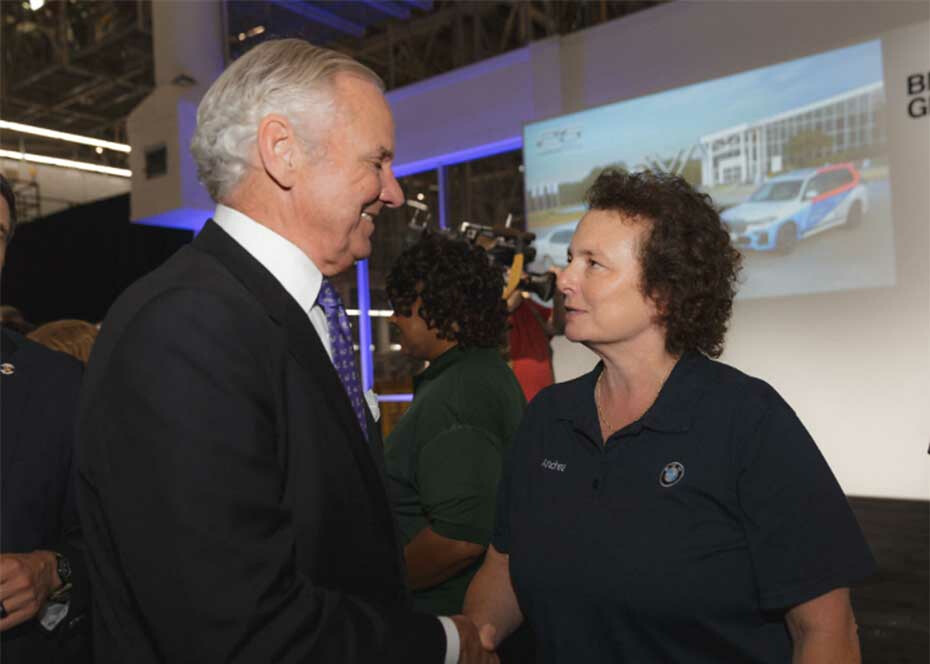 When BMW Manufacturing came to South Carolina in 1994, Andrea Howell was among the first of thousands in the Upstate to get a job there.
As the German automaker celebrated 25 years of manufacturing in South Carolina, Howell also celebrated her own 25-year milestone and was honored for her service.
'To be recognized for 25 years of service and to be part of the ceremony is indescribable," said Howell, who is currently an online business student at Southern Wesleyan University. During a 2019 celebration, she was among longtime employees who were recognized by South Carolina Governor Henry McMaster.
When BMW announced it would manufacture automobiles at Greer, Howell, who grew up in the area, jumped at the chance to apply for a job. She started on the production line as an assembly worker.
"I worked in various functions in my team and built a wealth of knowledge and experience. I became a section leader, managing the team that installed the interior portion of the vehicle. I rotated to several areas in assembly in that function. I then transferred to Vehicle Quality and have had multiple roles," said Howell, adding that she was a quality engineer for BMW's X5, X6 and X7 sport utility vehicles.
"I recently transferred to Total Quality Management and take pride in quality steering here at the plant," Howell said.
Several of Howell's colleagues earned degrees at Southern Wesleyan, so with the help of BMW's education assistance program, she enrolled in Southern Wesleyan's online degree program and will be receiving her bachelor of science in business administration degree in May 2020.
"I am so thankful to be attending SWU because of the Christian-faith focus," Howell said. "The Christian perspective is discussed and encouraged. The instructors have been wonderful and I love that each class is seven weeks long. It's condensed and fast paced but allows for covering a lot of ground."
Howell is grateful for the flexibility of her degree program and is eager to graduate this May.
"When I was in high school, my dad was sick with cancer and died when I was 20. College was not in the cards for me because of this," Howell said. "BMW then came along and I started working there – I didn't think about school at that point. I always regretted not going to college and I made a promise to myself that I would start back to college before a child of mine started college."
"I started college the semester before my daughter started college, keeping the promise to myself and being a good example to her. She graduated in 2018 with her bachelor's in criminal justice and works for the solicitor's office in York County," Howell said. "God supplied the resources and the strength for me to handle it all. God has been the source of all my blessings – my life, my career, my education, my family."
Southern Wesleyan University is a Christ-centered, student-focused learning community devoted to transforming lives by challenging students to be dedicated scholars and servant-leaders who impact the world for Christ. For details about degree programs, go online to swu.edu.
Follow SWU:
https://www.facebook.com/southernwesleyan/
http://www.twitter.com/SWU_edu
http://pinterest.com/swuedu/
http://instagram.com/swu_edu