SWU provides professional and spiritual foundation for Fipps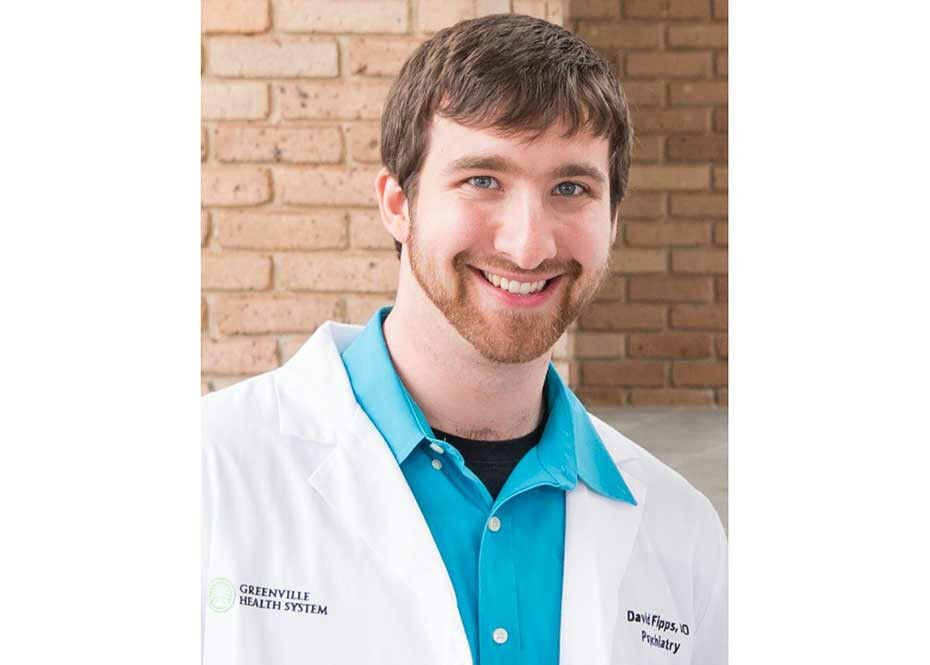 Dr. David Fipps originally had his sights set on becoming a personal trainer or physical therapist. He enjoyed working with clients and found fulfillment in helping others improve their lives.
"At SWU, my academic interests, research involvement and passion for helping others culminated in the decision to pursue medical school," said Fipps, noting that one of his professors, the late Dr. Susan Rouse, prompted him to shift his focus towards board certification via the board of Psychiatry and Neurology.
While at Southern Wesleyan, Fipps was active in the Science Club as a judge for the Region 1 Science Fair, held on the Central campus. He served as a tutor for other students at SWU in biology, chemistry and calculus and worked as a laboratory teaching assistant. Fipps pursued martial arts, receiving a second degree black belt. As an honors student, Fipps was involved in a research project funded through South Carolina Independent Colleges and Universities (SCICU) and in collaboration between Southern Wesleyan and Clemson University. This project provided numerous resources for a SWU cell biology course.
Many of Fipps' professors and others who mentored him in college remain close friends. Fipps regularly "pays it forward" by mentoring current students who aspire to medical careers through the university's "Dinner with the Docs," held regularly on SWU's Central campus. Fipps has also been involved in many overseas medical mission trips since medical school, mostly to underserved countries in South America.
Fipps graduated from Southern Wesleyan in 2011 with his BS in biology and a minor in chemistry (Summa Cum Laude). Following his graduation, he attended medical school at Lake Erie College of Osteopathic Medicine, then started his specialty residency for psychiatry/neurology at Greenville Health System/Prisma.
Fipps credits his professional and spiritual foundations from Southern Wesleyan that continue to serve him well in his professional life.
His work as a clinical instructor for medical students and his interdisciplinary research has prompted nominations for many awards, including a nomination for a national award for excellence in teaching (George Ginsberg Fellowship). Other research award include the National Alliance for Mental Illness Mental Health Professional Student award, and the Greenville Health System Psychiatry Resident Research Award. Arguably the most prestigious honor for Fipps was the William Webb Fellowship, presented to six people in the nation and leading to many career enhancing opportunities in Consult Liaison Psychiatry.
Fipps wrote a Notable Notes publication in JAMA Dermatology, and is currently working on multiple manuscripts from various research projects. He will be conducting podium presentations of these research findings at two different national medical conferences in the near future.
Many members of Fipps' family are Southern Wesleyan alumni – his wife Detra, his maternal grandfather, his parents and his sister and brother-in-law. Dr. Brad Fipps, his father, is a longtime professor of religion at Southern Wesleyan.
After completing his residency at GHS/Prisma, Fipps would like to pursue an academic position at a teaching hospital.
"I am in the process of interviewing all over the country for a one year subspecialty fellowship in Consultation Liaison Psychiatry. After this fellowship, I plan to pursue an academic position at a teaching hospital. I have found that I love teaching medical students in their upperclassmen clinical years, as well as physician residents," Fipps said.
Southern Wesleyan University is a Christ-centered, student-focused learning community devoted to transforming lives by challenging students to be dedicated scholars and servant-leaders who impact the world for Christ. For details about degree programs, go online to swu.edu.
Follow SWU:
https://www.facebook.com/southernwesleyan/
http://www.twitter.com/SWU_edu
http://pinterest.com/swuedu/
http://instagram.com/swu_edu